A recent eye exam revealed that I still do not require eyeglasses despite being well past the age when most people need help with their vision. I share this information only to point out that there are circumstances in the opera house and the concert hall in which audience members benefit from reading and, if I am unable to do that, then most people would not be able to either.
I have noticed that printed programs at New York's chief venues for opera and classical concerts have changed in recent years. Someone in charge has become designerish, which is to say that fonts have become slimmer and are printed in a chic gray-black rather than a color that is more assertive. Deep black ink is best. Furthermore, the paper is often shiny so, if one reads in half-light, the gloss on the paper reflects back but prevents easy reading of the words.

This relates to a larger and important topic: Should we read program notes before concerts and operas and text in translation during song recitals? I think we should. In a future post I will discuss the quality of the notes that appear in opera and concert programs. Projected titles have had an impact here too and not a fully positive one.

A quick reminder of Dr. Plotkin's prescription for fuller enjoyment of opera: Ideally, you should read the synopsis of an opera before you attend. What I tell people to do, and still do myself despite familiarity with most of the standard repertory, is get to their seats at least fifteen minutes before curtain and read the synopsis of the action only up to the first intermission. During that intermission I read the story of the next act, and so forth. Also, before the performance, I read the program essay about the opera and other information that might be available.  

Many opera companies now post synopses and notes on their Web sites so you can do your reading before arriving at the theater. If you are willing to do even more ahead of time, listen to a recording of the work you will hear and read the libretto along with it, moving easily from the original language to the translation in your native tongue.

My feeling is that if we are investing time, money and interest in seeing an opera, a minimum amount of preparation is called for. Most people don't do this anymore and, when I ask them why, the usual response is "I can follow the story with the titles." The problem -- as I have said before -- is that the words are only part of the storytelling and, if we are busy reading during the performance, we are not fully listening.

When attending a concert, read notes about the work you are about to hear and, if there is a pause while the conductor or soloist goes offstage, then read about the next piece. Or, read about the first half of the program before it starts. Reading during the concert means you really are not listening. A couple sits behind me in Avery Fisher Hall at my New York Philharmonic subscription. While the wife is always engaged with the music, the husband looks through the entire program, noisily turning pages and harrumphing every so often. Clearly he is not interested in the music, so I don't think he is so much reading the program as looking at the advertising.

It would be harder for him at Carnegie Hall, where the lights are kept lower. This is fine during instrumental performances, but is a big problem during vocal recitals. It has long been customary during these recitals for audience members to read the poems (lyrics) on which the songs are based. You can look at the German or other original language of the songs, whether or not you speak it, to get a sense of how the words sound and are married to the notes. Or you can read in translation to have a better sense of the meaning of the words.

Carnegie has three wonderful vocal series, combining great stars (Susan Graham appears on February 1 in the main Isaac Stern Auditorium) with up-and-comers or singers who work better in the smaller environments of Weill and Zankel halls. It distributes chic booklets with carefully translated texts, but the type is winsomely slim and the color is not dark enough. In lower light (it used to be brighter at Carnegie) it is impossible to read the words. In a vocal recital, this is a major loss. I gently but firmly encourage Carnegie Hall to rethink how these booklets are printed and the lighting levels during vocal recitals.

Screen Tests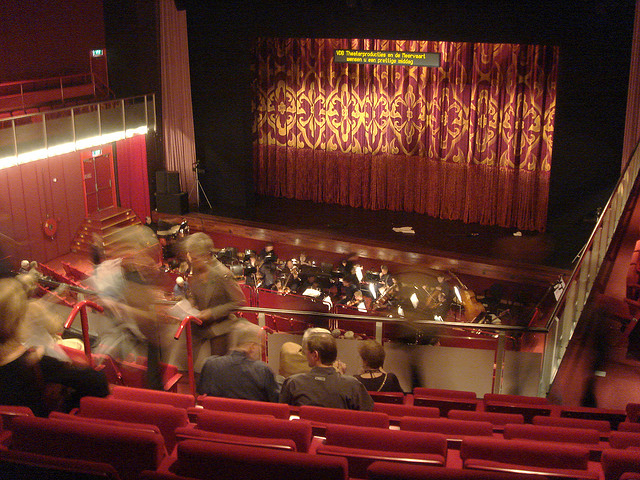 In most opera houses, projected titles are seen above the proscenium arch or on a rectangular screen that hangs below the arch. Such was the case with titles at the Koch Theater at Lincoln Center, which we 99-percenters still call the New York State Theatre. When the New York City Opera performed there, titles were always blurry white letters against the dark background of the screen. This is the opposite problem of slim, light type on white paper. The City Opera had chubby white letters that bled into one another when read from far away. In other theaters, the white letters are often not bright enough to read.

At Opera Orchestra of New York's compelling performance of Cilea's Adriana Lecouvreur on November 8, the titles were thin white letters against the almond-colored back wall of the Carnegie Hall stage. They were almost completely unreadable. When opera is presented in concert form, it is essential to have words. When they are projected as translations, we receive a sense of the meaning of the words (as in a film) but do not have access to the original language. 

In the past, OONY produced wonderful bilingual libretti in which the opera's language and English were presented side by side. I believe the cost of making these was underwritten by a watch or jewelry company. There must be some well-off corporation or individual willing to pay for the cost of these libretti. These become keepsakes and references for opera lovers. They are more expensive to produce than titles but allow us to go back and study the words and read the essays after the fact. 

Projected titles at the Met are on small screens atop the seat in front of you. The type is a discreet gold yellow that is quite legible on their small screens. Additionally, they do not distract nearby operagoers who prefer not to have titles flashing all the time. The fact that Met titles are only available in English, Spanish and German does beg the question as to why they do not exist in the language of the opera -- at least Italian or French, if not Russian or Czech. But this question is for another time. Other theaters, including the Vienna State Opera, La Scala and the Santa Fe Opera, use systems inspired by Met titles.
Some concert halls, during operas-in-concert or recitals, use a sort of hybrid system that combines a hanging screen with an LED-type display in bright yellow or green letters. They are computer-operated by someone who knows the music and text well enough to be able to know when to change the text on the screen.
As long as words, whether in printed notes or projected titles, are part of opera- and concert-going, we need to think about better ways to integrate them into performances so that the overall experience is enhanced and made more meaningful. I invite presenters to give this more thought and, of course, my readers to contribute their ideas.
Photo credit: Flickr/Johnwhite79