Planet Opera: At Milan's La Scala, Opulence Amid Austerity
MILAN —
Look at the wish list of any opera lover and, somewhere at or near the top, you will find "See an opera at La Scala." Yes, there are performances as good or better in Berlin, Chicago, London, Munich, New York, Paris, Salzburg, San Francisco, Turin, Vienna, Zurich and elsewhere. But as those open vowels roll between the consonants to utter the name -- La Sca-la -- it becomes an incantation of all that is magical about opera.
The theater was designed by Giuseppe Piermarini (1734-1808). Its name (scala means steps, staircase or ladder) derives from the fact that it took the place of a Gothic church called Santa Maria alla Scala. It opened in 1778 with Antonio Salieri's L'Europa Riconosciuta, and for much of its history, it was a theater that premiered works by Salieri, Bellini, Rossini, Donizetti, Verdi, Puccini and other greats.
I had the pleasure of being an eager minion at Milan's Teatro alla Scala, as it is properly called, in the late 1970s. This was the era when two towering geniuses, the peerless conductor Claudio Abbado and the brilliant stage director Giorgio Strehler, created one unforgettable production after another. Their Simon Boccanegra is still spoken of with wonder by those who saw it. Here is Mirella Freni in an early scene and Piero Cappuccilli in the title role in the council chamber scene. Those of us in Abbado's and Strehler's sphere watched their achievements in awe and were lucky to learn from them. I was fortunate to be at Strehler's side for much of this period, and his unerring sense of theater and of beauty without excess set the gold standard for me about how I see an opera production. 
Their era is thought of as a golden age. And yet, at the time, I constantly was told that things were not good and had not been so since the days of Luchino Visconti, Tullio Serafin, Renata Tebaldi and Maria Callas in the 1950s. "Now that," I kept hearing, "was what opera is supposed to be." People in the 1950s probably bemoaned that there were no Toscanini, Gigli, Caruso or great living composers feeding the repertory as happened 40 years before.
When you go to Milan, everyone there seems to have an opinion about La Scala, whether or not they have attended an opera there. The old-guard audience is never satisfied with the current state of performances. The working classes have a sense of pride at having this shrine of opera in their midst but some of them also revile it as a symbol of the alta borghesia (this year's season opening audience included Italy's new Prime Minister Mario Monti). Italian newspapers, especially Milan's hometown Corriere della Sera, give La Scala the kind of coverage that the Met could only dream of from The New York Times, although the latter paper does a better job of cultural coverage across the spectrum. 
La Scala is so central to the Milanese identity that, when it was heavily damaged during the Second World War, the theater was one of the first things the citizens sought to repair. It reopened in May 1946 with a concert led by Arturo Toscanini. Here is some precious historic video:
Part of the aura of La Scala relates to the perception that it is a daunting challenge to get tickets. More New Yorkers and Viennese have been to their opera houses than have the Milanese. One reason is that La Scala (with 1,987 seats) and Vienna (with approximately 2,100) are smaller than the Met (3,786), so the attendance potential in New York is higher. But it is also a question of the number of opera performances given in a year. In the 2011-2012 season, La Scala will give 107, while Vienna and New York will each exceed 200. La Scala will do 13 operas while the Met gives 26. Vienna typically has more than 40 per season but does fewer performances of each work.
A Temple of Music Stays in the Black

Remarkably, given the state of the world and the Italian economies, La Scala has had a balanced budget for the past seven years and is said to be two-thirds self-sustaining -- different from most opera houses. It receives some monies from the federal government as well as those from its region of Lombardy and the city of Milan. Tickets range in price from 12 to 187 Euros ($15 to $250) for most opera nights, though there are high-cost galas as well as family prices, tickets for people under 30, and other special concessions. Apart from opera, there are concerts, recitals, and a healthy offering of ballet that includes appearances by superstar native son Roberto Bolle, as famous for his looks and his status as a fashion plate as for his dancing.
In recent years, as government support has declined as a percentage of the budget, La Scala has used its name and prestige to become a fondazione. This does not simply suggest non-profit status, but the ability to exploit, in the best sense of the word, its brand. La Scala has an image as being one of the citadels of the lyric art, but also of passionate dedication to preserving and advancing opera.
The pulse quickens each time one crosses its threshold. Milanese schoolchildren who visit it are in awe of the opulence and don't always realize that this place is, first and foremost, a temple of music. While the exterior of the building is soberly elegant, inside La Scala is swathed in velvet with touches of cream and gold and the glitter of crystal. Ushers are elegantly attired and audiences dress beautifully.
La Scala, despite its famous history of temperamental divas, conductors and stage directors and its frequent labor strife, also reminds us of the dignity, the glory and the sheer visceral thrill of opera. It has gently, gradually expanded its profile so that it is still irresistibly alluring while being less forbidding. Its Web site provides good, clear information in Italian and English. With careful planning, one can actually secure tickets by Internet or at the box office rather than having to go through a labyrinth of intermediaries or pay a king's ransom to a hotel concierge.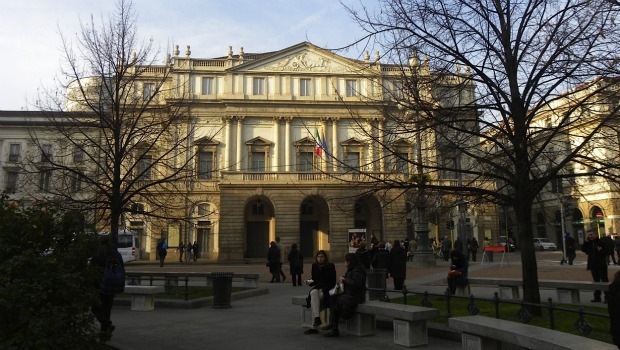 Managing the Brand 
Importantly, La Scala has used its brand effectively without cheapening it. The gift shop has almost nothing tacky. Rather, the iconic logo appears discreetly on several attractive items of clothing as well as on all publications and a fabulous series of historic and current recordings and videos, all beautifully packaged. The house program, for which one pays 20 Euros ($26), is a hardcover book. It is a thing of beauty full of photographs and essays rich in history and musicology. Mostly they are in Italian but, even if one does not read the language, they are grand keepsakes for the quality of the pictures and the making of the books. This too extends the brand.
The theater's bars and restaurants serve excellent food, wine and coffee at prices ranging from modest to super-expensive. The Caffeteria Il Marchesino is open to the public, whether or not they hold tickets, from 8 am to midnight. One can stand at the bar just before performances and eat a bowl of exemplary risotto alla milanese, rich with saffron, for 8 Euros. Delicious mignon sandwiches of prosciutto crudo on fresh-baked croissants are 3.50 Euros. Wine by the glass is first-rate and, tellingly, not high in alcohol so that it does not induce sleep during performances.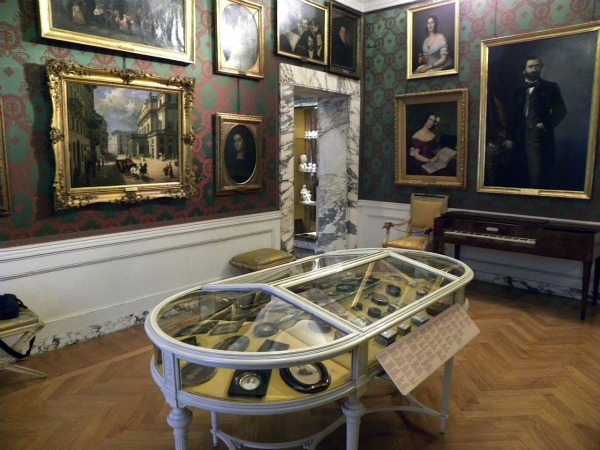 The adjacent 12-room Museo Teatrale della Scala (open daily 9 am-12:30 pm and 1:30-5:30 pm; 5 Euro admission) is a wonderful gathering of memorabilia related to all who have worked here as well as the development of opera, classical music, dance and theater. The paintings, drawings, sculptures, musical instruments and scenery models evoke a glorious past as well as a devotion to continuity. 
Walking in this museum makes a New Yorker wistful in thinking of the sad state of Founders Hall on the Concourse level of the Metropolitan Opera House. Until a few years ago it had paintings and sculptures that reminded visitors of some of the great artists who appeared at the Met since 1883. Most of these are gone now (and where are they, by the way?), replaced by a massive wall of black and white photos of singers in alphabetical order, most not visible because they are too high. Almost no one looks at them. It has the feel of a wall in a coffee shop or dry cleaner near Times Square that displays photos of actors who frequent that establishment. 
While there are many things at which the Met, Vienna, Covent Garden and the Paris Opera excel, La Scala has much to teach us about looking toward the future of opera while honoring the past.
This is the first of a two-part series about Teatro alla Scala. The next one will appear in early January 2012.
All photos by Fred Plotkin