Good Music, and the Other Kind
One of my core beliefs was inspired by a comment by Duke Ellington (whom I love madly, right or wrong): "There are two kinds of music -- good music and the other kind."
We all know what he meant, but I also realize that many people put up huge barriers to one form of music or another. That is a shame. I have space in my mental MP3 player for just about every kind of music except rap which, to me, is more a spoken word form with a tinny backbeat than real music. Otherwise, though, good music can be found everywhere from the concert halls to churches, opera houses to rock clubs, joints, boites and garages. And then there are all the wonders that come under the catchall phrase of "world music."
On Monday, my colleague Brian Wise posted a story on the WQXR blog about the latest Classical Countdown in which listeners voted for their favorite compositions. Only three of the 75 works could be called operatic (Wagner's Tristan und Isolde; Puccini's Turandot and La Bohéme) while only one other work, Verdi's Messa da Requiem, is by someone who is primarily an opera composer and yet this masterpiece is not an opera. Most of the composers who made the list have at least one or more outstanding operas to their credit, from Barber to Dvorak and Vivaldi. For many music lovers, the greatest works by Handel, Mozart and even Tchaikovsky are operas.
The list also includes music by composers whom we do not associate with opera: Bach; Brahms; Bruckner; Elgar; Mahler; Mendelssohn; Pachelbel; Schubert and Sibelius. The occasional anomaly on the list, such as the Bruckner Eighth Symphony, becomes worthy of speculation as to how it came from nowhere to land at number 35. (Was there a memorable performance that got a lot of coverage? Was there a recent recording? Did it wind up on a conspicuous broadcast on WQXR?) Without a doubt, the inexorable rise of the Mahler Second Symphony relates not only to its greatness but to its prominent role in the recent observance of the tenth anniversary of 9/11. 
The three composers I consider the most underrated of all -- Berlioz, Haydn and Rossini -- are nowhere to be found. Symphonie Fantastique fell off the list this year, while works hang on that do not compare (the Pachelbel Canon -- really? I mean really???).
Among composers whose works are essentially non-operatic, I am amazed that no place was found for Chopin, Schumann and Grieg. And was there no place for Richard Strauss, one of the titans of symphonic writing in addition to being one of the top opera composers? I am sure you could add many more names that deserve inclusion. Whom would they be, and what music would you select? 
The Power of Familiarity
We are not talking here about the top 75 composers, but the most favorite pieces of music among those listeners who responded to WQXR's survey. I think it is notable that the survey was done online. This does exclude a cohort of listeners, in general older, who might not use the Internet (and therefore do not listen online either). These people are not the traditionalists one might expect, but have broader tastes in music than the old warhorses.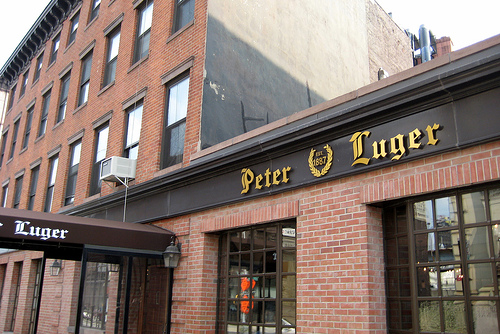 Just like the Zagat survey of restaurants, I think that famous pieces trigger a positive response based, in part, on recognition and familiarity. Restaurants such as Le Bernardin, Peter Luger and the Gramercy Tavern finish atop the New York City listings even if most people have not eaten in those places. In the same way, Beethoven has five pieces in the top ten and nine works out of the seventy-five. The runner-up is Mozart with eight works and then comes Tchaikovsky with seven. Everyone knows these guys. Works that are in heavy rotation on the playlist of a classical music station will tend to be the ones named. 
Beethoven was such a radical that it is interesting that he has become the one who now seems so mainstream. The woman who sits behind me at my New York Philharmonic subscription always refers to "my Beethoven," as in "I am happy as so long as my Beethoven is on the program in enough concerts each season to make me want to renew." A small group of composers (Mozart, Schubert and Brahms in particular) garner her approval.
I do not want to belittle this woman's taste, because her favored composers are all among the best and I do not belittle anyone's taste. She and I regularly converse as I try to nudge her toward opening her ears to contemporary music or rarities. Carl Nielsen, Frederick Delius and Bela Bartok are more than she wants to handle, and she still covers her ears before even a note written by a living composer is played.
A Classical Diet Without Opera?
I will leave it to listeners and readers to debate whether the top 75 pieces on the list reflect that best in classical music. I know my list would be quite different, even if I like almost every work that is on the current list. These results have set me to thinking about something else: Why is it that so many people who like classical music say they do not care for opera? I know that most opera lovers like symphonic and chamber music even if they prefer opera.
I know people who find opera emotionally messy and are embarrassed and shocked when they find their pulse racing, their skin atingle with goosebumps, and their eyes brimming with tears. They don't know how to deal with that because they feel out of control. A late friend of mine, Peter Henschel, allowed himself to be moved by opera, by symphonic music, by art, by the wonders of nature, by the love of his wife and his friends. He did not live as long as we might have wished, but he lived more fully than most people can conceive of. Because Peter was alive to his feelings and his senses, he understood more than most people could and felt wonderful because of it.
Many people claim not to like opera (even if they have only attended one or two) because they feel they do not understand everything. Do we ever understand everything we experience? Did you understand the last kiss you received? Or the last sip of wine you had? You may have liked it, but you did not understand it. Folks who tell me they do not understand everything in opera often tell me they love classical music. Believe me, there are more things we can understand in opera, which has a fair amount of literalness, than in the total abstraction that is symphonic and chamber music.
You probably have noticed that there is almost no opera or vocal music on WQXR during work hours on weekdays. This is hardly unique among classical music stations. The good news is that, starting on January 7, there will be an all-opera "Operavore" stream on WQXR.org. It will contain new and historic recordings, vocal recitals, and other music to delight cultists of the voice.
I do not see the need to categorize music and like one kind and not another. Why should opera and classical music run on parallel rails when many musicians work in both forms? If it is good enough for them, why is not good enough for some audiences? Music is an amalgamation of all that came before it and draws from all of those sources, plus the genius and inspiration of those who compose and perform it. Listen to Ellington play Grieg. You may not understand it in the way you think understanding is supposed to happen, but you feel it. All music, and especially opera, is about emotional understanding.
Here is a resolution for the New Year: listen to all music as if for the first time (I will do a post soon about how I do that). If you have never heard a particular opera, classical work, show tune, rock song, country and western ballad or music from a country you have never visited, listen without prejudice or preconception, do not analyze and do not judge. But really listen, with all of your heart.