Met Creates a Perfect Storm in Enchanted Island
Imagination is a precious commodity and, among opera producers, it is often undone by hubris. When you see La Traviata, it could work on an empty stage or in plush settings, but only if the integrity of the work is respected. Many producers believe they have to give an opera a spin or a concept to make it "relevant." They fail to accept that it is their job to understand, deeply, what makes the opera extraordinary and bring that forth.
That's what makes The Enchanted Island, the newest addition to the Metropolitan Opera's repertory, so extraordinary. It contains music from many centuries ago. But everything else about it is new -- and organic.
Because I personally know several members of the cast, it would not be right to discuss their performances. It is an excellent ensemble that includes David Daniels, Danielle de Niese, Joyce DiDonato, Plácido Domingo and Luca Pisaroni in leading roles and a group of younger singers (Paul Appleby, Layla Claire, Elizabeth DeShong, Elliot Madore, Lisette Oropesa, Anthony Roth Costanzo) who encourage me to think that there will be a new generation of stars in the next decade. In William Christie, the work has a conductor who is perhaps nonpareil in this repertory and he led it with vibrancy and tenderness. 
Instead, I would like to focus on what is particular about The Enchanted Island as a work for the stage. In the past, it was customary for a new opera to be written and then a production created for it. Technical and physical resources were more limited than they are today. Only Paris and a few other places had the capability to create storms, floods, earthquakes and other events of nature. This was the case at the time of Lully, Rameau and other French Baroque composers and was true again in the 19th Century for the stagings of grand operas by Rossini, Meyerbeer, Verdi and others. These grandes spectacles were dazzling but, at their best, were inspired by words and music to tell the stories of the operas.
Today, those who make opera productions have at their disposal a vast array of technological tools. This is wonderful if they are used intelligently and judiciously but, more often than not, "boys with toys" is the prevailing aesthetic. I am not a technophobe, but when technology becomes the attraction and the romance, it is not doing its job. It is there to serve, not dominate. That is one of the lessons of this production. 
I find that world premiere productions, which is to say stagings created for the first performances of a newly-written operas, tend not to be tech-heavy because smart producers (the stage directors who have the concept for the production and gather a design team to help realize his or her vision) want the music and text to come through. As has been documented elsewhere, The Enchanted Island is not a new opera per se, but rather a new work for the opera stage with a new story and libretto that has been cleverly inserted into music by many composers, primarily Handel, Vivaldi and Rameau. Much of it was selected by Jeremy Sams, the principal creator of The Enchanted Island, though pieces were suggested by certain singers and by Maestro Christie.  
Sams, who wrote the English-language libretto, cleverly drew elements from Shakespeare's The Tempest and A Midsummer Night's Dream. Prospero, Duke of Milan, has been exiled to an island along with his daughter Miranda and Ariel (a sort of willful Tinkerbell). The island is ruled by the sorceress Sycorax (mentioned but not seen in The Tempest) and her beleaguered son Caliban. Faulty conjuring by Ariel causes a shipwreck and Helena, Hermia, Demetrius and Lysander from A Midsummer Night's Dream are washed ashore. Another gaffe by Ariel rouses Neptune, who is expected to put things right.
A Common Vision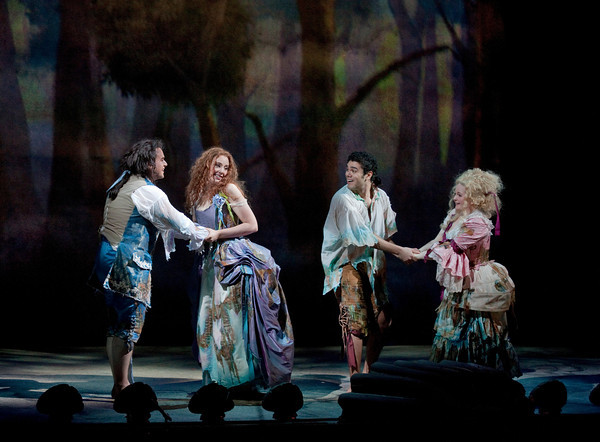 The fact that this show is called a "pastiche" has, I believe, served to diminish the way it is thought of by many people who consider themselves serious operagoers. "Pastiche" has come to mean a tossing together of some of this and some of that. But this is anything but a frothy confection. It is entertaining, to be sure, but also deeply affecting and often mesmerizing. The Enchanted Island works because it seems to have been forged as a common vision by all of its creators -- musicians, writers, directors, designers. It is a perfect storm, a series of elements that combine just so and create something great, gorgeous and awesome.
The work has musical and intellectual rigor, done with an 18th-century sense of optimism, balance and lightness. There are two acts, a suspenseful story with many surprises, a witty and well-choreographed (Graciela Daniele) dream ballet for Caliban, of all people, and a congruent arrangement of arias, duets, sung passages, recitatives and a notable relation between key signatures as the music moves along.
The only weakness in the show, I believe, is that the role of Prospero is underwritten. There was a commanding artist, David Daniels, playing a commanding character, but he did not have a part commensurate with his talents. While all the other cast members had great musical star turns, Daniels did not. He concluded the performance with a spoken monologue, as Shakespeare might have wanted, while an operatic evening would have benefited from a showstopping closing aria from the male lead who is also a charismatic and gifted singer. But this can be fixed and I hope it will be.
As well-made as the work is in terms of text and music, it ultimately needed the right kind of scenery, lighting, costumes and, above all, stage direction to make the storm perfect, and all of these elements are sublime. The production team, many of whom were involved in the 2008 Met premiere of Philip Glass's Satyagraha, give us an object lesson in how to take music and words and turn them into vibrant, mesmerizing theater that serves an opera rather than burying it under a concept or gargantuan technology. Phelim McDermott, as producer, led a team that included Julian Crouch (associate director and set designer), Kevin Pollard (costumes), Brian MacDevitt (lighting) and 59 Productions, a Scottish design team that created animation and projections.
Fresh Ideas For Wagner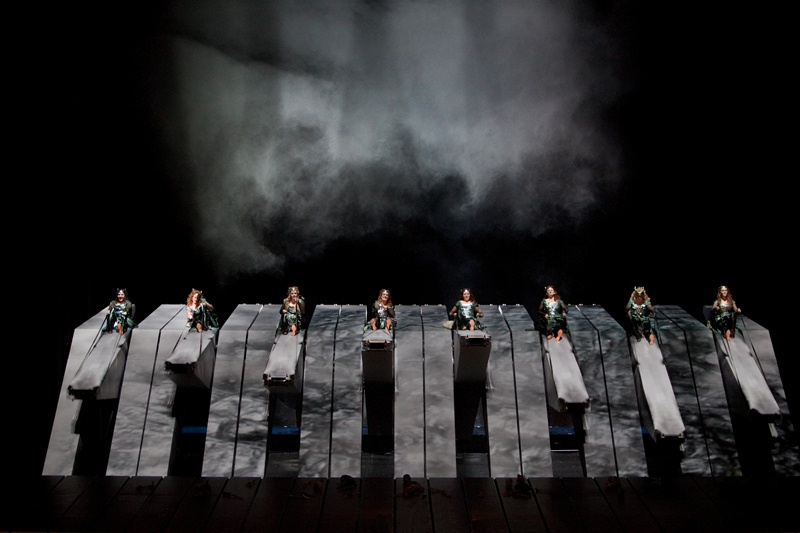 If Wagnerites set foot in the Met during a performance of The Enchanted Island, I am sure that quite a few of them will bemoan the fact that the new Met Ring cycle was assigned to Robert Lepage and his collaborators rather than Phelim MacDermott and his team. The fresh ideas and rich creativity in just the first act of The Enchanted Island far exceed everything that has been seen in the Das Rheingold, Die Walküre and Siegfried now on offer at the Met. I ardently hope that Götterdämmerung (opening on Jan. 27) will show us that we need to see the whole cycle to discover a great vision that resides in the staging.
The production of The Enchanted Island is made of painted drops, moveable pieces and lighting that is specific to mood and incident. It does not make a gargantuan machine its centerpiece. But it is much more than an abstract set with just a sofa, a clock and a lamp that are supposed to have metaphorical significance. Image after image is vivid, beguiling, story-specific and served the music. This production is a demonstration of how opera companies who are looking to economize (though nothing here felt cheap) can use lighting to create settings and effects.
The question of technology will come again on Jan. 21, when The Enchanted Island will have an HD transmission around the world. Audience members who aren't in the New York area should try and see this in cinemas. I wonder how such carefully created theater art will reproduce on a large screen when the production itself uses many projections? The subtle lighting will not be the same, of course, and that is a loss. But I plan to attend this HD and will listen to glorious singers perform heavenly music which, by itself, can put one on the enchanted island of one's own imagination, a place we all need to visit as often as possible.
Photos:
1) Paul Appleby as Demetrius, Layla Claire as Helena, Elliot Madore as Lysander and Elizabeth DeShong as Hermia in 'The Enchanted Island.' (Ken Howard/Met)
2) Acene from the Met Opera production of Wagner's 'Die Walküre.' (Ken Howard/Met)