Frederick Delius: Apostle of Romance, Emotion and Beauty
LONDON —
Some composers gain attention later in life than did precocious geniuses such as Mozart, Rossini, Mendelssohn and Saint-Saëns. Among these were Brahms, Dvorak, Janacek and Ives, all of whom hold a greater or lesser place in the symphonic and operatic pantheon, even if they had to struggle more to gain that acclaim.
There is another composer who had no notable success until he was well into his forties, one who is largely forgotten as the 150th anniversary of his birth approaches. Frederick Delius (January 29, 1862-June 10, 1934), whose compositions are unknown to many music lovers, inspires great passion among a small group of cognoscenti.
My father was one of them and he named me for the British composer. My mother did not care for Delius's music and said I was named for Fredric Wertham [PDF] (1895-1981), a psychiatrist, author and leader in the battle against images of violence in media and their potential to negatively influence children. This did not enthuse my father. Both my parents admired Fred Astaire, with whom I share a birthday, so we all agreed that I am his namesake.
Because of my father's vast knowledge of music, his opinion carried great weight with me, except for his lack of feeling for Verdi. While he raised me on a healthy diet of the musical titans, he never thought to name me Johann, Wolfgang, Ludwig or Franz. He also introduced me to music most people know nothing about and I always wondered how Delius rose to the top of the list among his beloved composers. As we approach the anniversary of Delius's birth, there will not be much chance to find out.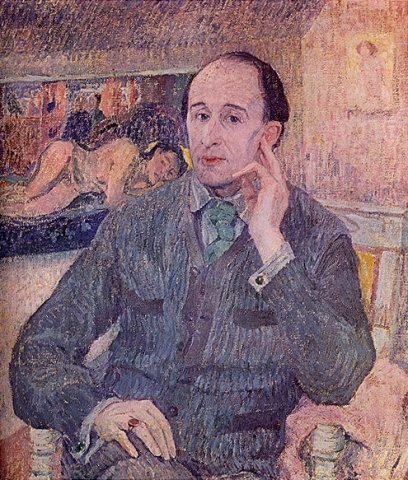 Here in London there was a plan to present Delius's 1907 opera, A Village Romeo and Juliet (the fourth of his six operas) last November at the Royal Opera House, Covent Garden. It would have been the first performance there of this work since Sir Thomas Beecham (1879-1961) led it in 1910 (the same year he conducted the British premieres of Salome and Elektra). This new production was to have been conducted by Sir Charles Mackerras, who took up the mantle from Beecham as an advocate for Delius. With Mackerras's passing in 2010, A Village Romeo and Juliet was abandoned and replaced by La Traviata. We are fortunate to have a documentary about Delius in which Mackerras appears (a new one is reportedly in the works, directed by John Bridcut).
On January 8 there was an afternoon concert at Wigmore Hall, London's wonderful place for chamber music and vocal recitals, that featured cellist Raphael Wallfisch and pianist John York. They played three pieces by Delius (Romance, 1896; Caprice and Elegy, 1930; Cello Sonata, 1916) followed Edvard Grieg's Cello Sonata in A minor (Op. 36). The program page indicated the Delius 150th anniversary and noted that the Norwegian, whom he met and studied with in Leipzig, had the strongest influence on Delius the composer. "When I first met Grieg, it was as if a breath of mountain air had come to me," he reportedly said.
Global Citizen
Delius was born in Yorkshire, one of fourteen children in a family in the wool business. His parents had emigrated from Germany and had named him Fritz Theodor Albert Delius. Music was present in the household and Fritz showed talent on the violin and piano. He did not much care for the wool business and persuaded his father to let him go to Florida at age 22 to run an orange plantation on the St. John's River north of Jacksonville. He came to know African-Americans, whose music inspired him, as well as Native Americans and all kinds of people who were distinctly different from those he knew in England. 
One of his first compositions was the Florida Suite (1887), which is as personal and atmospheric a piece as anything Grieg would write. Koanga (1897) his third opera (and first to be performed) is set on a plantation in Louisiana and includes planters, overseers, slaves and a voodoo priest. It clearly was influenced by his year and a half in the American South. Beecham conducted Koanga at Covent Garden in 1935, soon after Delius's death. It was performed in Washington, D.C. in 1970 and is thought to be the first Delius opera to be staged in the USA.
What popularity Delius has had in America is due to a series of recordings produced in the 1930s by the Delius Society, conducted by Beecham. Americans who admired Beecham came to know Delius's music and story thanks to his advocacy. In fact, the British maestro did a great deal to help Delius, including a six-day festival of his music in London in 1929, and personal support until the composer's death in 1934.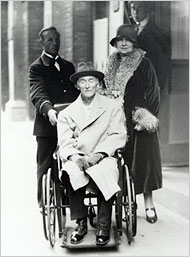 After Florida, Delius spent years in Leipzig for study and traveled in Europe, including Grieg's Norway, for inspiration. He lived much of his life in France, where he likely contracted syphilis. He absorbed German academism and came under the influence of Debussy. Although thought of as a British composer, his particular background and experience made Delius different from contemporaries such as Sir Edward Elgar and Ralph Vaughan Williams. With the latter, he shared and perhaps outdid him in terms of chromatic harmony and rich musical texture. Although Delius had admirers among professional musicians and the audience members who followed them, the esteem he garnered did not translate into wide acclaim. Illness and the First World War presented further challenges and, by 1924, he was unable to work.
In 1928, Eric Fenby (1906-1997) heard Delius's 1912 composition, On Hearing the First Cuckoo of Spring on the radio in Yorkshire. He was so taken with this music and then, upon hearing that Delius was blind and paralyzed as a result of the effects of syphilis, resolved to help the composer. He journeyed to Delius's home in Grez-sur-Loing, France, about 40 miles from Paris and presented himself to the composer and his wife.
Fenby remained at Delius's side for six years. They developed a particular form of communication in which Delius was able to dictate music to Fenby, who wrote it down. Fenby's presence and devotion gave Delius a creative outlet that otherwise would have been denied him and it is a story that is unique in the history of music. A documentary was made in the 1980s in which Fenby looks back on his relationship with Delius. Here is Part one and part two.
Harold C. Schonberg wrote an article in The New York Times on January 28, 1962 entitled "No Celebration -- Delius, Born 100 Years Ago, Remains Elegiac -- And Neglected." He noted that the centennial passed unnoticed, with no musical program planned in the New York area. 
The conclusion of Schonberg's article is as valid today as it was fifty years ago:
"There really is no excuse, in this anniversary year, for a complete neglect of Delius. The music is too good to deserve abandonment. Beecham, in his biography of 1960, has written the best summation of what Delius stands for. He was discussing Delius's eventual place in music. 'Opinions are bound to differ, and widely,' says Beecham. "For myself I cannot do other than regard him as the last great apostle in our time of romance, emotion and beauty in music.'"

Photos: 1) Portrait of Frederick Delius by his wife, Jelka Rosen; 2) Jelka Rosen and Frederick Delius in 1929