Nannerl Mozart: Born Too Soon
Friday is the 256th anniversary of the birth of Wolfgang Amadeus Mozart. He will no doubt be celebrated on radio and in concerts around the world. His birthday week is observed in Salzburg with performances by world-class musicians who gather in the city of his birth to make music and eat Mozart Kugeln, those rich balls of chocolate, hazelnut and marzipan. I was there on his 250th birthday and reported live for WNYC's Soundcheck as bells pealed at 8:06 p.m., the time of his birth.
But who remembers his sister, Maria Anna Walburga Ignatia Mozart (July 30, 1751–October 29, 1829), nicknamed Nannerl? She was born five years before her brother and lived on for thirty-eight years after his death. For many years she existed as a minor character in the fabled life of Wolfgang, a girl who accompanied her brother musically (on the harpsichord and fortepiano) and emotionally and then receded from view while he went on to realize the potential of his genius. We read in the New Grove Dictionary of Music and Musicians that "from 1769 onwards she was no longer permitted to show her artistic talent on travels with her brother, as she had reached a marriageable age."
She was made of strong stuff. The Mozart family toured endlessly around Europe as the two children performed for the great and the good from Paris to Vienna. She survived smallpox and typhus but nearly died of bronchitis in The Hague in 1764. She was given last rites there but recovered thanks, in part, to the fact that the Dutch royal family sent their personal physician to tend to her. Years later she also overcame tuberculosis.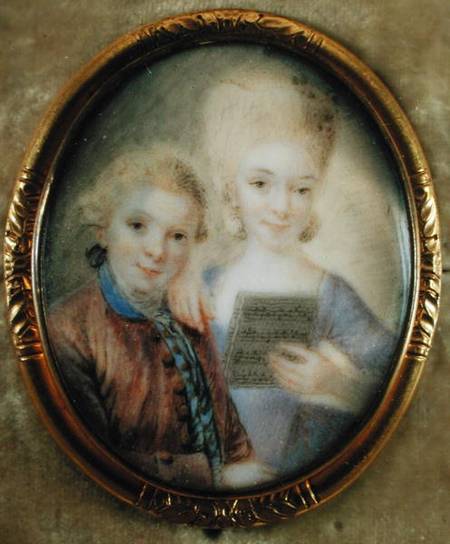 Learning about Nannerl is complicated. It seems that a fascination about Nannerl apart from Wolfgang has arisen in recent years. I think, though, that this interest is not about who Nannerl really was as much as an idea of her as a figure who existed, unappreciated, in the composer's shadow. This construct makes her ripe for exploitation as a figure of mystery or ridicule. While there are scholars who have written meaningfully and responsibly about her presence in Wolfgang's life, there is also a group I call Nannerlologists -- people who take her name and image and make her a character in movies and novels.

This Spanish-language video is a straightforward telling of basic facts of Nannerl's life, with the highlight being the statement, "You don't know what it is like to have talent and not be able to use it." This is the central metaphor of all the Nannerlologists.
 

Mozart's Sister, a 2010 French-language feature film by René Féret, is a well-made but highly speculative attempt to document what her early life might have been like. "In the shadow of genius, she longed to be recognized" is a teasing line from the trailer. The film evokes well the rigors of travel in mid-18th-century Europe, including rough roads, disease and exhaustion. It is a fantasia about Nannerl having the skills to compose music as well as play it, only to be prevented by her father Leopold. 

Scholars tell us that she did write music, though none of it survives. We are often told that Nannerl was unable to become a composer not because she lacked talent but that it was not a job for a young woman. She was allowed to perform music, but almost as an adjunct to her prodigiously talented brother. This film makes one think of the great Broadway musical, Gypsy, in which an overbearing parent favors and promotes the talents of one child while pushing the other one into the background.

From what we know of the real Wolfgang and Nannerl, they were genuinely close and the composer did not behave competitively with her. It seems clear that he encouraged her to compose. In a letter from Italy, dated July 7, 1770, he wrote "I am amazed! I had no idea you were capable of composing in such a gracious way. In a word, your Lied is beautiful. I beg you, try to do these things more often." This song, and all music by Nannerl, has not survived.

Mozart was inspired to write music dedicated to his sister. This YouTube video was posted by Rita Charbonnier, the Italian author of La Sorella di Mozart, a 2006 novel published in twelve languages and called Mozart's Sister-A Novel in English. Apart from the interesting pictures, we hear part of Wolfgang's Divertimento in D major, the "Nannerl Septet" for oboe, horns and strings (K. 251). It was written in 1776 for Nannerl's name-day celebration.


In a clever promotional effort by Alison Bauld for her 2005 novel, called Mozart's Sister, Nannerl even "wrote" a blog. Its contents are, at best, tangential and relate as much to the novel as to the real Nannerl, whoever she might have been.

So inspiring is the Nannerlologist's idea of her that there is a "mockumentary" which, while not especially funny, is intriguing in that a group of young people would be interested enough in Nannerl to think to create a video about her.

At the moment I am reading Mozart's Last Aria, a crime novel by Matt Rees that was published in November. In it, Nannerl receives a letter from Constanze, Mozart's wife, that Wolfgang has just died in Vienna at the end of 1791. In this book, Mozart makes a deathbed announcement to his wife that he had been poisoned but does not name his murderer. This inspires Nannerl to travel from St. Gilgen, a town 18 miles (29 km) from Salzburg, all the way to Vienna to find her brother's killer. After living so long in isolation, she finds herself again among musicians, courtiers and all manner of Viennese intrigue. I am only part of the way through the book and, if the murderer is revealed, I don't yet know who it is.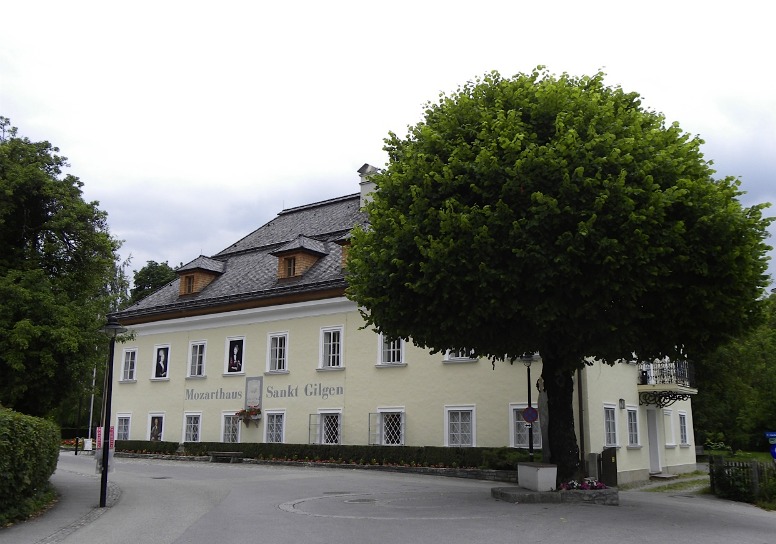 The real Nannerl did live in St. Gilgen, in the house where her mother, Anna Maria Pertl, was born in 1720. In 1783, she wed a wealthy local magistrate, Johann Baptist Franz von Berchtold zu Sonnenburg, who had five children from two previous marriages. They had three children together. A son, Leopold, lived with his widowed grandfather, also named Leopold, who attempted to create another Mozart musical genius. It did not happen.
Wolfgang and Constanze visited Leopold and Nannerl in Salzburg in 1783. It did not go well, in part because father and daughter were united in their disregard for Constanze. Wolfgang never saw his sister again, apparently to their mutual regret. The last correspondence between them was in 1788. In 1820, in Salzburg, Nannerl ran into Constanze and her second husband Georg Nikolaus von Nissen. There was an amicable reunion and Nannerl lent all of the letters she had from her brother to Constanze so that they could be used for a Mozart biography the Nissens were writing.
Nannerl did spend more time in Salzburg as an older woman, often giving music lessons. She even met and became close to Franz Xaver Mozart, the son born to Constanze and Wolfgang five months before the composer's death. Nannerl's last years were marked by illness, loneliness and, in 1825, by blindness. It was a sad conclusion to a long life, one marked by the kind of endeavors expected of women at that time.  
Who knows if she left any musical compositions? It is a shame that Nannerl did not have a descendant like Walfredo Toscanini to document her true worth and consolidate her legacy.
Photos: 1) Wolfgang and his sister Maria Anna Mozart 2) Nannerl Mozart House in St. Gilgen, Austria (Fred Plotkin)