What Do Opera Audiences Want?
Sigmund Freud famously asked, and with considerable exasperation, "What do women want?" I think heads of opera companies and their own analysts could ask, "What do opera audiences want?" Of course, just as there are innumerable types of women (and thank goodness for that), there are many kinds of operagoers. They vary from city to city (New Yorkers are demonstrative, Washingtonians much less so) and from one nation to the next, but there are other ways to define audiences.
When I worked at the Met, there were approximately 28 subscription series and each group seemed to have different operatic DNA. For example, the "Monday 2" series was the most historic one in which many old-guard families had the same seats since the 1880s. They dressed well, were often knowledgeable, and went because there was a belief that it just was what one does. Tuesday audiences were the least homogeneous, in part because the Met often played in Philadelphia on that night so a natural constituency did not form in New York. 
Saturday matinee audiences were the most elderly and suburban, for obvious reasons, and often saw casts giving their all because the performances were broadcast live on the radio. Saturday evening, in the past, had many working people--especially Jews, Italians and Germans--who were very passionate about opera. Prices were often lower and, socially, it had no appeal to Monday night types who went to their weekend homes. Nowadays, audiences on different nights at the Met are less distinct and prices are higher on Saturdays than they are on Mondays.
The Met prided itself on presenting excellent singers, many of them stars but others less known. Audiences were discerning and the company's subscription department tried to equitably distribute performances so that every series had an equal number of stars. People who bought individual tickets checked casting very carefully -- it was a consideration at least as important as the day of the week or the name of the opera.
Leaving the Comfort Zone

Nowadays, fewer audience members think to attend an opera purely based on the presence of a particular singer. In fact, many people would be hard-pressed to name some of the excellent singers currently performing. Four current sopranos -- Renée Fleming, Angela Gheorghiu, Anna Netrebko and Deborah Voigt -- have strong public relations apparatuses that get the word out about their latest activities and accomplishments. They are names known on most of Planet Opera and, to some degree, in the world beyond. This might help sell tickets, but it does not guarantee a sold-out theater.
There are other singers whose gifts and performances are comparable but do not have the same level of fame. One who immediately comes to mind is the American soprano, Patricia Racette, who was just a superb Tosca at the Met (right) and will soon be Madama Butterfly. She has it all as an artist and I get tickets for anything she is scheduled for, just because she is in it.
A big change from the past is that many prospective operagoers scarcely check cast lists anymore and look only at the name of the opera. If they know it, they will go. Very few stars, among them Netrebko, Cecilia Bartoli, Juan Diego Flórez, Dmitri Hvorostovsky and Jonas Kaufmann, have a significant impact on ticket sales. When outstanding singers appear in unfamiliar works (say, Satyagraha or Khovanschina), many current operagoers won't buy tickets, in part because they feel they are stepping out of a comfort zone, even if these operas are masterpieces. This is a serious problem.
I believe we are in the middle of a tidal shift that is an alarming trend for the health of opera companies. In the not too distant past, if an opera house had a star such as Caballé, Carreras, Domingo, Freni, Horne, Nilsson, Pavarotti, Price, Rysanek, Scotto, Sills, Sutherland, or Te Kanawa in the cast, that performance would sell out.
In 1984, the Met presented Riccardo Zandonai's Francesca da Rimini in a handsome new production. It had not been done by the company since 1918. Although the composer and opera had almost no name recognition among even the most ardent fans, it starred Renata Scotto, Plácido Domingo and Cornell MacNeil, with James Levine conducting. With this cast, ticket sales were excellent. Eight performances were done in New York, the last one being an international telecast. It then was part of the Met tour and was seen by large audiences in Atlanta, Cleveland, Detroit, Memphis, Minneapolis, Toronto and Washington. This is the meaning of star power.
It is no reflection on the merits of the artists of today to say that a work with no name recognition would have trouble selling many tickets no matter who is in the cast. There are cases in which works generate and deserve great buzz (The Nose at the Met; Anna Nicole in London) and sell lots of tickets. That is wonderful, but it is the exception. This season the Met revived its outstanding 2008 production of Satyagraha, one of the best things the company has presented in recent years. While it had audiences in its original run, houses were not at all full this time around. 
To be artistically healthy, it is essential for leading opera companies to offer a mix of repertory in many styles. And it is important that audiences keep faith with them. While I love the famous works of the standard repertory by Mozart, Rossini, Donizetti, Verdi, Wagner and Puccini as much as anyone, if audiences only attend operas they know, that is akin to eating the same dishes at certain chain restaurants or only getting coffee from one famous purveyor because they are known quantities.
Taking a Chance on Verdi
At the Met in coming months, four Verdi operas will be presented. Very fine singers will appear in Aïda and La Traviata and I suspect a lot of tickets will be sold even though the production of the latter leaves a lot to be desired. But how will Macbeth and Ernani fare? The former has name recognition as it is based on a famous play. It has a major artist, Thomas Hampson, in the title role, and an excellent conductor in Gianandrea Noseda. One of the season's most important debuts will be mezzo-soprano Nadja Michael as Lady Macbeth.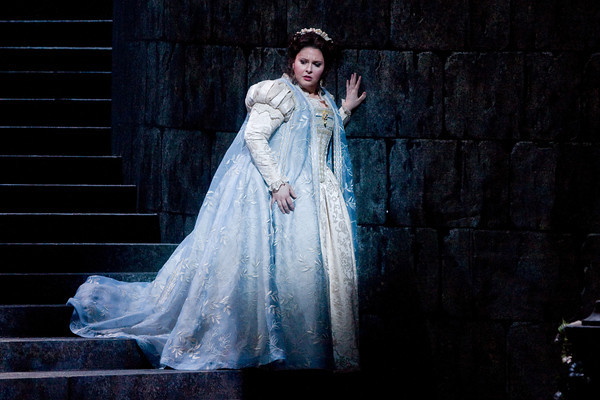 Ernani opens on February 2. Though not unknown, this early Verdi piece is less familiar to the general opera public. Roberto De Biasio and Marcello Giordani will share the title role, joined by three major singers: Ferruccio Furlanetto, Dmitri Hvorostovsky and rising star Angela Meade (right) who, on Monday, received the prestigious Beverly Sills Artist Award. The very fine Marco Armiliato conducts. 
Will prospective ticket buyers look past Ernani's unfamiliar title and choose to attend because of its famous composer and the quality of the singers? I would hope so, but it has not sold out. Many potential ticket buyers might wait to read reviews or choose to attend the February 25 HD broadcast. In the past, the cast would have been enough of a reason to buy tickets as soon as they went on sale.
All the time I hear the same refrain, "There are no good singers nowadays." This is usually said by people who think they are opera lovers but, in fact, are not paying attention. There are many great singers before the public today. As an exercise in preparation for this article, I took a piece of paper and wrote down the names of active singers, ranging from quite young to very senior, who have something persuasive and meaningful to offer on the stage and in the ear:
Sopranos Patrizia Ciofi, Diana Damrau, Natalie Dessay, Daniela Dessì, Julianna Di Giacomo, Renée Fleming, Barbara Frittoli, Anja Harteros, Hei-Kyung Hong, Karita Mattila, Angela Meade, Anna Netrebko, Patricia Racette, Sondra Radvanovsky, Nina Stemme, Violeta Urmana, Deborah Voigt, Eva-Maria Westbroek
Mezzo-Sopranos Anna Caterina Antonacci, Daniela Barcellona, Cecilia Bartoli, Stephanie Blythe, Olga Borodina, Sasha Cooke, Joyce DiDonato, Elina Garanca, Susan Graham, Vesselina Kasarova, Angelika Kirschlager, Waltraud Meier, Dolora Zajick, Maria Zifchak

Tenors and Countertenors Roberto Alagna, Fabio Armiliato, Piotr Beczala, Johan Botha, Lawrence Brownlee, Anthony Roth Costanzo, David Daniels, Iestyn Davies, Plácido Domingo, Juan Diego Flórez,  Marcello Giordani, Ben Heppner, Jonas Kaufmann, Matthew Polenzani, Ramón Vargas, Klaus Florian Vogt

Baritones and Basses Thomas Allen, Gerald Finley, Ferruccio Furlanetto, Thomas Hampson, Dmitri Hvorostovsky, Simon Keenlyside, Ambrogio Maestri, James Morris, Maurizio Muraro, Eric Owens, René Pape, Luca Pisaroni, Samuel Ramey, Bryn Terfel.
I could mention others too. Make note of these names and, wherever you live, go buy a ticket to an opera you don't know if it features one of these artists. In part two of this post, I will address other issues that seem important to current audiences. What do you think they want?
Photos: 1) Patricia Racette as Tosca (Cory Weaver/Metropolitan Opera) 2) Angela Meade as Elvira in Verdi's 'Ernani' (Marty Sohl/Met)