What Do Opera Audiences Want? (Part Two)
In the first of two posts that asks what opera audiences want, I raised some provocative points that elicited some valuable responses from readers and I thank them for their input. Please take a few moments to read the comments at the conclusion of that essay.
Several commenters seemed to disagree with my assertion that many current operagoers do not check who is singing before buying a ticket, preferring instead to make their purchase based on the title of the opera alone. These readers insisted that knowing who is singing is a priority. I have a couple of responses to them. 
The first is that readers of the Operavore blog are already more engaged and knowledgeable about singers than are the broader audience. There are many people who habitually attend operas on their subscription night, seeing and hearing whatever is on offer. They go out of habit and generally like or don't like what they hear. If some stars appear throughout the season, then these subscribers are content. Purchasers of single tickets (as opposed to subscription seats) might buy them if a particular singer is in the cast or if they are drawn to the opera as a whole.
My second response is that there are many places where opera is performed -- beyond the major European and American opera cities -- in which there is not a regular supply of big stars and great singers (of course, these are not always the same thing). If you regularly attend performances in the world's opera capitals, you may not realize that there are wealthy, important cities that do not have great opera singers on a regular basis in their theaters. Don't believe me? Here are some examples: Atlanta, Boston, Lisbon, Manchester, Philadelphia, Rome and Stockholm. 
There are many more medium-sized cities that only get a big opera star to come in for an expensive gala concert in which he or she will get a large fee to look glamorous, sing a few arias and perhaps attend a reception afterwards. I don't begrudge these singers the chance to make a living, but it does not advance the cause of opera.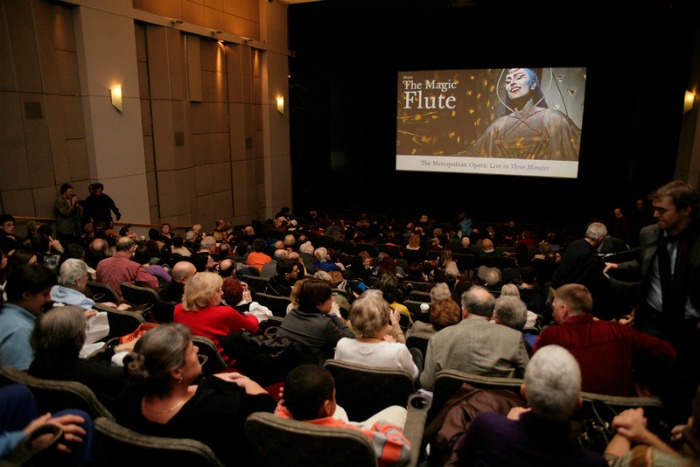 In recent years, another factor has, I believe, radically changed what audiences think they want. The HD (high definition) transmissions of performances from the stages of opera houses to cinemas around the world have brought a facsimile of opera to hundreds of thousands of people. But it is not opera. The sound is inferior, with the orchestra often in the background relative to the singing. Attendees read the titles more than they listen to the musical storytelling. In an opera house, you can choose what to look at while in the cinema the decision is made for you. Opera productions often turn into background color as we focus on close-ups of singers. There is only the slightest awareness that a conductor is at work or an audience is in attendance. We are losing the sense of opera as a total theater experience!
I go to HD transmissions and listen as I would in a theater. I watch the details as presented but try to envision what I am not seeing. I read the opera's story ahead of time just as I would before attending a live performance. Most people who go to HDs do not prepare and they do not engage with the music and the production as they would in an opera house. 
You could argue (and many people do) that the HDs bring opera to people who otherwise would not see it in any form. That is true. But these transmissions have severely dented ticket sales to live performances everywhere and have changed what thousands of people expect the operagoing experience to be.
I meet many people who are the core audience of operagoers, the ones who held subscriptions and eagerly looked forward to going to the opera house to hear works old and new performed by beloved singers and new discoveries. Many of them have stopped going to live opera on a regular basis, preferring a season of HDs close to home and, as a special event, one or two nights of real opera each year. The economics are clear: You can pay $250 and attend ten HD transmissions or use that same money for one or two good tickets to a live opera. This has meant that some opera companies have folded because they cannot compete with HDs while others have cut back their live seasons.
I have a friend who regularly attended live performances at Washington National Opera and often traveled to Baltimore to see opera at that fine, now defunct, company. She now goes to live opera once or twice a year but is a regular at opera in HD. She tells me that she is willing to accept the inferior sound and lack of choice about what she looks at in exchange for what she thinks of as increased convenience in terms of price and logistics.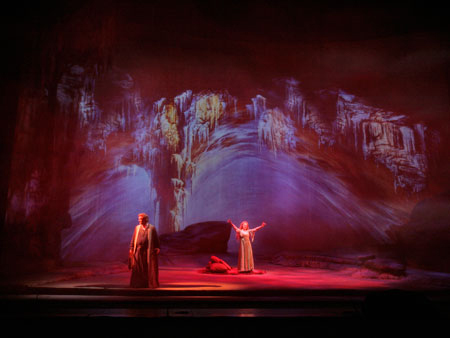 Another opera-loving friend in Orange County, California used to go to performances at the now defunct Opera Pacific and also drive 90 minutes to the San Diego Opera (right) for live performances at that excellent regional company. More rarely did she journey two-and-one-half hours to Los Angeles, even though she makes donations to L.A. Opera. She believes in opera and helps fund it. But her operagoing habits have changed. Now she is a regular at HDs but bypasses most live opera in Southern California, preferring trips to San Francisco or New York plus signing on to an annual opera tour to Europe. Her finances and her passion permit her to do this, but other people simply opt for less live opera.
The divas who rotate as hosts of the Met transmissions dutifully recite words encouraging HD audiences to attend live performances at the Met and at their home opera companies. This is a good gesture, but I don't think it has had much impact. In the cinemas where I attend HDs, audiences often talk through intermission presentations or head off to the snack bar or the rest room.
I read a quotation recently by Oscar Wilde that is not as glib and witty as we would expect, but provokes a lot of reflection: "There are works which wait, and which one does not understand for a long time. The reason is that they bring answers to questions which have not yet been raised; for the question often arrives a terribly long time after the answer."  
Wilde was talking about what we draw from works of art of all types, but his point is important: we might propose answers, but what good are they if we don't know the question? 
I named these two posts "What Do Opera Audiences Want?" because it's the most pertinent question. But it leads to others: Should opera companies seek to give audiences what they want or should they approach their sense of artistic mission in the purest terms? What impact and influence do critics have? Should their coverage of opera performances be "money reviews" that tell the reader whether it is worth investing in a ticket or should they explore the ideas of an opera production and then encourage the reader to come to his or her own conclusions?
Here are more: What role do audience members have in seeing to the financial and artistic health of their local opera companies? One commenter said he would not invest time (and presumably money) to hear a singer he does not like or does not know. Should potential ticket buyers skip a performance if they don't know of or have not heard a particular singer? What should opera companies do to entice audiences to (or back to) live performances?
So, dear readers, here is my question for you: What questions should opera managers, singers, producers and audiences be asking right now to help the art form we love thrive, flourish and renew itself?
Photos: 1) An HD Screening for 'The Magic Flute' in Manhattan (Ken Howard/Metropolitan Opera) 2) 'Tannhäuser' at San Diego Opera