In Largo al factotum ("Make way for man who does it all"), the flamboyant entrance aria for Figaro (Rossini's Barber of Seville), he proudly announces, tutti mi chiedono, tutti mi vogliono ("everyone asks for me, everyone wants me"). This could also be the claim of Marco Armiliato, who will set a Metropolitan Opera record this week by leading six operas in six days, the highest number ever in a single week by one conductor.
The much-admired Genoese maestro was scheduled to lead "only" four performances (Aïda on Feb. 13 and 16; Ernani on Feb. 14 and 18 evening) this week until Maurizio Benini withdrew from performances of Il Barbiere di Siviglia on Feb. 15 and the Feb. 18 matinee "for personal reasons." Armiliato agreed to step in. This week, only the opening of Madama Butterfly on Feb. 17 will not have Armiliato in the orchestra pit, that task going to the tireless Plácido Domingo.
This season Armiliato also had the honor of conducting opening night with the Met premiere of Anna Bolena, starring Anna Netrebko. It returned for two performances this month. Between Feb. 4 and March 3, Armiliato will have led four of the five Met international radio broadcasts, with the Feb. 25 Ernani also being an HD transmission with the best all-around cast the Met has fielded this season: Angela Meade, Marcello Giordani, Dmitri Hvorostovsky and Ferruccio Furlanetto. It has been circled on my calendar for a year.
It is worth noting that the majority of Met performances in February and March are being led by Italians (Armiliato, Benini, Fabio Luisi, Gianandrea Noseda, Donato Renzetti). I mentioned Armiliato last August in a two-part series on the renaissance of Italian conductors, stating that he holds a significant place in what used to be called "the Italian wing" of the Metropolitan Opera as well as other leading companies. 
Armiliato proudly holds up the flag of opera lirica with notable skill and feeling. He is a sincere and warm-hearted man, as is evident from this video message to Japanese musicians after the tsunami in March 2011. These traits are very much a part of his music-making, so that the orchestral narrative he creates during most operas is palpably humane in how characters are depicted and how he supports singers.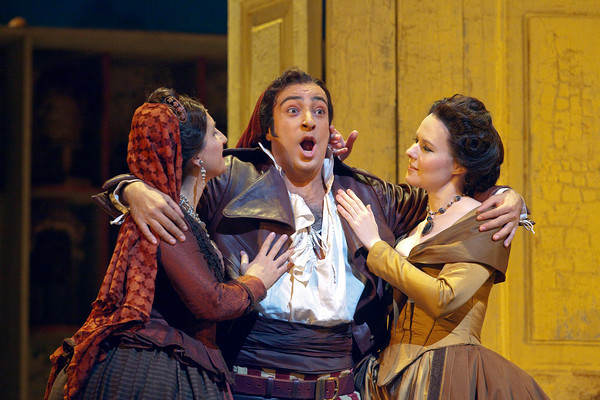 Rossini's Barber (right) boasts that he is Figaro quà, Figaro là, Figaro su, Figaro giù ("Figaro here, Figaro there, Figaro up, Figaro down") and then pleads Una alla volta, una alla volta, una alla volta, per carità! ("One at a time, one at a time, one at a time, for pity's sake!"). For Armiliato, the challenge of doing many operas at once comes in rehearsal rather than in performance because he must switch from one work and style to another as he goes from one rehearsal to the next in the same day. He explained this in a conversation with Natalie Dessay in 2009, when he was in the midst of conducting three operas: a new production of La Rondine and revivals of Adriana Lecouvreur and Lucia di Lammermoor. 
And yet Armiliato seems to thrive on these challenges. In less than two months in early 2010 he led three scheduled performances of La Fille du Régiment, nine of La Bohéme and three of Attila, having also been present for the other performances of this Verdi rarity in case scheduled conductor Riccardo Muti decamped. He stepped in for a colleague to lead four performances of Aïda, the last on April 3, 2010. He was then asked by the Met to replace Leonard Slatkin on that same day as the conductor of La Traviata, meaning that there is a precedent for his conducting two operas on a Saturday as he will do again this weekend.
Regarding that feat, Anthony Tommasini wrote in The New York Times: "[Armiliato] is steeped in the 19th-century Italian opera tradition and knows his Verdi. He can anticipate the expressive freedoms that singers take in shaping the composer's long-spun lines, something he demonstrated over and over in this La Traviata."
Operatic Pinch-Hitters

While Armiliato's heroic virtuosity is highly admirable, the fact that he has been asked to do so much points to questions I have been getting lately from many readers: Doesn't the Met have other people "covering" (understudying) singers and conductors and, if so, why don't these people automatically step in when the originally-scheduled artist cannot perform?
The Met does have covers for all roles and for conductors. In my experience, they tend to be highly accomplished artists with whom I would feel no sense of deprivation if and when they might have to step in. For example, Katarina Dalayman covers Deborah Voigt as Brünnhilde and sings some of the performances. Both are excellent dramatic sopranos any theater would be proud to present.
When a little-known cover gives a memorable performance when stepping in for a star, it creates the kind of excitement basketball fans are now experiencing in watching New York Knick Jeremy Lin transition from unknown to sensation in just a few days. Anyone who heard the unknown Kiri Te Kanawa step in for Teresa Stratas as Desdemona opposite the Otello of Jon Vickers in 1974 knows exactly what I mean.
But there have been occasions, more so in recent years, in which a major star has been asked to step in for a stellar colleague at the last moment and the cover does not go on. I would imagine that a cover who has prepared for the big moment would be quite disappointed to be passed over. Roberto Alagna has stepped in on several occasions. He is a talented and charismatic tenor who likes to rise to a challenge.
On January 10, 2010, during an intense run of Carmen performances, Alagna was a last-minute substitution for Marcelo Álvarez as Cavaradossi opposite Sondra Radvanovsky in her first Met Tosca, with Armiliato conducting. It was an exciting evening, but Alagna improvised his acting because he had only the most casual knowledge of the production. This gave Radvanovsky the additional challenge, on a big night in her career, of having to guide her tenor through some of the theatrical elements that the cover surely would have known. She did a great job, but I could not help but wonder how this change affected the performance she might have given.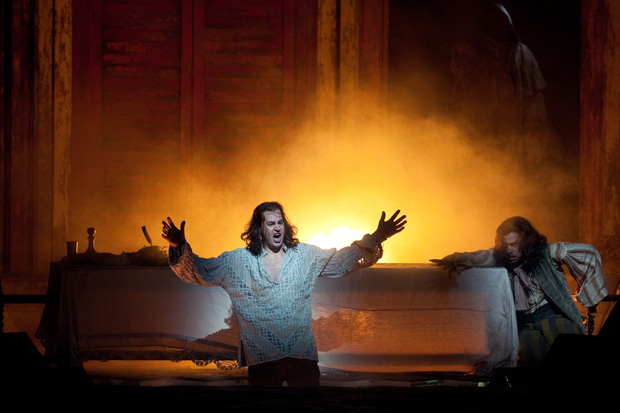 I had a lot of mail from readers back in October when the Swedish baritone Peter Mattei (who was appearing as the Barber at the Met) sang the title role of Don Giovanni on the opening night of a new production (right) after Mariusz Kwiecien broke bones in his back during the final dress rehearsal and was rushed to the hospital for surgery. The production marked the debut of the acclaimed director Michael Grandage. Don Giovanni is one of the most difficult operas to stage in that it is like a finely-tuned machine with many parts. Remove one and replace it and suddenly everything changes and, perhaps, does not work.
Mattei is a talented and spontaneous artist who has sung Don Giovanni in numerous productions. But he had not gone through a long rehearsal process with Grandage and the rest of the cast. While there were many seasoned pros on board (including Fabio Luisi, Barbara Frittoli, Ramón Vargas, Luca Pisaroni) the singers playing Donna Anna and Zerlina were making their Met debuts. Mattei clearly did not know the staging and had not developed an interpretation with this particular cast, all of whom had to improvise in front of an opening night audience to accommodate Mattei. Many people asked how Grandage could create such a disappointing production, but I suspect that anyone who attended the first performance had little sense of what Grandage's ideas were. Had the cover (the accomplished Dwayne Croft, I believe) sung on opening night, there might have been fewer watts of star power but perhaps the theatrical elements would have been more coherent.
Because I was interested to learn more about how the Met reaches its decisions on whether a cover should be used or a star might be asked to step in, I contacted the Met's press department, which sent a comment from general manager Peter Gelb: "The Met has an obligation to our audience to deliver the finest artists available. We use our best judgment in casting roles, and, when necessary, in casting replacements, taking into account all of the circumstances."

I would be interested to know the opinions and preferences of readers, but also want to be sure that Marco Armiliato's achievements are not overshadowed. What are your memories of his more than 300 Met performances or those he has given elsewhere?
My favorite may have been his debut on June 16, 1998, conducting the Met orchestra and chorus in Il Trovatore on the Great Lawn of Central Park, with June Anderson as Leonora and his brother, the exciting tenor Fabio Armiliato, as Manrico.

Photos: 1) Rodion Pogossov as Figaro in Rossini's 'Il Barbiere di Siviglia' at the Met (Ken Howard/Metropolitan Opera) 2) Peter Mattei and Luca Pisaroni in Don Giovanni (Marty Sohl/Metropolitan Opera)