Opera and Tea Prove a Strong Brew
A recent visit to London, in which I had to accomplish a daunting number of tasks in three days all across the British capital, found me craving moments of peace, quiet and reflection. Although London has become increasingly coffee-mad in recent years (and the quality of coffee there, once wretched, is now better than in New York or Paris), an older, slower tradition still persists if you know where to look.
While coffee is consumed in a quick inhalation (think Rossini), tea is drunk in a slow, more meditative way (think Bellini) that promotes creative, original thought. That is what I craved on my hectic London stay.
For the British, that pause for a spot of tea is known as "having a cuppa," a phrase said with all the sentimentality imaginable for a tradition that bespeaks everything cozy and secure. No matter what the social class, everyone has his tea. While it once was a given in all classes that tea would be brewed from leaves -- with a spoonful for each cup and another one "for the pot" -- now tea bags prevail even in some of the most traditional locales. I still like my tea brewed in a pot, where one can adjust the intensity and the blend to personal taste.
A visitor to Britain is accustomed to encounter certain popular teas, such as bergamot-scented Earl Grey, delicate and refined Darjeeling, or the ever-popular blend known as English Breakfast, the default choice for its broad appeal. But my preference is for Assam, an Indian tea with a slightly malty fragrance and flavour that is bracing and more assertive. It is popular among serious British tea drinkers but less known in North America. If the James Bond of Sean Connery would be Earl Grey, then Pierce Brosnan is Darjeeling and Roger Moore is familiar, reassuring English Breakfast. Daniel Craig's Bond is definitely Assam.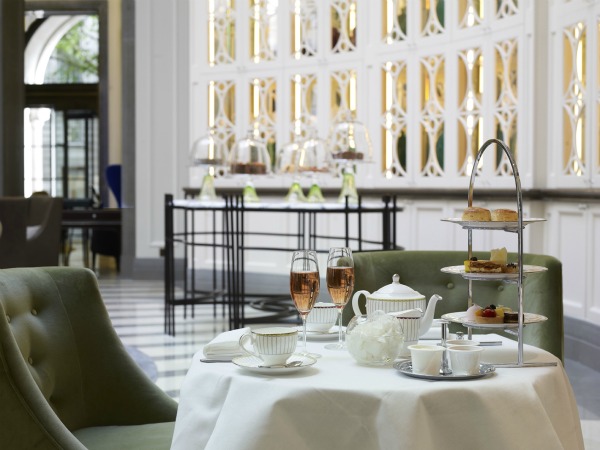 I took my tea each day at the Corinthia Hotel, on a quiet street near Scotland Yard, the Houses of Parliament, Trafalgar Square and a short walk from the Royal Festival Hall. It proved an ideal oasis of calm in the boisterous city that is gearing up to host the 2012 summer Olympic games. Tea at the Corinthia, in a large atrium that absorbs sound, allows reverie as one nibbles on sweet and savoury foods that pair well with the tea one selects. My choosing the Corinthia was also due to craving the wonderful house blend in which Assam predominates. For purists, it is possible there to enjoy excellent 100 percent Assam tea.
One afternoon, while comfortably ensconced at a table for one, my mind wandered to the subject of tea and opera. It occurred to me that if we met many characters we know well, they would invite us for tea. Certainly, Madama Butterfly -- Puccini's Fanciulla dell'East -- would invite us for green tea. I don't know if Turandot would share her Lapsang Oolong or keep it all for herself. Boris Godunov and all of the characters in Mussorgsky's Khovanschina (opening February 27 at the Met and not to miss) stay warm with many cups of hot chai from a samovar. 
In Sri Lanka, Bizet's Pearl Fishers would serve us Ceylon tea. Alim, Massenet's Roi de Lahore, would offer his guest tea in the Pakistani fashion, in which it is flavoured with ginger, cloves, cardamom, honey and condensed milk. When the Italian Girl is in Algiers, she probably drinks tea made of mint leaves and sugar. I would like to think Mahatma Gandhi, in Satyagraha, used Assam tea as the inspiration for his philosophy of nonviolence.
Perhaps Blanche du Bois, in Previn's A Streetcar Named Desire, or Carlisle Floyd's Susannah, slakes her thirst with some iced tea?
As I poured another cup of Assam, a different tea opera came to mind: Nixon in China, by John Adams. I am sure these characters drank a lot of tea before the stronger stuff that was consumed in the famous toast President Richard Nixon made to peace between the United States and the People's Republic of China. We know that Henry Kissinger drank tea with Chou En-lai in preparation for the meeting of Nixon with Chairman Mao Tse-Tung. (By pure coincidence, Tuesday is the fortieth anniversary of Nixon's visit.)  
As with everything in China, the preparation and consumption of tea is based on ancient knowledge of agriculture, medicine and social customs, all served in a sort of ceremony known as The Chinese Way of Tea. When I visited China in 1996, I spent long hours sipping tea while attending performances of Beijing opera. I watched a series of stories that were not fully comprehensible to me but no less fascinating because of that. The marvelous physicality of the performers as well as the strangely ingratiating sound of the music had me hooked.
The next time I go to China, I hope to visit Chengdu in Sichuan. There is a different opera style (also known as Chuan Ju) that developed there. Chengdu is famous for its tea houses, considered some of the best in the world, as much as its opera. At the heart of Sichuanese opera is the practice of "face changing," which is done through the rapid removal or application of make up or masks. This ancient practice was meant to ward off dangerous animals intent on attacking a person with a familiar face. To this, music, text and theater were added, just like in Western opera, to create whatever the Chinese word is for gesamtkunstwerk.
Tea Time with Tan
As a third cup of Assam was poured and I mused about Sichuan opera, I thought of Tan Dun's opera, The First Emperor, which premiered at the Met in 2006. Not everyone cared for this work, but I loved it. Plácido Domingo played the Emperor Qin, Tan Dun conducted and there was an amazing production by Zhang Yimou.
While sipping my Assam and musing on Tan Dun, a thought came to me that I had missed earlier. There is already a work, that fully meets the requirements for an opera, based on the beverage that is the subject of this article. Called Tea: A Mirror of Soul, by Tan Dun! It has already played at opera companies in Tokyo, Santa Fe and Philadelphia. In May 2013 it will be presented at Vancouver Opera in its Canadian premiere.
Set in ancient Japan, it is the story of Seikyo, a monk who was a prince by birth, who tells his fellow monks the story of how he came to the temple. Years earlier, in China, he sought to marry Princess Lan. Seikyo confronts her jealous brother, the Prince, and must answer his challenge: find The Book of Tea and reveal its secret wisdom. In the distant south, Lu, daughter of the Tea Sage, relinquishes the book on the condition that Seikyo and Lan vow to spread its truth throughout the world. Tan Dun's music here combines sounds of water, paper, ceramic and stone with a traditional western orchestra. Watch an excerpt from the opera:
Eventually I came back to reality from my fantasies of opera and tea. I looked in the cup to read the tea leaves at the bottom. I tried to see into the future. While a lot was uncertain, one thing was clear: One day soon, there will be another article for your delectation -- on opera and coffee.
Photo: Afternoon tea at the the Lobby Lounge of the Corinthia Hotel London.
* Anglicized spellings are purely the intention of the author. Read at your own risk.