With the Met New Season, Hope Springs Eternal
When you are a native New Yorker, your hometown newspaper might be the Times or Daily News, your sandwich could be a bagel and lox or pastrami on rye, your baseball team would be the Yankees or the other guys, but your hometown opera company is the  Metropolitan Opera. Despite the challenges it faces, the Met is still the beacon that  opera lovers around the world look to for leadership and quality in all things operatic.
The annual announcement of the company's next season is like a snapshot, a moment frozen in time in which we stop and ponder the state of opera, what some of the trends might be, and whom the Met considers the finest talent available for the repertory it has chosen to stage. Many opera lovers could lament about what is not there, but I prefer to focus on what is there. My calendar already has many dates circled.

However, one absence should not go unnoticed. Music Director James Levine will not conduct this year because, according to the Met, he is continuing to recover from back surgery. When I attend performances at the opera house, Levine is often in my thoughts as I hear the glorious orchestra he built. There are days when I feel they are performing a shade less gloriously, not because the replacement conductors are inadequate (they are excellent), but because of the intangible rapport Levine has with his musicians. I hear some operagoers grumble that Levine should retire and the Met should not pay him his salary. To me that is reprehensible: his presence and contributions are everywhere. No doubt he will continue to do what he can to advance opera, especially at the Met, whether it is teaching, offering wise counsel, and much more. If music has the power to heal, my wish is that it work its magic with James Levine.

Verdi and Wagner Take Center Stage
2013 is a special year in that it marks the bicentennial of the births of Richard Wagner (May 22) and Giuseppe Verdi (October 10). These two titans of 19th Century opera and politics will be celebrated in every opera house and their works will constitute twelve of the twenty-eight operas the Met will present. Verdi gets seven (new productions of Un Ballo in Maschera and Rigoletto; revivals of Aïda, Don Carlo, Otello, La Traviata and Il Trovatore) and Wagner gets five (the four Ring operas and a new production of Parsifal), all of which is above average and quite welcome.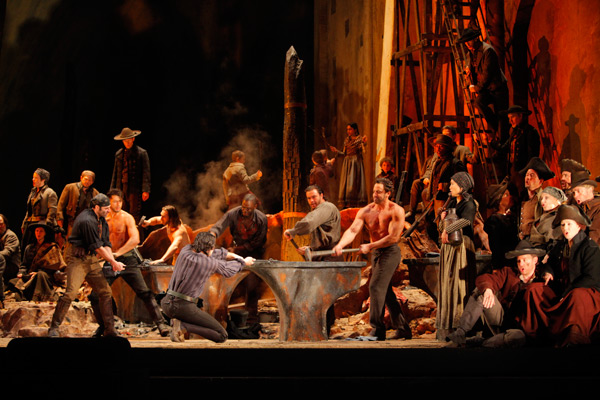 A scene from Act I of Verdi's "Il Trovatore." (Ken Howard/Metropolitan Opera)
In general, the casting of these operas is strong, suggesting that the purported drought in singers for these composers is perhaps a bit exaggerated. Yes, there are no Leontyne Prices or Birgit Nilssons in our midst, but those two artists are irreplaceable. But with well-cast sopranos such as Diana Damrau (Rigoletto and Traviata); Angela Meade and Patricia Racette (Il Trovatore); Sondra Radvanovsky (Il Trovatore and Don Carlo); and Renée Fleming and Krassimira Stoyanova (Otello), there is a lot to look forward to.

Karita Mattila is not everyone's first thought as a Verdian (though she has shone in Simon Boccanegra and Don Carlos), but I greatly look forward to her first Met Amelia (in Ballo) as part of a very strong cast that will be conducted by Fabio Luisi and directed by the outstanding David Alden, finally getting his first new production at the Met. Anything Mattila does is worth attending.

I am thrilled that Johan Botha and José Cura will sing Otello and Thomas Hampson and Falk Struckmann will share Iago. Don Carlo has a cast that is, in most every way, top-drawer (Radvanovsky, Vargas, Hvorostovsky, Furlanetto, Halfvarson) to be conducted by Lorin Maazel, which is quite a coup. Only the Eboli of Anna Smirnova leaves me puzzled. I would prefer Olga Borodina, Dolora Zajick or Stephanie Blythe and am waiting for Elina Garanca to add Eboli to her repertory.

Wagner's Ring returns for three complete cycles conducted by Luisi. Though certainly controversial as a production, it might just gain cohesion now that it is no longer so thoroughly scrutinized. Most of the excellent core of singers (including Blythe, Katarina Dalayman, Hans-Peter König, Jay Hunter Morris, Eric Owens, Deborah Voigt) will return to their roles, and it will be exciting to hear Greer Grimsley and Mark Delavan share the role of Wotan (which they have sung with success elsewhere); Meredith Arwady (bringing her plush contralto to Erda); Richard Paul Fink (a great Alberich); and Simon O'Neill (Siegmund). The excellent Viennese soprano Martina Serafin makes an important debut as Sieglinde. The one great Wagner singer who is conspicuously absent is Christine Brewer, though the "Machine" set might be a challenge to her.

Parsifal, an opera loved by James Levine, will have the talented Daniele Gatti in the pit. I look forward to seeing what François Girard does in producing this mystical work, and am thrilled that Jonas Kaufmann will arrive directly from singing Lohengrin at La Scala to play Parsifal. There is a strong cast including Dalayman and René Pape, and I think Peter Mattei could be a great Amfortas, based on his superb acting in Janacek's From the House of the Dead.

2013 is also the centennial of Benjamin Britten (November 22), which would place him in the 2013-2014 season. I certainly hope the Met will honor him with a new production of one of his less-seen works, such as A Turn of the Screw (with Racette as the governess), Gloriana (Joyce DiDonato or Stephanie Blythe?) or perhaps borrow the production of Albert Herring now at the Los Angeles Opera and bring Christine Brewer back to the Met. This May the Met does three performances of its superb Billy Budd production, which no one should miss.

The Met has had a tradition in every "3" year (1973, 1983, 1993, 2003) to present Berlioz's Les Troyens. There is no better opera--it is a Levine specialty--but it is an arduous undertaking, especially in a year when Ring cycles are being done. I privately feared that finance, Wagner and Levine's absence might end the tradition, so I am thrilled that it will be back, led by Luisi, with Voigt (Cassandra), Marcello Giordani (a great Berliozian) as Aeneas and, above all, Susan Graham as Dido, which is absolutely dream casting.

The extra Verdis and Wagners has had the interesting effect of making this a quiet year for Puccini. The absence of his three most popular works (La Bohéme, Tosca and Madama Butterfly) is a good thing. They have become over-familiar, so their absence will allow us to appreciate their brilliance when they return. Instead, we will have the amazing Zeffirelli staging of Turandot--I am looking forward to Iréne Theorin in the title role; two fine young sopranos, Hibla Gerzmava and Takesha Meshé Kizart, sharing Liú; and the venerable James Morris and Samuel Ramey sharing the role of Timur. I also welcome the return of Puccini's La Rondine, with Giuseppe Filianoti and the debut of Kristine Opolais.

After last season's Anna Bolena, the "Three Queen" Donizetti opera cycle takes on Maria Stuarda, the story of Mary Stuart (a great role for Joyce DiDonato), the Earl of Leicester (the very fine Francesco Meli) and Queen Elizabeth I, who will be sung by Elza van den Heever, the rising young South African soprano who makes a major debut.

Four other works in the calendar should not be missed:  The Tempest, La Clemenza di Tito (another Levine specialty), Poulenc's Dialogues des Carmelites, and Riccardo Zandonai's Francesca da Rimini. This last work, based on a story by D'Annunzio, had a gorgeous Piero Faggioni production in 1984 that the late and acerbic Met stage manager Stanley Levine called "the best little show in the warehouse." It starred Renata Scotto and Plácido Domingo and I remember it vividly. Stanley was a great guy, but he did not "get" this work. With Marco Armiliato conducting Eva-Maria Westbroek and Giordani, this is a special event.

The Tempest gets it Met debut under the baton of its composer, Thomas Adès. with a production by Robert Lepage and a cast of young artists and the role of Prospero sung by the always-excellent Simon Keenlyside.

Clemenza is Mozart's last operatic statement and one of my favorite works. The production by Jean-Pierre Ponnelle is a paragon of rationality and passion. My only suggestion is that Ponnelle's direction book be consulted so that the final scene can again be staged with the heart-stopping precision and transcendence that has been blunted since Ponnelle's death. The cast includes Giuseppe Filianoti (Tito), Elina Garanca (Sesto), Barbara Frittoli (a sensational Vitellia) and the debut of Lucy Crowe as Servilia.

John Dexter's staging of Carmelites may be the best overall production in the Met repertory (though I also love Elijah Moshinsky's Queen of Spades) and this has a strong cast led by Racette. It is only back for three performances in May 2013. The Met is presenting a dozen HD (including Troyens and Clemenza) across a broad range of repertory. I think eleven of these are quite worthy, but why are they doing Aïda again (this production already exists twice on DVD)? They should have chosen Carmelites instead.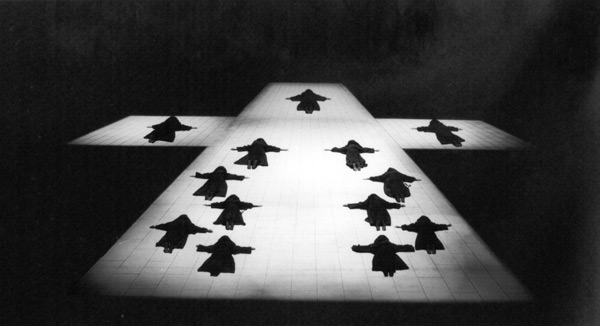 A scene from Poulenc's "Dialogues des Carmélites." (Metropolitan Opera Archives)
Space limitations prevent me from mentioning all the other enticements, starting with the opening night new production of L'Elisir d'Amore and including works such as Carmen, Faust, Le Comte Ory, a "holiday" version of Il Barbiere di Siviglia, Le Nozze di Figaro and Don Giovanni. But I must note that Giulio Cesare, which had its Met premiere in 1988, is getting a new production, suggesting that Handel has truly gained a place next to Verdi and Wagner as a composer no opera company should do without.