The Diva (Part Three): Aretha Franklin, Soul Survivor
On Thursday night, the friend with whom I attended Christopher Alden's riveting new production of Così fan tutte at the New York City Opera asked me sweetly if I listen to any music apart from opera. I evoked the classic observation by Duke Ellington that "there are only two types of music: good music and the other kind."
I have listened to and loved all kinds of music for more than 50 years, just about my entire life. By the time I was twelve I had heard live performances by artists as diverse as Charles Aznavour, Joan Baez, Josephine Baker, Tony Bennett, Jacques Brel, Grace Bumbry, Maria Callas, Maurice Chevalier, Judy Collins, Victoria de los Angeles, Ella Fitzgerald, Mahalia Jackson, Janis Joplin, Peggy Lee, Ethel Merman, The Rolling Stones, Pete Seeger, Barbra Streisand, Tina Turner and The Who.
The only time I ever became restless in a theater back then was when I was taken to see the mime Marcel Marceau and yelled, "When is he going to sing already?" I began to complain and cry and had to be hustled out of the theater. I still feel that way sometimes when I go to the ballet. But among the many great artists who entered my view from 1960 to 1968, none so completely captured my imagination as Aretha Franklin.
A Diva Who's Still Got It
The person whom Rolling Stone magazine named the greatest singer of all time will turn 70 on Sunday and, based on having heard her on February 18 at Radio City Music Hall, I can report that she is as exciting, surprising and compelling as when I first heard her in 1967, eleven years after her first public performance. Few singers of any kind have such long careers and even fewer can claim such rare and diversified achievements.
Aretha is, by every definition a diva, one of the very few before the public today in any branch of music. Few contemporary opera singers have the combination of gifts, espressivity and mystery of previous generations. Their coolness and business-like demeanor, along with their attempts to be the opera-singer-next-door, makes it more difficult to think of them as someone different from you and me.
In contrast, Aretha Franklin is different from you and me. She sings music across an astounding spectrum in ways that never cease to thrill anyone with a sense of her gifts. She also reaches people who are unmusical but viscerally connect with what she is expressing. She has one of the greatest voices of all time. Her whole being seems a conduit for all kinds of musical ideas. She plays the piano in such a way that it provides counterpoint to what she is singing and lets her piano lead her singing in directions that perhaps even she did not expect.
Aretha wrote a memoir, From These Roots, in 1999 that did not give the full measure of her genius. As I read it, I decided that it is a different thing to express oneself in a singer's voice and a writer's voice. Writers work with the meaning and sound of words that sit on the page awaiting the music they might inspire in a reader. A singer takes the meaning and sound of words, adds music, her own voice and her own feelings and, when the expressive stars align, something transcendent is produced.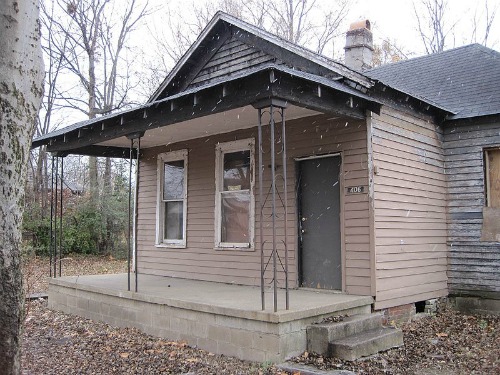 The best part of the book is where Aretha explains the musical, political and spiritual climate in which she lived (right: her first home in Tennessee). Her father, Rev. C.L. Franklin, was a mighty preacher and all of the great gospel singers (including Clara Ward, Mahalia Jackson and Sam Cooke before he switched to popular music) and leaders of the civil rights movement (including Martin Luther King) were present in Aretha's youth. "Good" music of all kinds was available on the radio and in church. We tend to create boundaries in our thoughts about how other people experience music and cannot imagine them outside of those confines. Did you know that Coretta Scott King studied opera singing in Boston? Aretha mastered many musical forms and gloriously exceeded their boundaries.
Aretha learned to use music to express her political and religious beliefs but also to draw from what must be a profoundly rich and complex inner life to share her own feelings without stating them directly. The mystery here is how an artist learns to continuously draw from those internal wellsprings without either depleting them or despoiling them. There are too many sad examples of how this has gone wrong, most recently with Aretha's goddaughter Whitney Houston. But the same could have been said for Maria Callas and Janis Joplin.
The Aretha Magic
Part of Aretha's magic comes in taking her voice and her singing and connecting herself to a song at the very moment she performs it. She almost always employs perfect diction and, when she does not, it is an artistic choice rather than a shortcoming. This is why we know most of her songs so well. There is almost never affectation. She is always entirely in the moment and is wholly connected to the words and music in a way that few singers in any genre achieve. Listen to "I Never Loved a Man" from 1968 and then compare it to her rendition at Radio City Music Hall on February 18, 2012. Notice how different, yet how trenchant, are the words "My friends keep telling me that man ain't no good. But they don't know I'd leave him if I could" in both versions.
Aretha always seems to be there at important moments. She sang at Dr. King's funeral in 1968. She gave her voice to the civil rights movement and sang at the inauguration of the nation's first African-American president four decades after the death of Dr. King. 
One of her greatest performances was of the gospel song, "Oh Mary Don't You Weep" recorded live in 1972. She evokes in sound, in almost orgasmic ecstasy, the moment in which Lazarus is resurrected by Jesus. Shut your eyes to avoid the hokey illustrations that were added in this video and picture yourself in the church 40 years ago as Aretha created a music-drama as exciting as anything in opera.
News reports seemed to have her on the verge of death due to an unspecified illness in 2010-11. She disappeared from view, reportedly had surgery and then returned tentatively at first and then triumphantly, better than ever, earlier this year. She looks great and has access to more of her vocal range than I have heard in a very long time. 
The morning of February 18, 2012 was the funeral of Whitney Houston in New Jersey. Aretha had sung at Radio City the night before and was expected to sing at the funeral. She sent word that she could not attend because of leg spasms. But she did perform again at Radio City that evening. I had a ticket and knew that it would be an historic night. She acknowledged the sadness and said, "I hope there is something I will sing, or have sung, that will lift your heavy hearts." She then sang for an hour and forty-five minutes in all styles. 
In the black church there is the concept of "getting over", the transcendence in the face of adversity that comes through faith, patience and persistence. Radio City turned into a sort of church and Aretha ministered to the congregation. She sat at the piano to play and sing "Bridge Over Troubled Water". The visual quality of this video is poor but the musical elements are there:
For Aretha completists (and I am one), here is another segment of the evening in which she spontaneously paid tribute to Whitney Houston with few words but used music to give the audience a sense of release from the grief that filled Radio City that night. She concluded the evening with "Respect" and summoned the Rev. Al Sharpton to the stage to dance. This is how to "get over."
A look back at other performances from the decades shows Aretha as using the ideas and aesthetic of the time, not as a follower but always as a leader in her own way. The 1960s visuals in "Chain of Fools" seem amusingly dated but the power of her performance is untarnished. I believe that, in the first pair of back up singers, we see Cissy Houston on the right at a time when her daughter Whitney was a toddler. 

Aretha embraced feminism and evoked the working classes and the sense of proud freedom of the car culture in Detroit, where she lives. She could rock with Keith Richard in "Jumpin' Jack Flash", sing some sassy blues  or swing on Shindig!
Now I know you are saying, "this is a blog about opera, why is Fred singing the praises of Aretha Franklin?" My answer is because great singing is great singing, and real divas are more rare than ever. And Aretha has sung opera, specifically the aria "Nessun Dorma" from Puccini's Turandot. A few years ago, Luciano Pavarotti was supposed to sing the aria at the Grammy awards and withdrew at the last minute due to illness. With twenty-two minutes notice, Aretha arrived and sang the aria. It is not traditional, and she did not have time to learn the meaning of the words, and yet it is so extraordinary because it is inimitable and she gets right to the core of the music -- in Luciano's original key!

Photo: Aretha Franklin's birthplace in Memphis, TN (Wikipedia Commons)