Lost Bellini Opera Discovered in Sicily
In one of the most extraordinary discoveries in recent years, an opera that experts say is the long-lost first work by Vincenzo Bellini (1801-1834) was found during an archeological dig in Sicily. Riccardo Nasello, a spokesman at the Teatro Bellini in Catania (the composer's home town), said the company plans to present the work, entitled Pesci d'Aprile, as soon as orchestral parts can be written out. He said this will be a time-consuming and expensive endeavor but added that the costs would be underwritten by the arts patron Mercedes Bass.
The story of how the opera's score was found is as exciting as the fact that a work by the great bel canto melodist might soon be available for performance. A fishing vessel, thought to have sunk in 1819, was discovered on February 27 in a cove near the village of Vambolieri, 10 miles/16 km north of Catania. Many of its contents were in a perfect state of conservation thanks to the fact that the boat was encased in hardened lava.
As has often happened in this part of Sicily since the beginning of recorded time, the frequent eruptions of the Mount Etna volcano spewed vast quantities of hot lava that would cover trees, animals, humans and many objects that, as the lava cooled, would be found in a perfect state of conservation. These tombe di lava (lava tombs) are found all the time and provide a continuing source of material for archeologists, anthropologists and historians.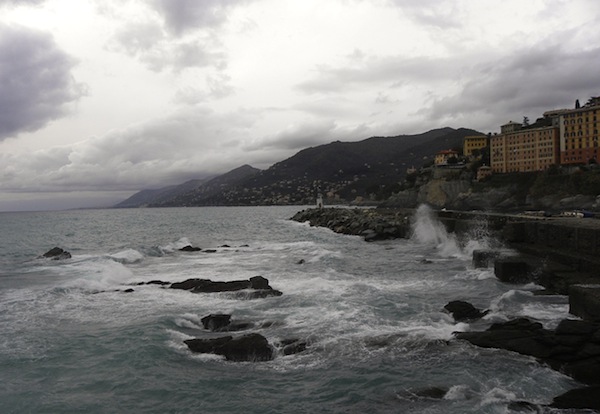 This particular vessel, not much bigger than a rowboat with a storage area below for food, provisions, maps and printed materials, was wrapped in a gray cloth by archeologists and transported to the flat beach (right) near Vambolieri. When the lava was gently cracked open, it revealed a boat festooned with colorful garlands and works of art that depicted fish. Written on the boat, on the garlands and on the works of art (including a beautiful ceramic pot) were the words "Pesce d'Aprile" (Fish of April or, more colloquially, April Fish), In the storage area was a sealed leather pouch containing a musical score called Pesci d'Aprile. Pesci is, in Italian, the plural of pesce, so we might call this opera The Fishes of April. On the front page was written the name Vincenzo Bellini.

We know that, when Bellini was a teenager, he composed an opera called Pesci d'Aprile. According to letters he wrote to the great diva Giuditta Pasta (who created the role of Norma at La Scala in 1831), he submitted the score of his first opera to the Naples Conservatory in 1819 as part of his application for admission. Bellini naïvely sent the score written in his own hand on what was then a typical Italian postal boat. He kept no other copy at home. In his letters he said that the boat carrying his package to Naples disappeared soon after it left Catania. Understandably, this experience made him cautious and, for the rest of his life, he employed music copyists so that multiple examples of all of his scores were created before the ink was dry on the originals. 
All along the coastlines of Sicily, a sacred festival (sagra, in Italian) for the fish of April has been held since at least 1860 but the roots of it date back as far as the first time man went to sea. The festival combines sacred and popular elements. A religious song called "Porgi u tunnu, O Signore," (Lord, Yield to us the tuna) is sung that sounds like a plaintive wail. It is a plea for an abundant catch and a safe return of the men that is sung by the local women at fisherman's shrines such as the one in Vambolieri (below).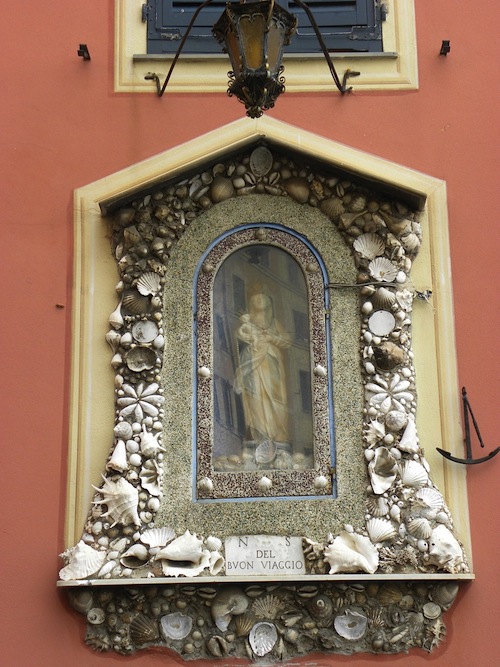 In a charming tradition, the women would hang fishing lines from trees the day before the men departed. In the morning they would collect the fishing lines, warmed by the sun, and bring them in baskets to the men, singing popular songs to them, including one called "Pesce d'Aprile." Nowadays, this ceremony is reenacted when Sicilian fishermen attempt their first expedition in April. Fishing on the east coast of Sicily is forbidden in March, a policy called Fermo Pesca, so that the stocks can regenerate. 
One clue that Bellini may have written this opera is, in fact, that song "Pesce d'Aprile." It has existed for as long as anyone can remember and was thought to be a traditional folk melody. It is sung here in a slightly more pop arrangement. In listening to it, you can hear the customarily long and languid Bellinian vocal line if the song were to be sung more slowly and by an opera singer.
Since 1911, there has also been the tradition during the Sagra del Pesce d'Aprile of giving the gift of fish-shaped chocolate. To symbolize abundance and prosperity, it is a customary on this day to attach a paper design of a fish to someone, which is a wish that they will have enough food to survive and flourish. The April Fish Festival is connected with the Easter season as it recalls Jesus's Miracle of the Fishes. Some of the traditional April Fish festival is chronicled in this news clip about the festivities in Catania:
While the Sagra del Pesce d'Aprile is deeply felt in Sicily, it is seen in some parts of Italy as too folkloric and backward. I find it a very beautiful event primarily because it enables people to connect to their history and traditions that are vanishing as a result of the homogenization of culture due to television and the policies of the European Union. Here is an example of some of the ridicule of the Sagra del Pesce d'Aprile, by none other than the Italian version of The Simpsons.
I, for one, can't wait to hear Bellini's long lost opera. I will journey to Catania once the premiere is set. I also hope to get a copy of the score to bring to New York, where I will encourage one of our presenting organizations (the City Opera, the Opera Orchestra of New York, or perhaps Le Poisson Rouge) to do a concert version with Sicilian opera singers such as Marcello Giordani and Desirée Rancatore.
Photos by Alessandro Cernia