Samuel Barber, Ready for Rediscovery
I started drafting this post about the fine American composer Samuel Barber (1910-1981) well before I sought refuge, two nights ago, in a cinema in Greenwich Village to escape a sudden cloudburst. The next film being shown was The Deep Blue Sea, based on the 1952 play by Terence Rattigan and adapted and directed by Terence Davies. When I entered the theater, I had no idea that the composer I had fully turned my attention to would also dominate the movie's soundtrack.
There are some films, and this is one of them, in which the music is so exquisite that it tends to overwhelm rather then deepen the storytelling. There were several long stretches in this overlong 87-minute picture in which actors ceased to speak and were completely subsumed in the sound of Barber's Concerto for Violin and Orchestra, Op. 14 (1939), as performed by Hilary Hahn, Hugh Wolff and the St. Paul Chamber Orchestra. This video clip of Hahn playing the third movement includes many wonderful images of Barber.
I left the cinema, clothes still moist from rain and mind awash with the music more than the sentiments of the film. I realized that Barber's gift for writing melody that grabs the heart extended far beyond his most famous piece, the Adagio for Strings (opus 11). It has become one of those compositions people gather round to listen to when they seek spiritual balm. This version was performed in the Albert Hall in London four days after the attacks of 9/11.
During his lifetime, many leading sopranos embraced his song cycles and his 1958 opera Vanessa (which had its world premiere at the Met). The leading Barber interpreters were Eleanor Steber and Leontyne Price, but many other artists performed his music as well....until he fell out of favor, at which point his music was heard less often.
Somewhere late in his life, probably after the world premiere of his opera, Antony and Cleopatra, which opened the new Metropolitan Opera House on September 16, 1966, Barber went so emphatically out of fashion that he never fully recovered. He became deeply depressed and fought alcoholism for the rest of life. He and his long-time companion, the composer Giancarlo Menotti, ended their romantic relationship but remained friends and colleagues. Barber died of cancer at the age of 70. The fact that he continues to be thought of as passé by many in the musical world is, I think, due to the fact that he does not have an effective advocate. His music is often lushly romantic and was counter to composers trying to stake out new stylistic territory.
In 2010, which was the centennial of his birth, there was very little recognition of this major American composer. The New York Philharmonic did a few pieces but, in musical circles, there was more focus on the bicentennials of Chopin and Schumann. I fear a similar thing will happen in 2013, when the world will celebrate the bicentennials of Wagner and Verdi and Benjamin Britten will only get a cursory nod.
Championing Barber's Vocal Works
I started to think about Barber again recently while listening to a very fine new album, Despite and Still, an all-Barber collection with the expressive soprano Melissa Fogarty and her collaborative pianist Marc Peloquin. This generous collection of 22 songs came about because Fogarty, who had performed a lot Barber music at the Eastman School of Music, decided that she too had been ignoring him in her professional career. She writes in her liner notes for the recording:
"Such was my college love-affair with [the songs of Barber] that when I left Eastman I told myself that I would honor Barber's centennial by giving a recital. In between, Barber got shelved and forgotten. On March 9, 2010, Samuel Barber's 100th birthday was announced on the radio and took me by surprise. Memories of all those student concerts flooded back to me along with the promise I made to myself. I felt disappointed. It made me sad knowing that outside of school I had never performed a single Barber song in public, never mind realizing the dream of a whole concert of his songs."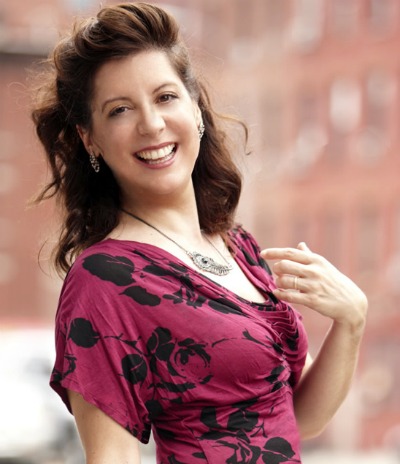 Fogarty's Barber album has become a regular part of my listening in the past few weeks and I revel in her ability to use her voice and language skills to serve the composer. She has helped the composer by saying, in effect, that an entire concert or album dedicated to his music is worth doing.
On Friday, April 6 at 9 pm ET, Renée Fleming will appear on the Live from Lincoln Center series on PBS in a program that includes Barber's haunting Knoxville, Summer of 1915, which was based on a short story by James Agee. Both men evoked wistful nostalgia in this material and shared the fact their fathers were dying as Agee wrote his words in 1938 and Barber composed the music almost a decade later. I am hopeful that Fleming's wide appeal will bring these songs to an audience that might not have heard this music in many years, if at all.
Knoxville, Summer of 1915 was first performed by Eleanor Steber in 1948 but soon was also a favorite of Leontyne Price. For the latter singer, he wrote the gorgeous Hermit Songs, based on Irish texts. I commend to you an old recording called "Leontyne Price Sings Barber" in which the world premiere performance by Price and Barber from 1953 is a treasurable part of an album that also includes two scenes from Antony and Cleopatra. Listen to "St. Ita's Vision," one of the Hermit Songs, in this lovely live performance with Barber at the piano. For contrast, then listen to Fogarty's wry and fresh take on the Hermit Songs.
Another worthy CD is the Masterworks Portrait that includes Steber, Price, Martina Arroyo, Dietrich Fischer-Dieskau, Thomas Schippers, the Juilliard String Quartet and the New York Philharmonic.
Steber later sang the world premiere of Barber's opera, Vanessa, with a libretto by Menotti, who was best known as an opera composer but who did a superb text for this opera. The role was intended for Sena Jurinac and was also considered by Maria Callas, who ultimately decided not to do it. Steber scored a big success with it. Much later on, it was the last opera role essayed by Kiri Te Kanawa. Vanessa is thought of as one of the most successful modern opera commissions and won Barber the first of two Pulitzer prizes in music.
A Problematic Met Premiere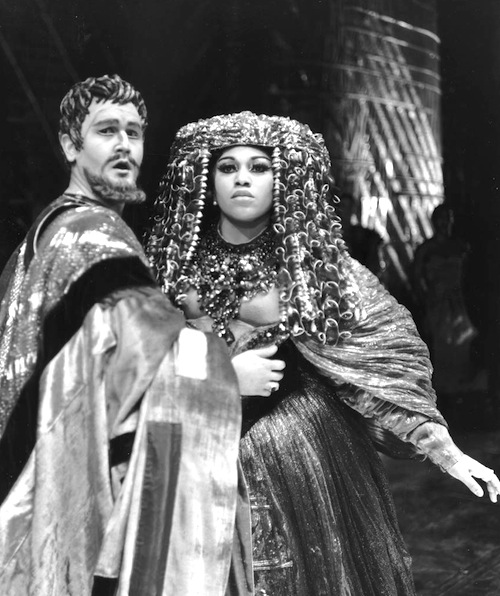 The fact that the Met's General Manager, Rudolf Bing, thought to ask Barber to compose Antony and Cleopatra, the opera that opened the company's new theater at Lincoln Center on on September 16, 1966, should give you a sense of how important he was. Leontyne Price sang Cleopatra and Justino Diaz was Antony in the Franco Zeffirelli production (right), conducted by Thomas Schippers, that opened the new Metropolitan Opera House. Zeffirelli's ambitious elephantine scenery noisily taxed the Met's stage equipment and singers were either trapped by it or could not get onto it, causing chaos on stage and audience anxiety, so they could not focus on the music. Does this have a familiar contemporary ring?  
Here Price is with Schippers in a performance of the aria, "Give me my robe" from the opera, with the New York Philharmonic. Because of the notoriety of the production premiere, the opera itself was thought to be a failure and was consigned to that pile of works that opera people cluck about but never heard. It was 25 years before the Lyric Opera of Chicago presented it in 1991 with Catherine Malfitano in the lead role. Barber had been dead for a decade and could not savor the opera's revival. A few years ago the New York City Opera did an excellent concert performance of the work at Carnegie Hall with Lauren Flanigan as Cleopatra.
I hope this essay and its musical illustrations will provoke you to make Samuel Barber, like Jules Massenet, ready for rediscovery. What other composers do you think merit a revival?
Photos: 1) Melissa Fogarty 2) Leontyne Price and Justino Diaz in the Met's Antony and Cleopatra (Louis Melancon/Metropolitan Opera)