Planet Opera: Paris When it Sizzles
PARIS —
I love Paris in the springtime. The French capital, epicenter of Planet Opera in the 19th century, has become the most important opera center in Europe in the early 21st century. It has perhaps even surpassed New York as the most important opera city in the world. There, I've said it.
My assertion (and I already can hear the yelps and growls from partisans in other opera centers) is based on the fact that Paris offers more operatic variety, and currently displays more energy, than other cities. The Vienna State Opera and New York's Metropolitan Opera -- to mention but two obvious examples -- still present excellent performances, yet they are glorious giants surrounded by few alternatives (Vienna) or an environment that is fiscally and spiritually parched (New York). By contrast, opera seems to be booming in Paris.
Paris has a constellation of venues and vibrant troupes that attract lively, committed audiences who listen knowledgeably and with great care (not interrupting arias with clapping) and then erupt in waves of applause when performances conclude. Unlike New Yorkers, who often stampede to the exits to compete for transportation, Parisians stay and cheer, often falling into lengthy rhythmic clapping after according loud ovations to individual performers. This reaction expresses a genuine interest, an engagement (to use the French term that English speakers comprehend) here between audiences and performers. Musicians give more to audiences who give more to them. On most evenings, the environment in the theaters I was in was crackling with excitement.
The Parisian aesthetic, at least in opera and classical music, presupposes seriousness and intelligence on the part of the audience. Printed programs have consequential essays that combine history, musicology and a freshness of approach that is admirable. They are also beautiful things to hold. Nowhere is there the fetid stench of marketing.

Il Faut Choisir, Hélas
In five days I attended six operas and I could have attended nine more. Fifteen operas were playing in town! There was so much high quality opera on offer, and not all the big theaters (the Chatelet, for example) had something scheduled during my stay. There are other weeks in the year when there is even more opera. I heard Valery Gergiev conduct Stravinsky's Oedipus Rex with orchestra, chorus and soloists from the Mariinsky Theater and superb narration by Gérard Depardieu (who was vividly described in his program biography as a "bulimic and insatiable artist").
There was Handel's Theodora with the excellent Sandrine Piau in the title role. She will give a recital at Zankel Hall in New York on April 26 and I encourage anyone nearby to attend. I heard Wagner's Parsifal (conducted by Daniele Gatti, who leads a new production of this opera at the Met in February 2013 that was playing in Lyon while I was in Paris) and Tristan und Isolde (led by Andris Nelsons).
The Paris Opera (combining the old Opéra Garnier and the Opéra Bastille, opened in 1989 as a grand project that was part of the bicentennial of the French Revolution), is presenting 25 operas this season (almost equal to the Met's 26). In addition to opera, there are eleven different dance programs, orchestra concerts, recitals, seminars and visits by other opera and ballet companies.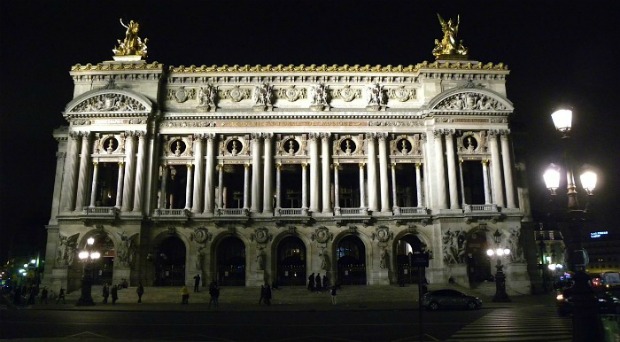 Opéra Garnier at Night (Fred Plotkin)
The vitality and variety amaze me because, when I lived the student life in Paris in the 1970s, there was only the Garnier and most nights the theater was dark. The schedule listed many evenings of Relâche, which I did not understand to mean that nothing was on offer. Instead, I thought it was a little-known French opera that I could never secure a ticket to. Now, both theaters of the Paris Opera are busy most of the time. If I had another day, I would have gone to Pelléas et Mélisande at the Bastille.
At the Opéra Garnier, I saw and heard a beautifully produced and sung performance of Léhar's Die Lustige Witwe or, as it was called in Paris, La Veuve Joyeuse. It was intriguing to see a French production (sung and spoken in German) of a Viennese operetta about a widow from Pontevedro (an invented small kingdom in the Hapsburg empire) that takes place in Paris. Hanna Glawari (the widow) is pursued by men who are interested in her money and one man who tries to secure her funds to save their impoverished homeland. One of the scenes takes place in Maxim's restaurant, which is a few blocks away from the Opéra Garnier. The character of Paris is indivisible from the enjoyment of this work, which became a happy hybrid of lustig Vienna and joyeuse Paris. To understand this sensation, imagine watching Tosca in Rome or Boris Godunov in Moscow.
The performance was successful for many reasons, primarily for its blend of talents. It had an American star, Susan Graham, a specialist in French repertory and, though the work is in German, she managed to evoke Parisian flair. Bo Skovhus, the Danish baritone, has a pan-European appeal that is totally plausible as Danilo, who casually romances the widow. They were joined by Harald Serafin (as Baron Mirko Zeta), patriarch of a Viennese family of singers that includes his soprano daughter Martina (debuting at the Met next season in Die Walküre) and son Daniel, a baritone singing a recital in New York's Neue Galerie on April 19. Harald Serafin is echt-Viennese and brought that flavor to the production. The score was brilliantly conducted by Asher Fisch and the entire cast sang and acted with élan.
Focus on Fabulous Dancing
What made this Merry Widow unforgettable was that, in addition to the musical and theatrical components, it had sensational dancing. The Paris Opera Ballet (right) is the oldest and among the best dance troupes in the world. It performs in operas as required and also does whole dance evenings on its own that have a huge following. While my passion for dance comes nowhere near what I feel for opera, I recognize the greatness of this company and watch them with immense pleasure and, yes, engagement. 
The origins of ballet were at the Medici court in Florence where balletto (little dance) was born in the 16th century. It came to Paris when Catherine de' Medici married into the French royal family (she also brought good cooking!). In 1661, King Louis XIV created the Academie Royale de Danse, which practically codified what ballet is and, ever since, has produced magnificent dancers, the best of whom are known as étoiles (stars). This is the Paris Opera Ballet. In 1669, the King created the Academie Royale de la Musique, which became the Paris Opera. 
Thanks to Degas and other 19th-century artists, the imagery of dance is part of the way we think of the city. Back then, most operas composed in Paris had ballets inserted, making for long evenings, but ones that pleased an audience that came to expect dance as part of opera. Today, the coexistence of the ballet and opera companies in the Garnier and Bastille, performing at such a high level, is something only a few cities, including London, Copenhagen and St. Petersburg, can attempt to match. The Paris Opera Ballet has 154 dancers, while the Met has 16 (and 96 more who are called "extra" dancers"). As I explored in an article last year, Paris is a model other cities might embrace. 
It has just been announced that the Paris Opera Ballet will visit America this summer, performing at Millennium Park in Chicago, the Kennedy Center in Washington DC, and finally, the Lincoln Center Festival, where it will present a mixed bill (pieces with music by Bizet, Lalo and Ravel), Orphée et Eurydice and Giselle (July 11-22).
Right now the Garnier is hosting an exhibition about Jules Massenet that is extensive and consequential in ways that most opera houses could not muster. The show is a product of curatorial rigor, ample documentation in the form of scores, photographs, costumes, posters and other artifacts from the composer's life and career, and the inevitable and ineffable chic that is an ingredient in everything Parisian.

There is so much more to tell you about the current opera scene in Paris, some of which will come in my next post. In the meantime, ponder this: One of Paris's two major newspapers, Le Figaro, is named for an opera character. What other city can say that?
Photo of Paris Opera Ballet's Mathieu Ganio: © Sebastien Mathe