PARIS —
Even for someone who has never visited this city, Paris exists in the imagery one finds in paintings, films, print media, literature, wine bottles and much more. Somehow, anything that has the word "Paris" attached to it is thought to have something worth savoring.
You don't have to go to Paris to encounter such imagery... it comes to you. Go to the exhibition at the Metropolitan Museum of Art that explores how Gertrude Stein and her brothers collected French art and you will dream your way back to the 1920s. You can time travel to that era and even further back in Woody Allen's Midnight in Paris, for which he just won an Oscar for best original screenplay. You think of Paris with a whiff of perfume or the bouquet in a glass of French wine. Or simply listen to Gershwin's An American in Paris, which is not only an evocation of the sounds and emotions of the city but how a New Yorker feels as he walks through it.
 
Walking in Creative Footsteps
Perhaps, like me, you answered Ernest Hemingway's siren call: "If you are lucky enough to have lived in Paris as a young man, then wherever you go for the rest of your life, it stays with you, for Paris is a moveable feast." When I was there as a youth, I went to films as often as possible and discovered that, for Parisians, cinema is art every bit as much as anything in the Louvre. I saw Woody Allen's Manhattan on the day of its Paris premiere. As I sat in the dark theater, I heard Parisians swoon at the beauty and romance of New York and realized that my own city exerts as much fascination as does Paris. 
When I exited to the Place de l'Odeon and the waning light of sunset, I held my head higher and quickened my pace to a New Yorker's stride, Rhapsody in Blue playing in my head, not feeling like an exile or an expatriate. I realized that Paris, like New York, owes much of its greatness to the attraction it holds for anyone who burns with creativity. They don't go there to see the Eiffel tower or touristic landmarks, but to walk and walk -- to be what the locals call a flaneur -- and absorb the sensations of life lived with passion and contradiction. Then they scurry to small rooms up many flights of steps to channel these sensations into some creative effort. La vie bohéme indeed.
In my first dispatch about the opera scene in Paris, I focused on some of the scintillating offerings available during a fast visit. In a future article I will discuss the Theatre des Champs-Elysees which will celebrate a century of activity and is one of the most vibrant musical venues in the world. On this visit, between performances, I became an operatic flaneur, walking down boulevards and side streets where my heroes strode. When you walk through Paris, you live simultaneously in the present and in many moments from the past. The city is full of the ghosts and memories of real people as well as opera characters such as Violetta, Mimi, Manon Lescaut, Andrea Chénier, the Merry Widow and a group of Carmelite nuns.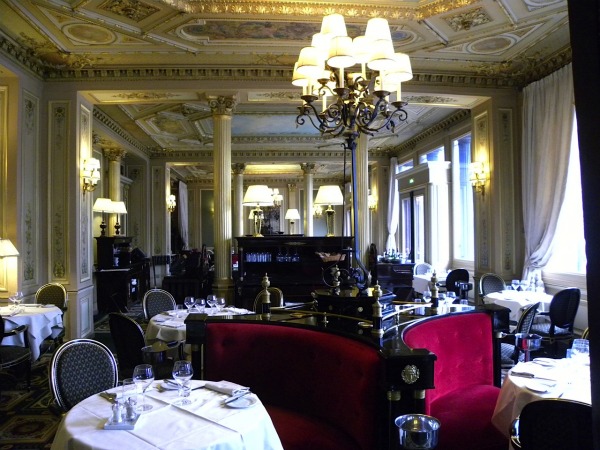 Just across the street from the Opéra Garnier (the old Paris Opera) is the Grand Hotel, once called Hotel de la Paix (Cafe de la Paix, left). It was built just before the Garnier and participated in the vibrant social life of the new theater. It became the largest hotel in Paris and the most modern. It had a telegraph office, 800 rooms, 70 bathrooms at a time when toilets were a novelty, and a magnificent ballroom that hosted many splendid events connected to the Opéra. In the Paris-Guide published in 1867, the hotel was at the heart of Paris for Americans: "On part de New-York pour le Grand-Hôtel." Indeed, the American Express office would open right between the Grand Hotel and the Opéra. Americans back then who dined at the world-famous Cafe de la Paix in the hotel would likely have rubbed shoulders with Richard Wagner, who was a regular there. Maria Callas dined there often in the 1970s.
Just across the street is the Hotel Scribe which became, in 1863, the seat of the Jockey Club, many of whose members had mistresses who were ballerinas in the Paris Opera Ballet. It was the custom for them to arrive for the second act of an opera, watch the ballet and then leave with their girlfriends for a nuit d'ivresse et extase. In 1861 they rioted when they discovered that Wagner, in presenting his Tannhäuser, refused to comply with custom and instead put a highly erotic ballet at the start of the opera. It remains one of the most notorious events in opera history.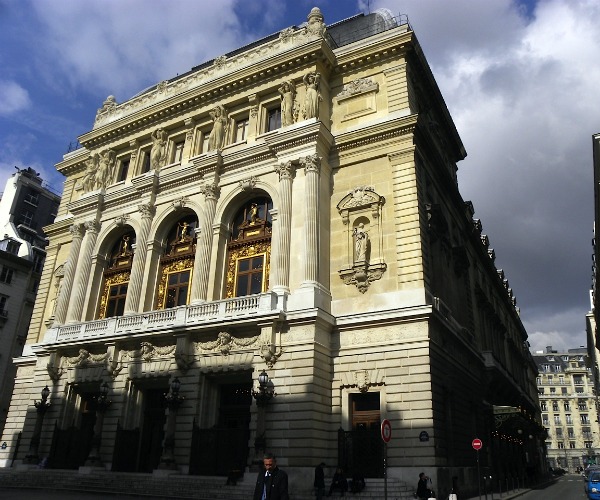 Walking a bit east, one encounters the Opéra Comique (right), site of the premieres of Le Damnation de Faust, Les Contes d'Hoffmann, Lakmé, Carmen, Manon, Pelléas et Mélisande and many other great works. Here were most of the first performances of works by Italian composers in Paris. The theater continues to be innovative and forward-thinking, akin to what the Brooklyn Academy of Music (BAM) is to New Yorkers. The best of the six opera performances I saw on my current visit was here: Les Arts Florissants presented a splendid production (by Deborah Warner) of Purcell's Dido and Aeneas, conducted by William Christie (an American who is a national treasure in France), with the prologue spoken by Fiona Shaw and Dido sung by the wonderful Malena Ernman.
Close to the Opéra Comique is a neighborhood where all of the great composers walked. Verdi lived on the Rue de Richelieu. Not surprisingly, some of the best restaurants in the area are on the Rue Rossini. Walk south from there and you reach the Theatre du Chatelet, yet another venue for marvelous productions ranging from Monteverdi (heard in a rock version this year) to zarzuela to musical theater and lots of mainstream opera repertory.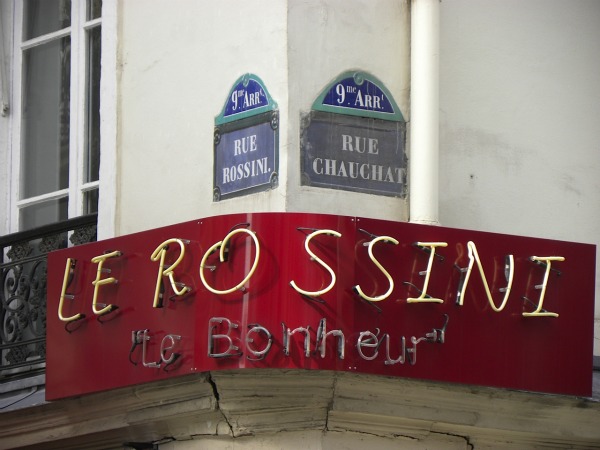 If you walk southwest toward the Eiffel tower, you will come to Theatre des Champs-Elysees and, beyond that, the Allée Maria Callas, in honor of the divine New York-born soprano who died in Paris. But if you head south and cross the Seine, you will soon find the Rue de Condé, where a plaque informs you that it was the birthplace of Maria Garcia Malibran (1808-1836), one of the greatest singers of the early 19th century. A short walk from there is the church of St. Sulpice, setting for the most exciting scene in Manon. Des Grieux tries to banish the image of Manon by taking vows to become a priest. She arrives and seduces him in the church. You cannot help but have music from that scene in your head as you walk through the church.
From St. Sulpice (below), you can find the Brasserie Lipp for a good beer before walking down the Rue de Rennes to Montparnasse. Toulouse Lautrec was but one of the many artists, writers and musicians to live in this area, my favorite in Paris. The cemetery is the final resting place for many illustrious figures, including Simone de Beauvoir, Sartre, Beckett, Ionesco, Saint-Saëns and César Franck. The sculptor of the Statue of Liberty, Frédéric Bartholdi, is also there.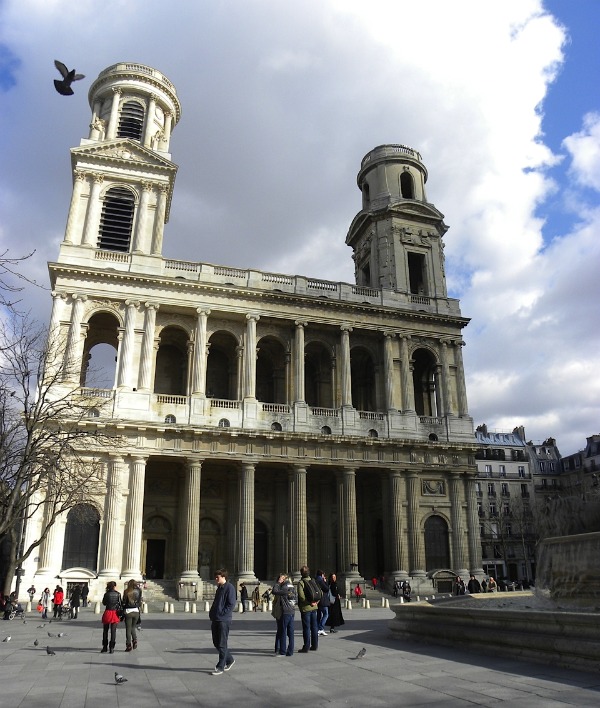 There are many nights when my peregrinations bring me to La Coupole, a huge restaurant in Montparnasse that welcomes artists and the people who love them or would be them. Reservations are hard to come by, even at midnight, and if you queue up you are handed a card with the name of a composer on it. The maitre d' will eventually call out the name of your composer and escort you with a flourish to your table. 
It is worth the wait to hear the names, not only of composers such as Delibes and Debussy pronounced correctly, but all of those foreign names that are cried out with a fulsome French accent: Motz-ARR! Bell-ee-NEE! Ro-see-NEE! Wag-NAIR! Vair-DEE! Stra-veen-SKEE! Gair-SCHWEEN! It is a roll call of most of the greatest composers. As you listen, you realize that each one was once an operatic flaneur in Paris.
Photos by Fred Plotkin