How a Singer Prepares a Role
When we attend a performance at a major opera company, the expectation is that the singers will be fully prepared for their roles. The preparation of a single role can take months or years as singers learn languages, acting, history, movement and make myriad emotional connections to the roles that happen through music as well as words. In the past, it was customary for a singer to return to a coach for each new role, but now education in the top schools is geared to giving singers tools to work on their own as well.
Young singers must learn to speak and pronounce Italian, French and German, how to act and, above all, how to sing, which will always be the most important thing in their education. If they arrive at the school as teenagers or young adults, they may have raw talent but very little experience. While a pianist or violinist may have been playing their instruments since the age of five, voices develop later as the body's hormones bring about changes that profoundly affect how the singer sings.
I recently had the opportunity to sit in on a couple of lessons at the Ellen and James S. Marcus Institute for Vocal Arts at the Juilliard School. This place is a dream for young singers for several reasons. The most impressive, to me, is the belief that the students all move at their own pace, developing quietly and then making an astonishing breakthrough from one week to the next. While the students (especially the undergraduates) carry a very heavy course load that often has them in school for twelve hours a day, they also have the opportunity for many individual coachings.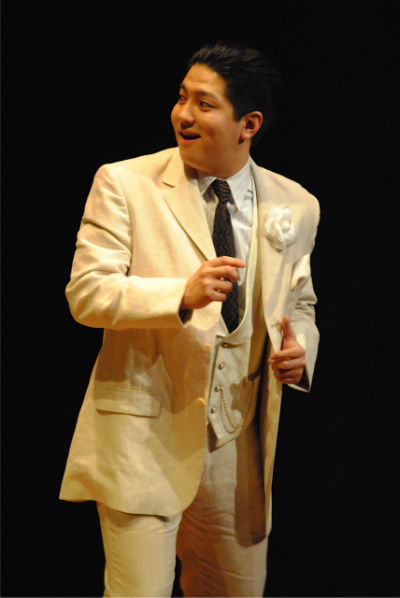 The Institute has 66 students and 30 faculty members. Each student gets at least one weekly coaching in areas as distinct as vocal production, ear training, theory, language, drama and more (Juilliard has one of dozens of such programs nationwide). First I saw Takaoki Onishi, a baritone from Tokyo (right), being coached in Italian by Corradina Caporello as he worked on Rigoletto's aria "Pari siamo." The singer stood at a music stand, making notes in his score as Dr. Caporello, seated at a music stand to his left, fine-tuned what was already a very polished interpretation. Brent Funderburk gave a strong sense of drama by playing a piano reduction of the music of the orchestra.
Onishi sang, "O rabbia essere diforme. O rabbia essere buffon" expressing the jester's rage (rabbia) at being (essere) deformed, and at being a foolish clown. After Dr. Caporello made sure that the Rs were properly but not excessively rolled and that double consonants were sounded in rabbia, essere and buffon, she pointed out that Verdi had inserted a rest between rabbia and essere in both sentences. In so doing, he expected Rigoletto to pause and contemplate his rage before expressing what the rage was about. It makes a world of difference.
What struck me in this moment (and many others) was that, while this was ostensibly a lesson about language from a native-born Italian to a Japanese singer, it also brought in musical and dramatic interpretation by mining Verdi's score for cues and insights. The double B in rabbia allowed the character to slightly growl, the double S in essere became a hiss and the double F in buffon suggested the ridiculousness of being a jester to a heartless master. The contemplative rest between "rage" and "being" Dr. Caporello noted in the score made a world of difference in Onishi's performance once he absorbed the concept.
A Painstaking Process
When you think that this short aria is only a brief part of the title character's music in a major opera, you understand how painstaking it is to completely learn a part. And this is only the music and words....we have not even dealt with acting, costumes, movement and performing with a conductor, an orchestra and other singers.
As I walked to another coaching, I heard the trombone part from Ravel's Bolero issuing from the men's room. I was told that this place had become popular with trombonists because of its particularly friendly acoustics. Wherever one walks in Juilliard, it is clear that rehearsing and performing is going on behind every door, no matter what the room is intended for.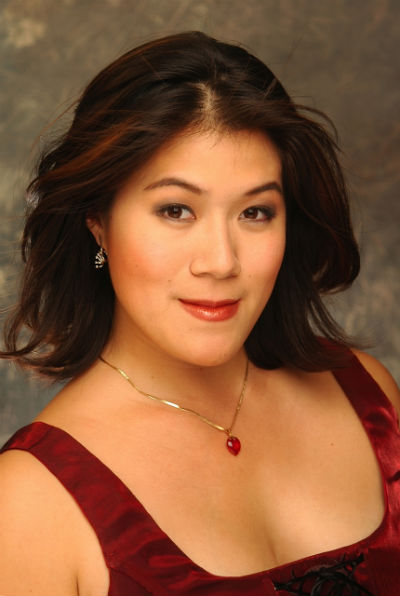 Down the hall, Karen Vuong (left), a soprano from Southern California, worked with dramatic coach David Paul and pianist Adam Nielsen. The aria was "Adieu, notre petite table," sung by the title character of Massenet's Manon. The aria is featured in the second scene in the opera when Manon has decided to leave the young Des Grieux, whom she loves, for a wealthier older man who can provide luxurious material comforts. Vuong, who has a great deal of presence and charisma, concentrated her aura into a very small imaginary setting of a humble apartment and a tiny table to which she is saying farewell. In fact, Manon says goodbye to the innocence and simplicity of first love.
When she completed the aria, David Paul asked her about the choices she made. "I think the first time Manon is saying adieu, she is listening to how that sounds and experiencing how that feels." Paul gently suggested, "It might be simpler. She just is leaving."
Like any good teacher, especially when the issue is interpretation, Paul did not impose his view but left it there for Vuong to mull over. He then gave the general but crucial piece of advice for all performers, "Don't know the answer until you ask the question." In other words, a singer or actor should never anticipate dramatic moments until they actually happen to the character. We audience members may know that Manon Lescaut is destined for a tragic end, but Manon does not know that and therefore the singer playing her cannot "know" it until the music and words have her know it.
Vuong later took part in a panel discussion led by Brian Zeger (right), artistic director of the Institute, that also featured sopranos Raquel González and Devon Guthrie and bass-baritone Davone Tines. Vuong said that she feels her training progresses well "because the faculty is very communicative with one another so they discuss approaches and ideas about a student's progress with one another."
Guthrie said that a way she learns a character is "to develop a universal sentence about the moment that each aria is about." Then she connects her personal feelings or experiences to each moment. Tines, who had studied sociology at Harvard, came to Juilliard for a master's degree. "You cannot walk on the stage here without feeling really prepared."
All of the singers receive extensive coaching in how to take an audition, which is often a different context than performing a role. Said Vuong, "They want to see how you move because, when they think of you for a role, it is not just about how you sound."
A lot to think about indeed.
Photos: 1) Takaoki Onishi as Blansac in the Juilliard Opera production of La scala di seta (Abigayl Venman for the Juilliard School); 2) Karen Vuong; 3) Brian Zeger (Jared Slater)