The problem of audiences coughing during musical performances is nothing to sneeze at. In a flurry of end-of-season performances in three of New York's major halls, I had the chance to experience a range of expectoration far beyond anything I would have anticipated or desired. I have come to the conclusion that some people in certain settings will cough for reasons that have nothing to do with what some doctors refer to as "frictional stress of the airways."
There is a big difference between the sudden abrupt outburst that comes when one person swallows the wrong way or perhaps becomes short of breath and the rampant hacking that has become the unfortunate norm every time there is a brief pause in the music. The former is unfortunate for all involved but requires a sense of compassionate understanding rather than a huffy glare that says "how dare you disturb my enjoyment!" The latter is just bad behavior and we can do better.
Sympathy for a Cougher
Recently I was at one of the Ring cycle operas. The quiet, well-behaved audience listened attentively—there was much to admire in the music-making. Then, without warning, a woman in the middle of a row began to valiantly struggle to suppress a cough that may have come from a tickle in the throat or swallowing wrong. She covered her mouth with her hands, then with a sleeve, then with a scarf, but nothing would help. She fumbled in her purse to find a lozenge and did her best to open it noiselessly, but to no avail. It was in crinkly clear wrapping so she stopped trying to open it as evidently she did not want to make even more noise.
A look of panic came over her as she calculated the disturbance she was causing as opposed to the trouble she would create by stepping over nine people to reach the aisle and rush out of the auditorium. She decided to stay put. The cough turned into gasps and people nearby became concerned for her health. Though her coughing was indeed disruptive, it was a genuine problem and not one born of inconsiderate behavior. With Wagner, though, even the lyrical passages have enough volume in the orchestra that most people heard none of her coughs.
In the same period I attended The Makropulos Case, Billy Budd and La Traviata. In the Janacek opera, the audience was so transfixed by Karita Mattila's tour-de-force performance that they did not think to cough. The very welcome return of the old John Dexter production of the Britten opera plus the knowledgeable audience that came to hear it meant that coughs were few and they were stifled. Sometimes people cough when they are bored, but these performances were so riveting that no one could possibly have been bored.
Sympathetic Coughing?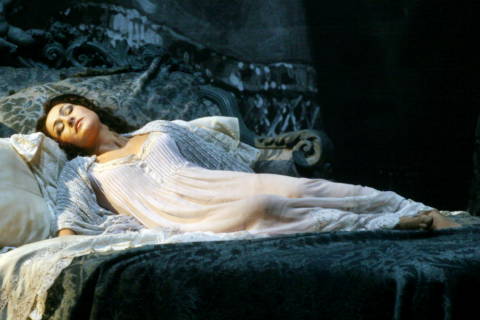 La Traviata is another matter, wonderful though it is as an opera. No work in the repertory seems to inspire more hacking than this one, not even La Bohéme, another story about a young woman coughing herself into an early grave. There seems to be a great deal of sympathetic coughing among audiences, particularly at La Traviata, by which I mean that people who hear and witness a cough then start coughing as well. It is akin to that mysterious chain reaction that one yawn can engender. 
What bothers me is that there are thousands, millions of people in daily life who give voice to their yawns, coughs and sneezes, compounding the disturbance they create. Most of these seem to be at the performances of La Traviata I attend, as well as orchestral concerts, vocal recitals, solo piano pieces and chamber music. A silent yawn is one thing, but when someone adds a downward progression of sound punctuated with an "uh," then they are not being considerate.
There is a big difference between a quick sneeze, or even a series of them, and someone who vocalizes the process with some version of "ahh-ahh-Ahh Choo!" Similarly, too many people don't realize that they vocalize their coughing  so that it becomes "Uh-huh. Uh-huh, uh-Huhh!" Next time you hear someone coughing extravagantly, pay close attention and you will hear what I mean. When you have 30 Violettas in an opera audience, all giving words to their coughs, it is almost a lost cause.
No Sympathy at the Symphony
On May 5 I attended an exciting performance at the New York Philharmonic, led by its music director Alan Gilbert. The program featured the world premiere of Magnus Lindberg's Second Piano Concerto, powerfully rendered by Yefim Bronfman. It was preceded by Dvorak's rollicking Carnival Overture and followed by Tchaikovsky's Fourth Symphony.
Maybe it was the breathless account of the Dvorak followed by the breathtaking performance of the Lindberg, but something happened that night to make the second half of the program seem as if Avery Fisher Hall were a pulmonary intensive care unit. When the symphony's first movement ended, a volley of coughs erupted as one person coughed and then, like a pack of wolves in a forest, hundreds of other coughers responded in kind. Soon the whole theater quaked with loud coughs that only subsided when Alan Gilbert raised his arms high to ready the orchestra for the second movement.
Nine minutes later, Gilbert raised his arms to lead the third movement of Tchaikovsky's symphony. This music requires the string section to play pizzicato in a way that is incredibly engaging and terribly difficult (here is a performance by Daniel Barenboim and the Chicago Symphony that will give you a sense of what is involved). Before maestro Gilbert could give the downbeat, the audience erupted in a cacophony that was as percussive as it was pertussive. Gilbert turned to the audience and burst out laughing. It was as if the audience was intentionally piling on the coughing sounds and he had no other way to respond. Unless a canister of gas has been tossed into the auditorium, there is no reason why at least 500 people suddenly must cough after not having coughed for the previous nine minutes. Can any readers explain this to me please?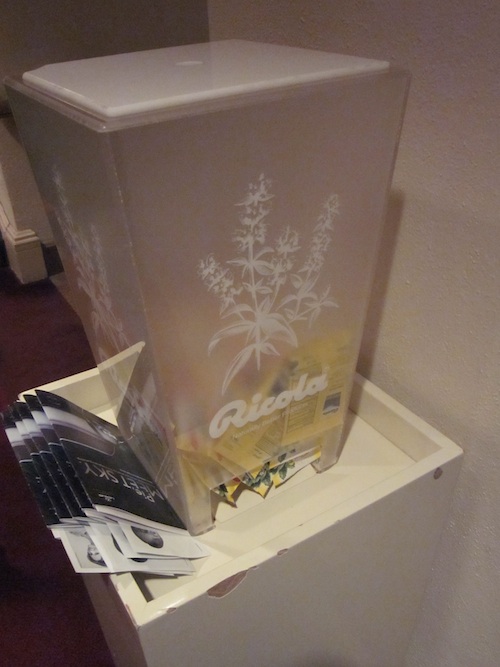 Carnegie Hall is a venue that has tried to address this problem with gentility and marketing savvy. I recently attended three excellent piano recitals (Mitsuko Uchida, Garrick Ohlsson, Louis Lortie) and there were smatterings of coughs in pauses between sonata movements. I think the coughs were limited by the respectful sophistication of the audience but also by the fact that Carnegie Hall offers Ricola cough drops in the lobby. They come in many flavors, including the original square herbal lozenge as well as the smaller oval drops in various flavors. My favorite is sage, which appears very rarely.
I mention the Ricola brand for a particular reason: it is wrapped in wax paper and twisted at both ends like a candy. If the lozenge is fresh and you open the wrapper by giving it quick tugs at either end, it will unfurl yet make no noise. An older, slightly sticky lozenge is not too noisy either. This is intelligent design. Even for Carnegie concertgoers who do not have a cough, the presence of these drops serves as a cautionary example that coughing should be suppressed whenever possible and these drops are one way to do it.
Here is advice from a certain Dr. Artour Rakhmitov who tells you how to stop coughing if you sit up straight, close your mouth and pinch your nose in the way he instructs. My advice is to consult your medical professional first and then go to a musical performance where the only sound you will make is rousing applause.
Photos: Myrtò Papatanasiu as Violetta, dying in Act III of 'La traviata' at Teatro dell'Opera © 2009 Corrado Maria Falsini; 2) The cough drops at Carnegie Hall