Who Should Direct an Opera Production?
At a press conference announcing New York City Opera's next season on April 18, I asked George Steel, its general manager and artistic director, what criteria he uses to match a particular stage director with a new opera production. He asked me to be more specific, so I rephrased my question: "Do you think it is necessary for a stage director of an opera to be able to speak the language of the libretto and do you think the director must be able to read music?"
Steel paused for a moment and then replied that he thinks such criteria are "ridiculous." He spoke of wanting fresh theatrical values, something many heads of opera companies cite. In my experience, such "fresh values" only work if the director is incredibly knowledgeable and passionate about opera.
City Opera recently presented Così fan tutte, one of the most difficult of all operas to direct because of the quicksilver mood changes found in the music and words and because of the complex emotions that lie just beneath the surface of what seems like a sex farce. The performance was fresh, original, somewhat disturbing (as it should be) and thought-provoking because Christopher Alden, its director, has been steeped in the art form for decades. He knows Mozart and da Ponte. I don't know if he reads music or speaks Italian, but this opera seems to reside so deep within him that there is none of the superficiality that many newly-minted opera producers with their "fresh values" seem to find acceptable.
For purposes of clarity, let us get our terms straight: In opera the person who directs the show and gathers a design team is known as the producer. This is a stage director who has an idea, a vision, a concept of how the opera should be staged and then finds the right people to create scenery, lighting and costumes and, when required, to do choreography. When a production is revived in later seasons, sometimes the original producer is brought back to stage it again. More often, an assistant to the producer or a stage director on staff of an opera company will follow the original production book (the notes on how the blocking—the movement—was done).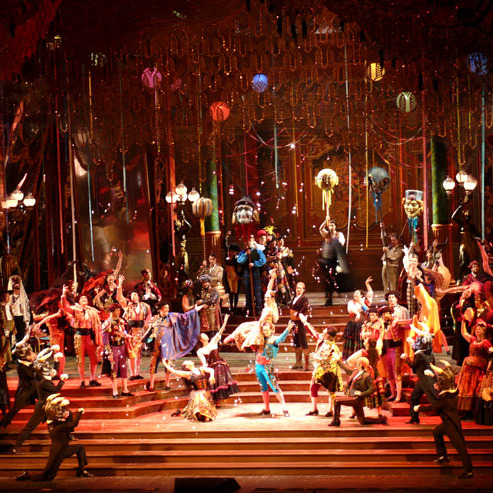 The head of an opera company selects a producer he or she thinks will come up with an interesting or provocative production. "Interesting" and "provocative" are not words I use euphemistically. Opera must be interesting and provocative but, I contend, also faithful to the ideas and spirit of the work as created by its composer and librettist. Achieving all of this, and also having the highest musical standards in place, is no simple task. As far back as the 1980s I heard general managers privately say that they wanted productions that are "singer-proof" so, if the cast is not top-shelf, at least the show would be something to look at. This led to the aesthetic, popularized by Franco Zeffirelli (right: his staging of La Traviata), in which visual splendor and busy processionals were often more memorable than individual performances. 
The "fresh values" productions are meant to be an antidote to the heft of the recent past but are often meager replacements. The absence of much to look at requires incisive stage direction informed by a deep feeling for the details of the story as told by the music (first!) and the words. And most contemporary productions fall far short in that regard, so opera has come to seem less interesting and provocative than it can be.

Homework Must Be Done
The emotional message, and much of the drama, of an opera is found in the music rather than the words. It is not sufficient for an opera producer to read a libretto to know how to direct a scene. A libretto in translation is practically useless if that is all you rely on to direct and opera. A producer must have a strong understanding and feeling for the music, because that is where the story really is being told. If you read the librettos of Rigoletto and La Traviata, they are engaging but have little of the visceral drama that Verdi so brilliantly added with his music. In the case of Verdi, and all the best composers, he wrote music that conveyed both the meaning and the sound of the words. Notice how the music fits the meaning and sounds in Bella figlia dell'amore, even if you do not speak Italian.
Where did the idea of "fresh values" begin? Many of the unusual productions of 50 or 60 years ago came in Germany as directors sought to erase, or at least countervail, the horrors of the recent Nazi past. Wagner productions went from specificity to abstraction. Many of the best ones were done by his grandson Wieland (1917-1966), who had the music and words in his bones but found new ways to express the essential core values, and universality, of these operas. This is quite different from the notorious Konzept, or concept, productions in which the story is twisted and warped so that it can be shoehorned into a quirky framework. A famous example was film director Doris Dorrie's placement of Rigoletto on what seemed like The Planet of the Apes in a Munich production a few years ago (below right).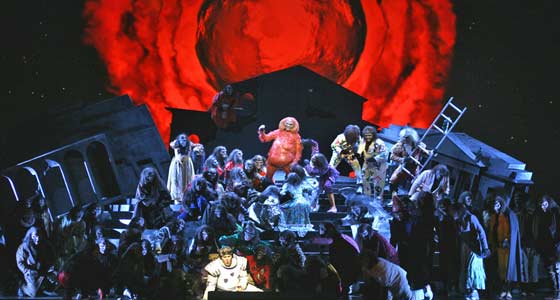 I find that Verdi operas fare worst of all when staged by people who do not speak Italian, read music, or know anything about Italian history, culture and values. They ridicule inconsistencies in the plot of Simon Boccanegra but fail to mine the rich emotional vein in this work. They seem embarrassed by deep feeling and avoid trying to bring it forth. So many Verdian productions are either "stand and sing" in front of scenery or intended to shock, such as the Rigoletto cited above or an Aïda set in Nazi Germany. 
Bellini and Donizetti, whose emotional content is even more anchored in the music than Verdi's, don't fare much better. They may not be given odd settings but the sentiments are not taken seriously because they are seen as too big and therefore irrelevant. We are all the poorer, in life and in opera, if we don't acknowledge our big deep feelings. Some younger people like to think of this detachment as irony, but it is not. It is an embarrassment about being fully emotional.
Humor, especially in Rossini, is similarly hard to achieve onstage unless its context and rhythm are understood. What is funny in Rossini comes in the wordplay and in the way it is carried by the music. While I think Bartlett Sher is a marvelous director of plays in English and his recent production of South Pacific was well-nigh perfect, he completely misses the boat on Rossini. He seems to think that chaotic, frenetic movement of singers and scenery during a crescendo comes off as humorous. There is a flat superficiality in his approach to Rossini, which he seems to direct from a script with little real connection to the music.
 
An Intelligent Tenor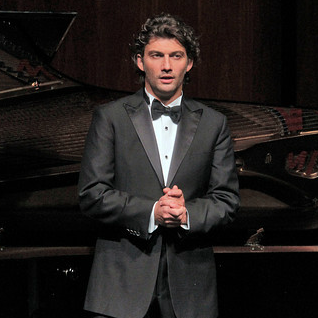 Jonas Kaufmann, the tenor of the moment who also happens to be a thoughtful artist, was profiled in The New York Times on April 20 (two days after George Steel's aforementioned comments about opera producers). Kaufmann, who has had to endure some dreadful productions as the framework of his excellent singing, said, "I am too much of a diplomat...but I will generalize this much. Too many directors arrive at the opera house these days knowing little or nothing about music. Most come from the spoken theater, focus only on the text and don't understand how to give the music its space. It may seem obvious to you and me, but a brilliant theater director does not automatically translate into a brilliant opera director. If I am a crack racecar driver, that doesn't qualify me to be an ace pilot as well.
"I sometimes feel that directors devise all these elaborate concepts because they don't trust the power of the music and are terrified of boring the audience. Opera is a truly magical art, but the magic originates primarily in the music that we singers work so hard to communicate."
Readers: What do you think the criteria should be, if any, in selecting a producer for a new staging of an opera?
Photos:  1) Doris Dorrie's production of 'Rigoletto' at Bavarian State Opera 2) La Traviata (Ken Howard/Metropolitan Opera)  2) Jonas Kaufman in recital (Ken Howard/Metropolitan Opera)