A Bountiful Falstaff Gets Everything Right
LONDON -- I just attended a splendid Falstaff at the Royal Opera House, Covent Garden, and cannot help but think how terribly rare it is nowadays to attend an opera performance that I know I will remember and cherish for the rest of my life.
In many ways I had a similar sensation at this performance as I did with the 1976 Die Frau ohne Schatten in Munich that I wrote about earlier this week. There were no Bavarian royals or national politics tonight but just a production that was intelligent and delightful beyond words—almost. I have found the words.
Many devoted operagoers believe an opera production should only be presented in the place of time of its original story. I have seen many productions that change time and setting of an opera and most of them fail to realize anything meaningful. This is because they are not faithful to the story as told in the music and the words of the opera. Rather, they try to shoehorn the whole opera into a concept that has only the most tangential connection to the original work.
This Falstaff, which was updated to 1950s England, was fresh, vibrant and relevant because its director, Robert Carsen, found resonance in the issue of social class distinctions and the behavior and customs that attend them. In so many ways, these class values of England of Elizabeth I were akin to those at the start of the reign of Elizabeth II, whose 60th anniversary on the throne is being celebrated in these days. To some degree they exist today but they were more intact in 1952.
Carsen has an amazing ability to reflect contemporary concerns in his opera productions without using them as an explicit narrative of the current day. That would date them even before their opening nights. I refer you to the article I wrote that described my admiration for his production of Don Giovanni that opened the current La Scala season.
This Falstaff had relatively simple set design by Paul Steinberg that worked incredibly well. There were tall walls, perhaps of polished oak, that moved to create different scenes, including the Garter Inn and Herne's Oak. An additional set was a 1950's dream kitchen with appliances, broad counter space and a dining table with cloth that was perfect for hiding Nannetta and Fenton, and a big window over the sink through which the laundry hamper containing Sir John Falstaff is tossed into the Thames River.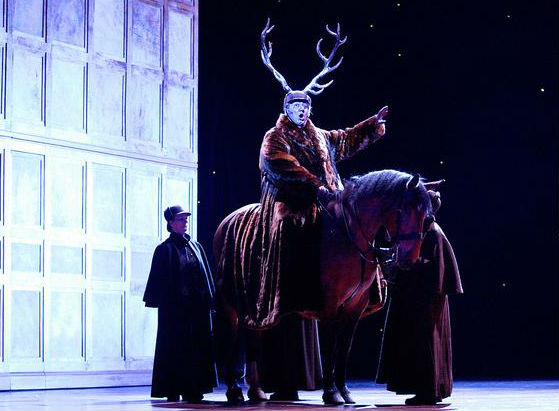 Throughout there were visual comic touches that subtly foretold action in later scenes. These would delight those who know Falstaff and Verdi well but also enhance the performance for those who do not. One was a hat rack made of antlers. Equestrian paintings at the Garter Inn that Her Majesty would dote upon anticipated the appearance of a charming horse in the last act who is Falstaff's only audience as he grumbles at an evil world. This same horse did a yeoman job of transporting the very large Ambrogio Maestri, who was an ideal protagonist in this production.
The costumes by Brigiette Reiffenstuel were, with one exception, perfect period creations that evoked and enhanced each character without ridicule or ugliness. Hunting clothes, proper suits for men at their club, cinched waist dresses for Mistresses Ford, Page, Quickly and Nannetta who, in one scene, seemed like the proverbial Ladies Who Lunch. The exception was a Texas-style yellowish gold suit worn by Ford disguised as Fontana that was stereotypical but not in any way revealing about the character who plies Falstaff with money and wine to seduce Alice Ford.
Above all, Carsen plumbed each moment and sensation in Verdi's music and Arrigo Boito's brilliant libretto. In so doing, he found more for the character of Meg Page to do than in any other production I have seen, where she typically fades into the background.  Here Meg is a full protagonist in the action and, as portrayed by Kai Rüütel, an excellent Estonian singer, becomes someone the audience cares about. In fact, I cared about all ten principal characters in this production because Carsen clearly gave so much thought to who they are.
In the fugue in the finale, Verdi has each voice shine for a moment before joining in with the others. Never before I have I seen this scene directed so we always know who is performing and what they are saying. Using the simplest of devices, an elevated platform on which each singer walked toward the audience at his or her solo moment as the components of the fugue build, Carsen took his cues from Verdi and turned what is often a confusing moment in the opera into one that is both important and enchanting.
A funny subtext that brought forth the social context of the opera in updated form was fox hunting, bringing to mind Oscar Wilde's remark calling it "the unspeakable in pursuit of the uneatable." Falstaff woos Alice with a foxtail and, in a wonderful moment toward the end, the "brides" in disguise wear fox masks that look like Janacek's Cunning Little Vixen. The pompous, silly ways of the hunters are enacted without exaggeration but were telling in their lack of awareness of how ridiculous they were.
I should add that the cast appeared to be selected because they were excellent singers and actors first and foremost rather than pretty faces. How many opera productions have I seen lately in which the singers are quite nice to look at but have very little else to offer! In this case, they looked right for their roles and the issue of believability never crossed my mind. Daniele Gatti led the orchestra and chorus of the Royal Opera House splendidly. Musicians and the production team were entirely in accord on what the opera was about so that the narrative from the orchestra pit and the stage was of a piece. Opera heaven.
If you read my recent article about opera directors, it posed questions that Carsen seems to know the answers to. Readers had interesting comments and I direct you specifically to Thomas from Knoxville, who raised two key issues: 1) how young directors are trained, with little regard for the music, and 2) the expectations of most audiences (particularly in the U.S.) that a production hew to the most traditional representation of an opera. This Falstaff perfectly achieves the balance of music, storytelling, design, enchantment and that most elusive element: genuine human feeling. What could be more relevant than that?
Robert Carsen's Falstaff will be performed at La Scala from January 15 to February 12, 2013 with Maestri singing all but three performances, which will be done by the glorious Bryn Terfel. The cast will mostly be new in Milan, apart from the spot-on Mistress Quickly of Marie-Nicole Lemieux, who will alternate with the brilliant Daniela Barcellona. Milan's Alice Ford will be Barbara Frittoli (who was Carsen's Donna Elvira) alternating with Tamar Iveri. The excellent Daniel Harding will conduct.
Photo: Ambrogio Maestri with Rupert the Horse in Falstaff (Catherine Ashmore)