When Verdi was Savaged by the Censors
Censorship has been part of opera since almost the very beginnings of the art form. Political and personal agendas of government leaders or theater owners were often brought to bear on composers and librettists, who were often subject to extremely punitive measures. Wagner and Shostakovich battled with those who would silence them, but no one was more persecuted and courageous than Giuseppe Verdi.
For most of his life, Verdi, Italy's greatest composer and an ardent patriot, used his operas to press for the expulsion of foreign occupiers (especially the Austrians) and for the unification of the numerous duchies and regions into the Kingdom of Italy. His actions irked the Austrians who ruled Milan and Venice, the cities where his first seven premieres took place. But they also annoyed the Pope in the Vatican, which held lands in central Italian regions such as Lazio (Latium) and Le Marche.
Verdi's third and fourth operas, Nabucco (1842) and I Lombardi alla Prima Crociata (1843) were not recognized as subversive by Milanese censors (who did their work for the occupying Austrians). But when the operas provoked riots in the streets, taking city officials by surprise, censors then paid close attention to everything the composer wrote. Even at that, occasionally a potent phrase would slip past them, such as that of Ezio, the Roman general in Attila (1846), who says "Avrai tu l'universo, resti l'Italia a me" or "You may keep the universe, let Italy be mine."
Verdi's beliefs ran afoul of political entities, the Catholic church and individuals who claimed to be arbiters of good taste. Before the creation of the Italian nation in the 1860s, theaters in each city had to submit every idea for a new opera to the local chief of police. If that was approved, a libretto could then be written and that too had to be approved.
The foremost political offense in a libretto would be the assassination of a king. In Verdi's time, King Gustav III of Sweden in Un Ballo in Maschera (based on Scribe's Gustav III, ou le bal masqué) was changed to the less controversial governor of Boston. The entire setting was moved from Stockholm to Massachusetts. Nowadays the opera is almost always set in Sweden but I recall a production at the Metropolitan Opera from the 1980s that used the Boston version.
Even if an operatic king was not killed, censors expected that he be depicted in a positive light. Hence, the libertine and prostitute-loving Francis I of Victor Hugo's Le roi s'amuse had to be demoted from King of France in the novel to Duke of Mantua in Rigoletto. And this ruler is not murdered by the assassin his jester has hired—in a tragic turn of events, Rigoletto's daughter Gilda is killed instead. Had these changes not been made, Rigoletto would never have been staged in Venice (a city whose censor was not even the most severe) on March 11, 1851.
As radical as the changes demanded by the Venetian censor were, things got even worse when the opera was scheduled to be presented in Rome's Teatro Argentina, on Sept. 27, 1851. The local censor shifted the action of Rigoletto to Boston in the 16th century (even if the city in Massachusetts wasn't founded until 1630). The tenor character became the good-natured, well-meaning Duke of Nottingham and the jester became Viscardello. His daughter, Gilda, is stabbed by accident rather than with cold-hearted indifference by Sparafucile. Viscardello's final lines in this version became "Gilda! mia Gilda!...Vivi! Oh clemenza del Cielo" which leads audience members to think that heavenly intervention might just save Gilda's life.
Viscardello, the Roman censor's Rigoletto, became the version that was given in many Italian cities, including Bologna and Florence, because the heads of opera houses feared local police action if the Venetian version was used. Verdi was furious at this and wrote, "These impresarios still have not understood that when operas are not given as they were created and without cuts and changes, exactly as they were conceived by their authors, it is better not to perform them. They don't know that the transposition of a work or even just a scene is almost always the cause of its failure [on the stage]. Imagine what happens if you change the plot!"
When Verdi was composing La Forza del Destino for its premiere in St. Petersburg in 1862, Leonora, his soprano character, was able to hide in the Convent of the Madonna degli Angeli, despite being what some might call a sinner (the Russian Orthodox Church seemed not to care). It premiered with great success on Nov. 10, 1862. When the opera was then presented in Italy, however, it appeared in a version not authorized by Verdi and, for its Rome premiere, was called Don Alvaro, after the tenor character. Verdi revised the opera in 1869, by which time he was able to follow more of his own vision.
In the name of "taste," prurience and morality, many other Verdi characters and situations were altered. Changes were made in the text of Luisa Miller to get past the censor. The prince's mistress in Kabale und Liebe, the 1784 Schiller play that was the source of the opera, becomes Federica, an attractive young widow who has none of the ambitious sexuality of  the character in the play. In Luisa Miller, the title character and the tenor Rodolfo are destined to fall in love by the will of un nume (a god) rather than God in the play. Miller's house is no longer near a rustic church but a rustic tempietto (temple). Miller in the opera considers Rodolfo un traditor (traitor) rather than the "seducer" in the play. 
In the third act of Rigoletto, the Duke tells Sparafucile he wants to have sex with the assassin's prostitute sister, Maddalena, ordering "Tua sorella, e del vino" ("Your sister, and some wine"). The Roman censor changed it to "Una stanza, e del vino" ("A room, and some wine"). The sexual frankness of this opera, combined with the fact that Verdi and Giuseppina Strepponi lived together for many years before getting married, made him seem a danger to moral values.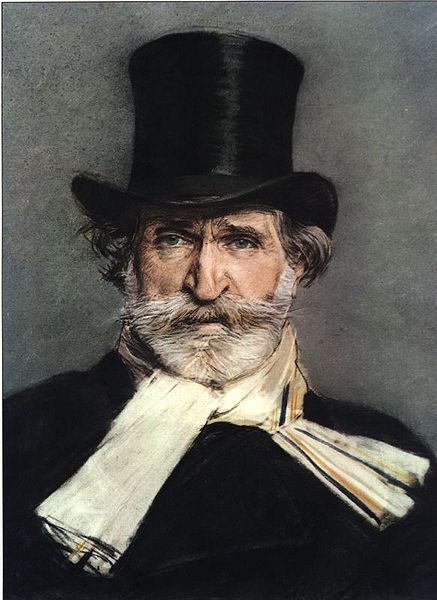 La Traviata, which premiered in Venice in 1853, was initially a failure more for the vocal shortcomings (and heft) of Fanny Salvini Donatelli who played Violetta. Its story of a pleasure-loving courtesan who takes up with one young man passed muster in Venice but was regarded as scandalous elsewhere. Censors in Bologna and Rome insisted that the opera be called Violetta and made the title character much more winsome and conventionally virtuous. And less interesting!
Verdi (right) was a man of impeccable taste who also understood what was real, dramatic, and affecting. He did not shy away from real life, but did not create operas with the intention of causing offense to audience sensibilities. Rather, he wanted to awaken them to the realities of life. He also was an excellent editor who knew better than any censor what should stay and what should go. In the original text of La Forza del Destino (by Francesco Maria Piave), when a surgeon operates on Alvaro, who has just been shot, he announces, "Ecco la palla, è salvo" which could mean "here is the bullet, he is saved" or "here is the ball, he is saved." Verdi changed it to "Lieta novella, è salvo," or, "Good news, he is saved."
Freedom of expression is an indispensable component of a mature, functioning society. Zealous censors doing the bidding of thin-skinned autocratic leaders may attempt to suppress such expression but, ultimately, they fail. Giuseppe Verdi knew that and any attempt to silence him only made him more vociferous and more courageous.