Planet Opera: Finding Summer Opera Off The Beaten Path
With many opera houses soon shutting their doors for the summer, if they have not done so already, those of us who love the art form must look elsewhere. The Royal Opera House at Covent Garden in London will be presenting two monumental works, Berlioz's Les Troyens and Verdi's Otello, soon in the run-up to the Olympic games. Munich's Bavarian State Opera is, as always, an unrivaled venue every July. Good opera will be available in Paris as well.
In the United States, apart from the always-excellent Santa Fe Opera and the Glimmerglass Festival in Cooperstown, NY, which has been ascendent recently under the leadership of Francesca Zambello, there are other worthy destinations. The San Francisco Opera is unique among the big companies in presenting a summer festival, this year from June 8 to July 8. It will offer Mozart's Die Zauberflöte, Adams's Nixon in China and Verdi's Attila with Ferruccio Furlanetto in the title role and Samuel Ramey, the unforgettable Attila of his generation, as Pope Leo I.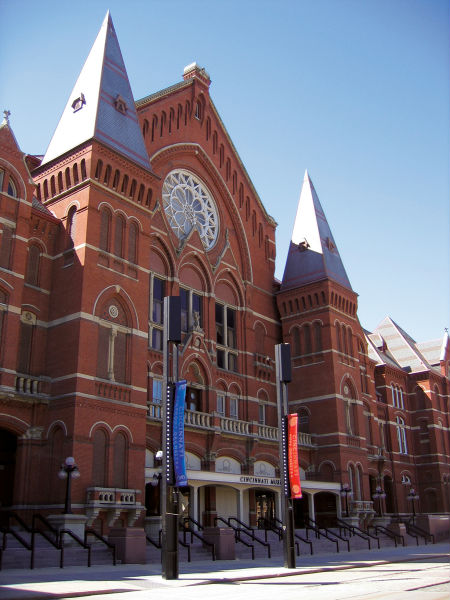 The Cincinnati Opera, under the vibrant artistic leadership of Evans Mirageas, is always worth a visit (right). This city on the Ohio River is particularly appealing in summer with its good food and opportunity to attend a Reds baseball game on a night you are not at the opera. Baseball and opera are both long-time passions there. Born in 1866, the Reds were America's first professional baseball team. The opera company was founded in 1920, making it the second-oldest company in the nation. In a season running from June 14 to July 27, the repertory includes a double-bill of Leoncavallo's Pagliacci and Puccini's Gianni Schicchi; Gershwin's Porgy and Bess; Verdi's La Traviata; and Astor Piazzola's "tango operita" Maria de Buenos Aires, a work I am especially fond of that does not come around often.
Last year I wrote about about 15 major European opera festivals, all of which merit a visit this year, if you are able to. I will be sending you a couple of dispatches from the Verbier Festival in Switzerland.
There are other worthy festivals off the beaten path that merit your attention because they maintain a charming local flavor that is hard to find at the major destinations. The festival in Wiltz, Luxembourg (below) has quietly presented major artists in opera, classical music, jazz and theater since 1953. This year's edition runs from June 27 to July 29 and will offer an open-air Aïda (July 6, 7) and a concert with five Italian tenors the next day. The festival has a rich and diverse program from beginning to end.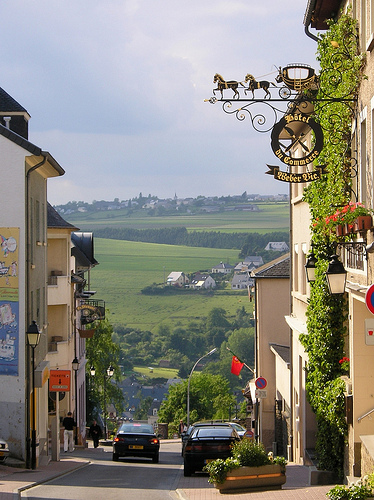 Since the opening of its new opera house, Copenhagen has raised its profile as a place worth visiting. But for a brief period in mid-summer (July 27-August 3), the Copenhagen Opera Festival goes out of doors to parks, gardens and squares all over the Danish capital. There will be 15 different programs, including performances of Maria de Buenos Aires, Die Zauberflöte, Purcell's Dido and Aeneas and Verdi's Rigoletto.
Further north is Dalhalla in central Sweden. The name is the Nordic equivalent of Olympus and, of course, is related to the Wagnerian Valhalla. The amphitheater is made entirely of rock and sits on Lake Siljan in a setting of rock formations. The festival has had more opera in the past. This year includes concerts by the excellent Swedish mezzo-soprano Malena Ernman (July 7/8) and an opera gala on August 11.
For something genuinely local, consider the Steinvik Opera festival on a fjord 30 miles/50 km from Trondheim, Norway. The same work, Henning Sommerro's Olav Engelbrektsson, is presented every year. This is the story of the local archbishop when the Danes occupied this area in the 16th century. Performances (August 9, 10, 11, 16, 17. 18) begin at 10 pm. There are 850 seats for an audience that will see 200 performers. The setting is a fortress whose ramparts are illuminated by flaming torches.
The Turku Music Festival, on the western edge of Finland, has scored a coup this year by securing the services of tenor Rolando Villazón to perform in a concert version of Monteverdi's Il Combattimento di Tancredi e Clorinda (August 15). Also in the cast are soprano Sandrine Piau and tenor Topi Lehtipuu, with Emmanuelle Haim conducting. The full festival runs August 9 to 18. 
In Germany, apart from Munich and Bayreuth, I would head to Leipzig, which is gearing up for the Wagner bicentennial in 2013. This year, though, is the 800th anniversary of the St. Thomas church, one of the most important musical landmarks in the world. Though opera is not part of its tradition, many of Bach's cantatas were first performed here, making the church a destination for those who love vocal music.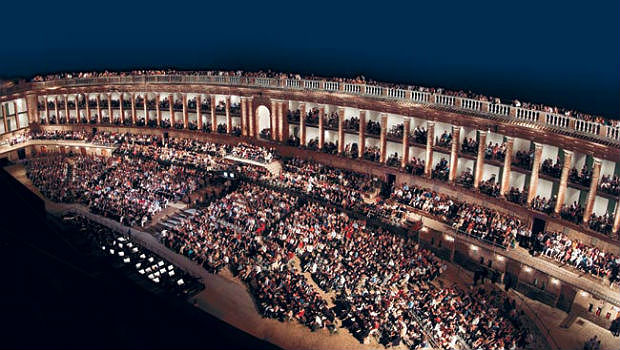 Two of my favorite lesser-known festivals are, of course, in Italy. One is in Macerata in the central region of Le Marche. This city is one's idea of what an Italian hill town is, complete with churches, piazzas, great food and wine, and an opera festival. This one takes place in the Sferisterio, a 200-year old semi-circular stadium with a high wall that was once used for handball (above). The wall makes for superb acoustics and the productions are grand. This year, on four weekends from July 20 to August 12, you can see La Traviata, La Bohéme and Carmen.
In Puglia, just above the heel of the Italian boot, is the marvelous Festival della Valle d'Itria in the stunning baroque city of Martina Franca. This is one of my favorite cities in all of Italy, with whitewashed buildings, gorgeous piazzas, excellent food and palaces and courtyards perfect for performances of operas, concerts and recitals. Its opera festival (July 14-August 2) is distinct because it presents works that were thought to be lost or were entirely forgotten. This year are Hasse's Artaserse, Marco Taralli's Nûr, Bellini's Zaira and Orfeo by Luigi Rossi and Daniela Terranova. 

Where do you plan to see a special or unusual opera performance this summer?

Photos: Music Hall in Cincinnati (Aimee Sposito Martini); Wiltz, Luxembourg (Flickr/benymarc); Sferisterio in Macerata, Italy