The Blurry Line Between Opera and Musical Theater
"I love opera!" I am so frequently told. "I have seen The Phantom of the Opera and Les Miserables ten times each and have every record by Andrea Bocelli, Il Divo and the Three Tenors!" Sometimes I ask these enthusiasts if they have ever seen a performance in an opera house and the answer is almost always no. More often, I bite my tongue, wanting to tell them that they don't know what they are missing but at the same time not wanting to hurt their feelings.
Lately, I have been thinking anew about how much opera and musical theater have in common and yet how their fundamental differences give each art form a specialness that stubbornly maintains the blurry line between them. I do not wish to imply that people cannot work successfully in both musical theater and opera. Consider just a short list of artists who have done so with great success: George and Ira Gershwin, Grace Moore, Kurt Weill, Leonard Bernstein, Ezio Pinza, Audra McDonald, Patti Lupone, Frederica von Stade and Julie Taymor. What made these people successful, apart from talent, outstanding colleagues and good material, was the awareness of the aesthetic differences between the forms and the ability to make them real on the stage.
The Revival that Wasn't

My renewed thinking about musical theater and opera (which is, after all, musical theater but with a unique combination of elements) is also not due to the fact that The Gershwins' Porgy and Bess won the Tony Award on June 10 for Best Revival of a Musical. In my view, this was not the revival of a musical (as was Stephen Sondheim's Follies), because what is now being performed has never been performed before. It is a new creation by director Diane Paulus and writers Suzan-Lori Parks and Diedre L. Murray using music and words from the original opera by George and Ira Gershwin, Dubose and Dorothy Heyward.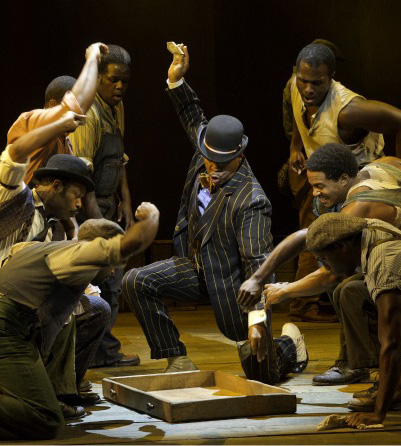 Paulus and Parks are very gifted artists. I adored Paulus's production of Hair for the Public Theater and greatly enjoyed her direction of Haydn's Il Mondo della Luna for the Gotham Chamber Opera at New York's Hayden Planetarium in 2010. Parks wrote the splendid Topdog/Underdog that fully merited its Pulitzer Prize for Drama, and her 365 plays in 365 days project for the Public Theater was one of the most fascinating creations for the stage in a long time. However, for me at least, their take on Porgy and Bess gets very little right and a whole lot wrong, despite having a very talented cast.
I am not echoing Sondheim, who famously criticized this version without seeing it. I saw it in the winter and my disappointment still has not abated. Anyone who loves this music will immediately note all of the cuts and the fact that the orchestration sounds tinny due to a smaller number of musicians being boosted by amplification. Anyone who knows the rich depth of feeling found not only in the principal characters but in smaller roles such as Serena, Jake and Clara will feel frustrated when these portrayals come up short due to how they have been restructured.
Great liberties are taken, such as having Maria, the community matriarch, pretend (or perhaps not?) to be the lawyer who helps Bess get a divorce from Crown. And most egregious was enabling Porgy to walk with a cane rather then having two crippled legs that require him to drag along the ground or be transported in a cart pulled by a goat. In the current version, he hobbles out of town in the finale in search of Bess. We are expected to be inspired by his resolve and think that he might actually find her, making for a happy ending.
At the heart of the original Porgy and Bess and every other version since then is the great music that reveals the heart, complexity and frailties of its characters and then acknowledges that many lives are touched by genuine tragedy. Stunt the music, chop up the story and give it an upbeat conclusion and that is not a Porgy and Bess in any but the most tangential ways. I am reminded by this production and most other shows that musical theater makes very little room for tragedy while opera and its creators know that both tragedy and comedy are part of the human experience.
Andrew Lloyd Webber's Finest (Seriously)

Actually, the stimulus for this article was my attendance last week at the revival of Evita, with music by Andrew Lloyd Webber and lyrics by Tim Rice. It should not surprise you to learn that musicals by Lloyd Webber are not my cup of tea, with their overblown but superficial emotionalism and the one hit song that worms its way into your ear. Lloyd Webber has often been accused of shameless appropriation of melodies from elsewhere — most famously, Phantom of the Opera's use of music from Puccini's La Fanciulla del West. 
For me, Evita has always been an exception to all of this. It is a deeply cynical take on power and image-making and has, in Eva and Juan Peron and Che Guevara, three fascinating and contradictory figures from recent history. In a good production of this show, we care about them as much as we do Floria Tosca, Mario Cavaradossi and Baron Scarpia. Evita has lots of beautiful and dramatically specific melodies, lyrics with tang and bite and, as in an opera, it is almost entirely through-sung and carried along by music and words at the same time. 
The current production has many virtues that are undone by maddening interpretive choices, most of which I lay at the feet of Michael Grandage, its director. The scenery by Christopher Oram (who also did the costumes) is monumental when necessary but also creates intimate spaces. It would work well in many operas. The lighting by Neil Austin is outstanding as it moves from sun to nighttime, from spotlighting iconic political figures to a ghostliness in Eva's dying and funeral scenes. Michael Cerveris, who plays Peron, is one of the most valuable and versatile performers in the American theater. Only he, of the principals, creates a characterization informed both by music and words, and sings and acts with equal depth.
The title character of Evita is one of the toughest "sings" in musical theater, certainly as daunting as Mama Rose in Gypsy. It is to Broadway what Turandot is to opera, but much longer. Elena Roger, who is from Argentina, has a voice that gets strident and lacks the dramatic heft Patti Lupone brought to it. Roger does nothing to render Eva sympathetic, making the character an anti-heroine. That is a courageous and valid choice, but I suspect it was not so much a choice as an outcome.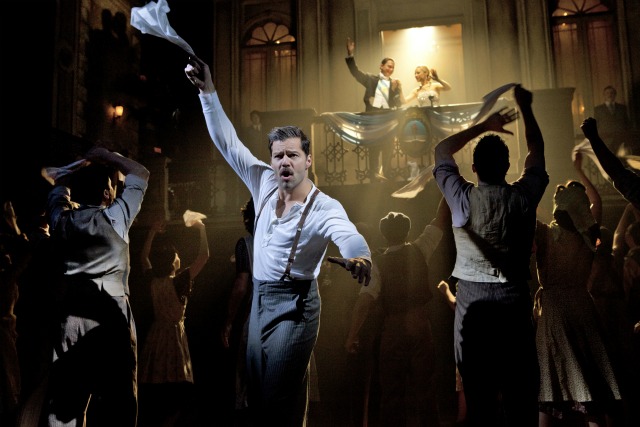 Che Guevara is the only Argentine as storied and mythical as Eva Peron, perhaps even more so. In Evita his is a large role with a lot of music and acting. The ingenious notion in this show was to have a contemporary of Eva, one who would think of himself as being a man of the people as much as Eva fashioned herself as the savior of the disadvantaged, be the one who tells the audience the story.
Ricky Martin plays Che in the current Broadway version. He has a strong, secure tenor voice, exemplary diction and abundant unforced charisma. But it seems as if he has been directed to just be a cute narrator who happens to be named Che rather than a man whose image is universally recognized nearly 45 years after his death. Ricky Martin has the gifts to be a top Broadway performer and not simply a recognizable star, but he needs a director who will help him build a layered portrayal rather than being eye candy with a nice voice.
What does all of this have to do with opera? There has been a trend of late to ask theater directors without the requisite skills to stage operas in major opera houses. In addition to not being comfortable and conversant in the operatic aesthetic, they might well bring some of the negative values now on display in musical theater: avoidance of emotional complexity; unwillingness to fully plumb tragedy; sidestepping political and social issues; a preference for pretty people with pretty voices and little else rather those who can really sing, act and have something to say. 
In other words, they could make opera superficial and less exciting for audiences who buy tickets because they want to be challenged, enlightened and moved rather than simply being entertained. Opera will never work if it is merely pleasant. And if, Heaven forbid, the musical theater's tolerance of electronic amplification of singers, chorus and orchestra (with a smaller number of instrumentalists) infects opera, we might as well give up now and resort to our collection of old recordings. Microphones in opera, with the rarest of exceptions, is a line that should never be crossed.
Weigh in: Do you think the Broadway aesthetic benefits opera in any way? What can opera contribute to musical theater?