Dining With Caruso Near the Old Met
A delightful and well-curated exhibition called "Lunch Hour NYC" just opened at the main branch of the New York Public Library on 42nd Street and Fifth Avenue. It is on view until February 17, 2013. Native New Yorkers and visitors to the city can spend a delicious hour learning about an aspect of my home town that is both omnipresent and not well-understood.
The exhibition is a cornucopia of information about the many ways New Yorkers used to eat lunch before odious fast food chains invaded the city in the 1970s. Once there were freshly-shucked oysters (the fast food of the 1840s), mom-and-pop joints, or the many only-in-New York chains that appealed to different classes and constituencies (laborers, secretaries, the Ladies Who Lunch). One of these was Schrafft's, favored by W.H. Auden, the British poet and librettist. He often wrote at Schrafft's and observed that "I adore New York, as it is the only city in which I can live and work quietly."
Perhaps the most democratic chain, and the one that inspires the most nostalgia, was Horn & Hardart's automats. Drop a nickel in a slot in a wall of compartments, a glass door would automatically open, and you could have a piping-hot, just-prepared dish of baked beans, macaroni and cheese, beef and noodles, or a fresh slice of pie. One of the reasons for this wall was so that the cooks and employees, many of them new immigrants or African-Americans, were out of view. This was not because of prejudice (the clientele was similar in makeup) but because many of these workers could not find jobs elsewhere.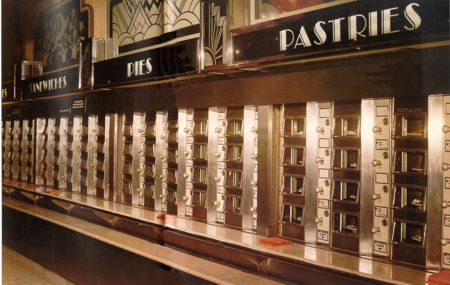 The first New York Horn & Hardart's opened in Times Square on July 2, 1912. It appealed to people of all classes because the food was tasty and well-priced, the atmosphere convivial. It was possible to spend hours there, as many people with creative inclinations did. Among them was Irving Berlin, who captured the hard-luck optimism of the Depression with his song, "Let's Have Another Cup of Coffee (Let's Have Another Piece of Pie)." Journalists passed through and often gleaned information for their articles. This being the theater district, performers and show folk mingled with audiences in ways that seldom happen today.
A Concerto for Horn and Hardart
There is a wonderful piece of music, as amusing as it is accomplished, called Concerto for Horn and Hardart by P.D.Q. Bach, the oddest of J.S. Bach's 20-odd children. Composed by his modern alter ego, Peter Schickele (1935-) this three-movement work has somehow not made it to YouTube so you will have to listen on CD or MP3 download. You may not know that one of Schickele's classmates, a certain Philip Glass, helped him invent an instrument called a hardart to perform this piece. Coins are inserted and, with the opening of the small glass windows, different tones are sounded.
The first Metropolitan Opera House was on Broadway and 39th Street, not far from the Times Square automat. The Old Met opened on October 22, 1883 as an upstart company to rival the venerable Academy of Music on 14th Street, where "the old money" crowd preferred to hear their opera. Nouveau riche arrivistes with names such as Vanderbilt and Whitney helped launch the new opera company uptown. The Old Met had a restaurant called Sherry's but it was too fancy for most operagoers and opera workers. Food for audiences was available at nearby shops and restaurants.

Mangiare, per favore?
Enrico Caruso made his Met debut as the Duke of Mantua in Rigoletto on November 23, 1903. He was a tenor with a healthy appetite and there were two foods he consumed with almost superstitious regularity: chicken livers and spinach. Both are full of iron and perhaps he thought they gave him energy for his performances. I would like to think that Caruso ate the creamed spinach from Horn & Hardart, which was iconic. I don't know if he ever set foot in the automat, but it was also possible to get food for take-out and perhaps he ate spinach in his dressing room. I have adapted the recipe for you to make at home.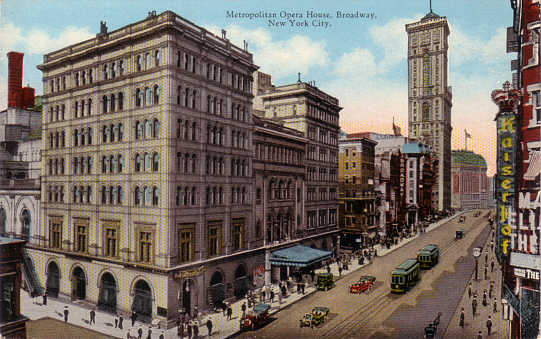 Caruso liked to explore the neighborhood around the Old Met for places to eat. He often befriended restaurateurs from Naples who set up pizzerias or simple eateries that recreated dishes from that city's glorious cuisine, which is the foundation of Italian-American cooking. Caruso was idolized by Neapolitans and he returned the favor with his patronage and his willingness to break into nostalgic songs while feasting on memories of dining happily in Napoli. It is well known that he loved spaghetti with chicken livers sauteed in oil and butter with chopped tomatoes. The preparation came to be named for him. You can find the recipe below. Caruso was the Met's biggest star and a constant presence in the neighborhood until his last performance, on Christmas Eve of 1920.
The relationship of musicians and chefs goes back to the earliest entertainers in ancient Greece and continues to this day. The excellent pianist Nicolas Hodges keeps a detailed list of places to eat in wherever he travels. When conductors Valery Gergiev and Gianandrea Noseda are in New York they always find their way to the table of Lidia Bastianich, one of our leading lights of Italian food. She, in turn, is a regular at performances these men conduct. Something about music being the food of love....
---

CREAMED SPINACH
from Horn & Hardart's Automat
adapted by Fred Plotkin
Serves 4
1 pound raw spinach, preferably organic
2 tbsp. unsalted butter
1-1/2 tbsp. flour
1/4 cup whole milk
1 tsp. sugar
1/4 tsp. salt
1/8 tsp. white pepper

Wash spinach well in cold water. Cook in a covered pan, using only the water that clings to the leaves. Spinach are done when the leaves are soft but still a vibrant green. Let cool slightly and then chop fine. Reserve the nutrient-laden cooking water for another purpose such as drinking cold or using in soup.
Melt the butter over medium heat in a separate pan, preferably a double-boiler so that the butter does not turn brown. Once the butter is melted, add the flour gradually, stirring constantly with a wooden spoon until the combination is of a smooth consistency. Then add the milk slowly, continue stirring gently and cook until the combination has thickened.
Add the sugar, salt and white pepper to the sauce, give a quick stir, and then add the chopped spinach and blend well. Serve hot.

TAGLIOLINI ENRICO CARUSO
from The Authentic Pasta Book, by Fred Plotkin
Serves 2
3 tbsp. olive oil
1 tbsp. unsalted butter
1/4 tsp. fresh rosemary
1/4 medium onion, minced
6 ounces chicken livers, washed and finely chopped
3-4 tbsps. broth, warm water or white wine
1 tbsp. tomato purée (optional)
8 ounces fresh tomatoes, washed, unpeeled, chopped and seeded
salt and pepper to taste
8 ounces tagliolini, fresh or dried (you may also use spaghetti or macaroni)
Set a large pot of cold water to boil. Once the water reaches a boil, you have the option of adding a pinch of salt. If you do, wait until the water returns to a boil. Depending on the cooking time required, you should make the sauce while the pasta cooks or, if you are using fresh pasta, before cooking the pasta.
To make the sauce: In a saucepan, gently heat the oil and butter together, taking care not to get them too hot. They should combine but not sizzle. Add the rosemary and onion and stir with a wooden spoon, cooking just until the onion turns golden and translucent. Then add the chicken livers, broth and optional tomato purée. Heat for 1 minute and then add the fresh tomatoes, salt and pepper. Keep the sauce at a simmer, half-covered. It should thicken somewhat as it cooks. Let it simmer for 5 to 8 minutes and then give it a good stir before removing from the heat.
When the pasta is done cooking, drain well (and do not rinse) and transfer it to a warm bowl. Dot with a little more butter and then add the sauce. Toss well and serve immediately. You may serve a little freshly grated Parmigiano-Reggiano or Pecorino cheese, but do it sparingly or the dish will dry out and lose its fresh, bright flavors. The ideal wine would be a white or red Lacryma Cristi from near Naples, perfect to drink as you listen to Caruso sing Una Furtiva Lagrima from Donizetti's L'Elisir d'Amore.
Photos: 1) Inside a Horn & Hardart automat (theautomat.net) 2) the Old Metropolitan Opera House, New York