Planet Opera: In Brussels, Culture Takes an Adventurous Path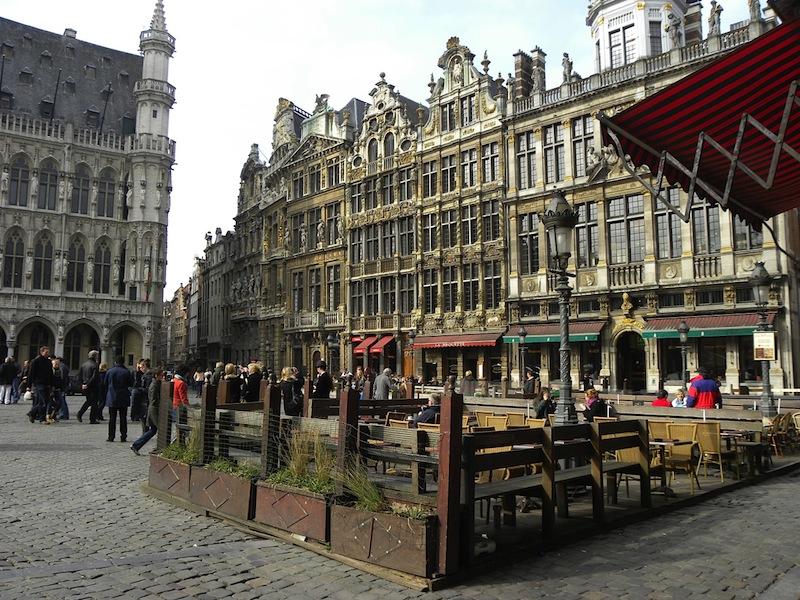 Say "Brussels" to most people and they think of the city that is both the capital of Belgium and of the struggling entity now referred to as the Eurozone, named for the troubled currency born of a Utopian dream that was never properly realized.
Older terms that signified "Brussels" include the Common Market and the European Union. It is also where the North Atlantic Treaty Organization (NATO) has its headquarters and whose members include nations that are not euro zone, such as Turkey, Norway, Great Britain, Canada and the United States.
For many Europeans, "Brussels" brings to mind quarreling constituents in a large bureaucracy. It is said to have little sensitivity to the national and cultural differences on this fractious continent whose residents made war for thousands of years and as recently as the 1990s. Part of the appeal of the euro was that this common currency was seen as a means of bringing peace and a shared economic objective to nations that would put aside their historical differences in the interest of progress. It has been a noble effort and we can only hope that the continent will not come undone during this crisis.
When I think of this city, to which I happily returned recently after a decade-long absence, it is not as "Brussels," but Brussels. Take away the quotation marks and it goes from being a concept and, perhaps, a cliché, to a very cosmopolitan city in which no language, religion or identity predominates. It is a place where many cultures and traditions don't quite blend, as they would in New York, but stand next to one another, retaining their special characteristics.
Apart from anything else, the food in this city is divine. While other cities promote "fusion" of disparate ingredients and you find Chinese-style egg rolls stuffed with pastrami (I'm not making this up!), in Brussels, food is prepared according to whatever tradition it belongs to and is extraordinary. If Paris is for gourmands, then Brussels is for gourmets. Some of the most phenomenal seafood I have ever tasted can be found here, sparklingly fresh and full of flavor. Delicious, complex beers are a specialty; I recently had one with just a hint of fresh cherry. And you may have heard that Brussels has more than 200 chocolate shops and its airport sells more chocolate than any place in the world.
Much More Than A Sum of Its Parts
Belgium is a country of multiple languages segmented by distinct regions (Flemish-speaking Flanders to the north and French-speaking Wallonie to the south) but in Brussels, the Flemish and the Walloons are only part of a much more diverse environment that includes peoples from all over Europe, Africa, North America and elsewhere. The rivalry between Belgium's regions has a benefit for those who love the arts. Each year the Flanders Festival and the Festival de Wallonie are two of the most rewarding in all of Europe. They go on for many months in the smaller cities of their regions and both have a conspicuous presence in Brussels. This is but a small part of a compelling musical scene here that does not reveal itself as insistently as other cities.
The city's temple of music is La Monnaie (French) or Die Munt (Flemish). It is the home of a very innovative opera company known for its edgy stagings and singers who also are good actors. I saw a charming Rusalka set in a very rainy, leafy place full of sex shops. If you do not know this opera and understand what Dvorak brought to it, you still would not know it based on this production. Normally, I would find this objectionable, but it was enchanting and enchantment is a key part of what makes it work. So I would say that La Monnaie/Die Munt is a great destination for experienced operagoers who are looking to have their assumptions challenged in intelligent and unexpected ways. In this regard, it is a metaphor for all of the arts in Brussels, and that is high praise.
La Monnaie is famous for being one of those European opera houses where a revolution was begun from the stage. It certainly happened elsewhere, famously at La Scala, but not the way it did here. On August 25, 1830, during a performance of Daniel Auber's La Muette de Portici, there was a riot in the auditorium during the duet "L'amour sacré de la patrie" (the sacred love of the fatherland). Belgian political history is too complex to explain in less than 10,000 words, but suffice it to say that this riot was the first salvo in what came to be known as the Belgian revolution, in which Flanders and Wallonie were joined to become one nation. Here is an aria from the opera, sung by Alfredo Kraus.
There are many other venues for hearing great music of all kinds from straightforward to bracingly eclectic. I am always reminded, in this city known for gray bureaucracy and seeming conformity, how really adventurous and original is artistic expression here. I adore the Palais des Beaux-Arts (locally called the Bozar), a venue with several halls and home to wide range of musical performances.
On the night I went to the Bozar recently, there were two singers from Greece who played to an audience that was largely, though not entirely, drawn from the Greek community in Brussels. The whole day in "Brussels" had been devoted to handwringing about whether Greece should receive a financial bailout, so this performance became a communing of the muses and the spirits of antiquity, and it was mesmerizing. When art has a palpable subtext or meaning to an audience, it becomes a much more compelling experience.
Churches such as the Cathédrale des Sts Michel et Gudule, the Chapelle Royale and the Eglise des Sts Jean et Etienne aux Minimes present a vast range of religious and secular music in glorious settings.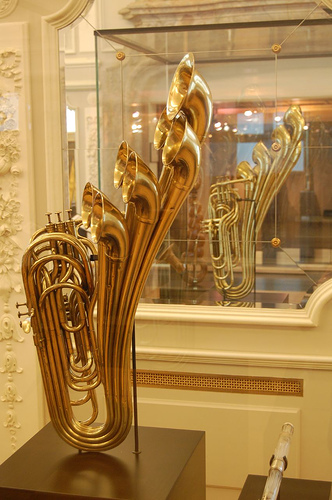 One of the best collections of musical instruments anywhere is the Musée des Instruments de Musique, set in a gorgeous 1899 building that was once a department store. While you could find many fascinating instruments here (right), the reason this place is not to miss is because the saxophone was invented in 1846 by the Belgian Adolphe Saxe. At the museum you can see many of his experiments and get a better understanding than in most places how a musical instrument evolves into what we now know.
It should not surprise you that the two cities most associated with Saxe, Paris and Brussels, have two of the greatest jazz scenes in the world. If you have seen the film "The Artist" (which I watched on my flight to Brussels) you will find that the jazz-inflected score of the film was performed by Brussels musicians. Dare I say that there are now more good venues in Brussels to hear jazz than in New York? There are.
Brussels is a city of writers and poets, many of whom have inspired splendid music. Wander the streets and you will find locations that recall them. Charlotte Brontë lived at 32 Rue d'Isabelle in the Royal Quarter from 1842 to 1844. Her experiences formed the basis for Villette, which is the name she used for the city. Poets (and tempestuous lovers) Arthur Rimbaud and Paul Verlaine tried, in Brussels, to resolve their problems and Verlaine wound up shooting Rimbaud in the arm. I will discuss Maurice Maeterlinck (whose play is the source material for Debussy's Pelléas et Melisande) in a future article.
In my few days in Brussels I found so much in musical, cultural and culinary terms that I will return to these for individual reflections in the months to come, including the Queen Elisabeth Competition, which is just completing its 75th year, circus and opera, chocolate and opera, and more surprises that were inspired by surprising Brussels.
Photos: 1) Chocolate shop (Fred Plotkin) 2) Seven-belled horn at the Musical Instruments Museum (Flickr/photophiend)