Remembering Evelyn Lear, Soprano with Magnetic Presence
In the parlance of contracts made between opera houses and management companies, an opera singer is an artist. Singers are referred to this way backstage (the artists's dressing rooms, for example). The A is for Artists in the name CAMI (Columbia Artists Management Inc.). With the death of American sopano Evelyn Lear at age 86, I paused to think afresh about what it means when a singer really is an artist.
The word artist, in English, has a certain allure, though it can suggest a person engaged in painting, sculpting, writing, dancing, weaving or many other kinds of creativity. The German word Kunstler has much more noble connotations. While, in the German-speaking world, artists of all kinds are well-regarded, those who make music are the most exalted of all. As we know from the Composer's Aria in Strauss and von Hofmannsthal's Ariadne auf Naxos, music is the most sacred of the art forms.
Following the recent death of Dietrich Fischer-Dieskau, a Kunstler of the first order, we now mark the passing of Evelyn Lear, who was in every way a Kunstlerin. She was a first-rate musician, a magnetic presence on the stage, analytical and thoughtful in rehearsal and fearless in performance. She was beautiful, at every age, and had the type of beauty that made you love her immediately. But it was not her physical beauty that drew you in as much as the fact that she genuinely lived to serve art which, to her, had a scope much more universal than simply what she did on a stage.
She was a marvelous interpreter of the music and aesthetic of Alban Berg. I just listened to the 1965 recording of Wozzeck with Fischer-Dieskau in the title role and Lear as Marie. There is much artistry in the singing and the playing that practically jumps off the disc. The cast members were native German speakers, with the exception of Lear. The conductor was the formidable Karl Böhm and the musical forces were of the Deutsche Oper in what was then called West Berlin. It was recorded in early Spring 1965, just 20 years after the end of World War II, in a city that had been divided by a wall (and two ideologies) just four years earlier. The performance is a supreme example of how real world conditions can influence, without dominating, artistic expression and Lear is in every way the equal of her colleagues in this opera about the strife of war.
My first Evelyn Lear performance was on a recording, as a haunting Pamina in Die Zauberflöte. I first saw her live in 1967, when I was 11, in her Met debut at the world premiere of Marvin David Levy's Mourning Becomes Electra, drawn from the play by Eugene O'Neill. She played Lavinia Mannon, a modern version of Electra and a young woman with "issues." Although I had seen other opera performances that were highly dramatic (Leontyne Price's Aïda; Maria Callas's Tosca), this was the first time I realized that opera can be riveting theater as well as compelling music. The conductor was a young, dynamic Zubin Mehta and the stage director was the brilliant Michael Cacoyannis. Upon reflection, I realize that this was a gathering of artists who brought seriousness and commitment to their goal of creating a new opera. Reviews were mixed, but I was hooked.
A Family Connection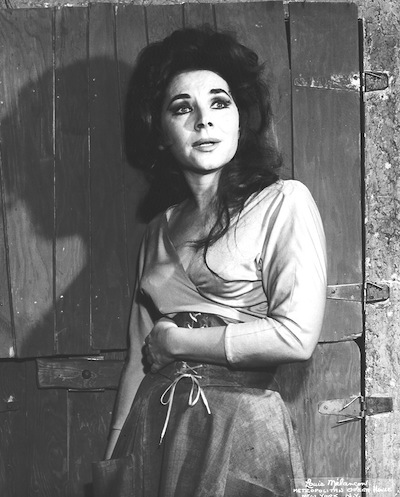 I came to know Lear and her husband, the wondrous bass-baritone Thomas Stewart (whom she married in 1955 and to whom she was passionately connected until his death in 2006), at the same time Mourning Becomes Electra was in rehearsal. This was not because of my being in the artistic mix (though to some degree I was) but for the simple reason that we were neighbors. There were affinities, especially with Evelyn, that went beyond proximity and loving music. She was a contemporary of my mother and they had similar backgrounds. The families also had shared sympathies on the important political and social events of that time. Evelyn and Tom were what was once known as an artistic couple. Both had prodigious talents that were sometimes forged and other times used independently. But they always were present in each other's lives, artistically and personally.
In the late 1960s and early 1970s, when I was attending many operas for the first time, Lear was often in New York displaying her remarkable virtuosity. When you see an opera for the first time and a singer makes an indelible impression, she becomes the visual and spiritual point of reference that will inevitably be compared to all who do it later. I was spoiled. Lear sang Octavian to Christa Ludwig's Marschallin in Der Rosenkavalier with Karl Böhm conducting. Three weeks later she was Marie in Wozzeck, led by Colin Davis. I know it is fashionable to say that conducting at the Met was of variable quality in the past, but Lear's first three maestri were Mehta, Böhm and Colin Davis. Excuse me?
Lear played the Composer, a Kunstlerin role if every there was one, in 1970 in a cast that included Leonie Rysanek (Ariadne), Reri Grist (Zerbinetta) and James King (Bacchus), with Böhm conducting. In the same season I heard Marilyn Horne's debut as Adalgisa opposite the Norma of Joan Sutherland. You can understand how formative these experiences were.
Another unforgettable performance, a benefit for the proposed "mini-Met," a venue for more intimate opera that we are still waiting for, was a 1973 performance of Purcell's Dido and Aeneas with Lear and Stewart in the title roles. Sung in English and acted with exquisite detail by both artists, this was every bit as impactful as drama as the bigger works I had already attended. "Dido's Lament," with the recurring words "Remember me..." was riveting because Lear said them each time in a way that built on and intensified the sensation of the previous utterance.
Putting Her Art First
My life and Evelyn's intersected at various points, always to my benefit and, I hope, to hers. Every true Kunstlerin I have ever known (Horne, Regina Resnik, Ludwig, Rysanek, Hildegard Behrens, among others) is notable for her openness, her engagement in the world well beyond herself, and her passion to develop in others the love she has for what she does. It was never, ever, "love me," but "love this wonderful art." Whenever possible, Evelyn taught, encouraged, cajoled young people to connect with music. 
She and her husband had been Fulbright Scholars at the Hochschule für Musik in Berlin in the 1950s and she gave me a nudge (more like an insistent shove) to apply for one in Italy, where my operatic interests were most ardent. A couple of years later (December 1980) I was back in New York and attended her astonishing performance as Countess Geschwitz opposite the Lulu of Teresa Stratas, conducted by James Levine. Lear understood Lulu as few artists did because she was, in effect, the first modern Lulu, having sang the first full production since World War II at the Theater an der Wien in Vienna, with Böhm conducting.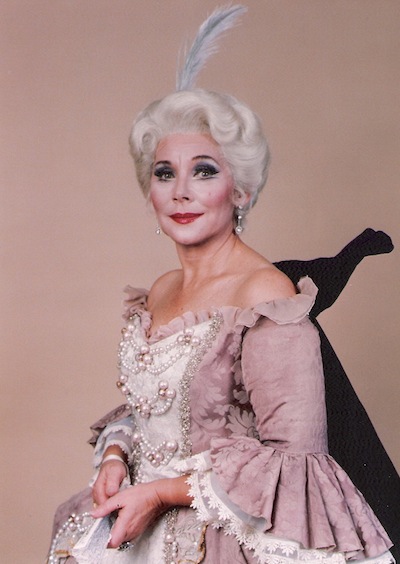 I worked at the Met in October 1985 when Evelyn came for two performances as the Marschallin (left) for her farewell. I watched one of them from the wings. She and Tatiana Troyanos as Octavian were fun, spontaneous and passionate and the crowd roared in ways one seldom hears anymore. It is remarkable how many sopranos leave the stage with this role, one that is a summing up but can also be a means of looking back with one eye and forward with the other.
Evelyn did look forward. She and Tom lived in the Washington, DC area and in Florida, where I occasionally visited. One of their enduring legacies is the Evelyn Lear and Thomas Stewart Emerging Singers Program, connected with the Wagner Society of Washington, DC. I last saw Evelyn on October 31 at the Metropolitan Guild tribute to Marilyn Horne. She and I had a warm reunion and discussed documenting on video some of the memories and wisdom she had to dispense.
The Washington National Opera kindly agreed to produce these videos and I was always at the ready to jump on the first train south. Unfortunately, this did not come to pass. It would have been an honor to do this and help a veteran artist, a true Kunstlerin, do what she loves. But, as we know, life is short and art is long. And, because her currency was art, we will always have Evelyn Lear.