Spotlight: Rossini's Ciro in Babilonia Gets Its Moment
When I am asked to name my favorite opera (as if such a thing were possible!), some of the titles I might list, depending on my mood, include Don Carlo, Don Giovanni, Elektra, Fidelio, La Clemenza di Tito, Les Troyens and Tannhäuser, and then I always add, emphatically, "plus every note Rossini ever wrote."
Giaochino Rossini (1792-1868) was born in Pesaro on Italy's Adriatic coast. Although he left as a boy and learned his craft (and love of gastronomy) in Bologna, Pesaro remains the place where much Rossini scholarship and performance takes place. The Rossini Festival each summer is the culmination of year-round activity promoting the study of his music and his life. To me, an ideal life for the opera lover would include an annual visit to Pesaro. The city has great food, friendly people, nice beaches, wonderful bookstores and an unbridled regard for the composer known as The Swan of Pesaro. While Mozart can be somewhat commercialized and infantilized in Salzburg, Rossini is treated with loving respect in Pesaro. 
Since 1984, when Claudio Abbado led an all-star cast in the first production of Il Viaggio a Reims since 1826, all the top Rossini singers have all appeared at the festival. This year, the singers include Daniela Barcellona and Juan Diego Florez, and excellent conductors you may not know: Michele Mariotti, Daniele Rustioni and the peerless Alberto Zedda, the grand old man of everything Rossinian, 84 years young and alive with the pleasure and sparkle he finds in the composer. Here he is on a Russian television report two years ago. You just need to look at his face and watch him on the podium to experience his spirit. Or listen to him conduct the overture from La Cenerentola.
Outside of Pesaro, though, Rossini does not fare as well. It has long been fashionable, even among people who should know better, to dismiss his operas as lightweight and inconsequential. If he is given any due, it is for comic works such as Il Barbiere di Siviglia and L'Italiana in Algeri. The received wisdom from snobs is that Mozart was a genius and Wagner, Meyerbeer, Beethoven, Richard Strauss were serious artists. In the same vein, Verdi and Puccini, though sometimes emotional and overwrought, at least do not embarrass themselves the way Rossini did. When Bellini and Donizetti are mentioned, they are admired for the beauty of their music and derided for the improbability of their plots.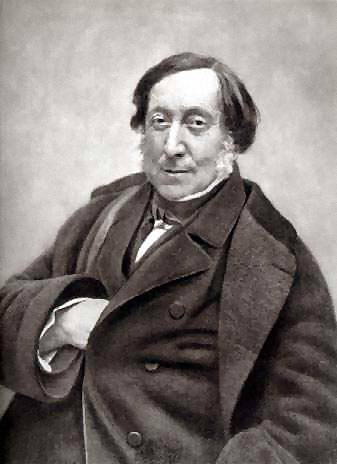 Rossini wrote approximately 40 operas (some of them were revisions in French of works created in Italian) that range from high comedy to deep tragedy, including what the French call comédie larmoyant (tearful, sentimental comedy). His operas touch on melodrama, the supernatural, classical antiquity, religion, royalty and the lives of average people. The only other opera composer to use all of these elements in his work was Mozart, whose greatest strength was his ability to express the complexities of the human heart in his music. Rossini had the same gift, but his music often seems to have a merry zest even when it is dealing with serious issues. It is this characteristic of his music that leads listeners to think him a lightweight.
It did not help that Rossini was thought of as a bon vivant who could dash off music with facile ease and (it was implied) could then devote more of his time to the pursuit of food, wine and sex. I can assure you that Mozart, Verdi, Wagner and Puccini all spent a lot of time pursuing and enjoying food, wine and sex, and yet all are held in higher regard than Rossini. He was, in fact, not only a serious man but often a depressive. I do not psychoanalyze creative artists, especially dead ones I have never met, but clearly Rossini's public frivolity was a mask intended to hide some of his darker moods. 
The speed with which Rossini worked rivaled that of Donizetti, another composer who is radically undervalued and one whose public demeanor tried to mask much private angst. Some people point to this speed of composition as being less "artistic" than the endless labors of Wagner, while others see it as a manic phase of mental illness. I consider Rossini and Donizetti supreme artists and think it pointless to apply modern psychological explanations to the working environment they were in.
At any time, there are only a few singers who can really sing Rossini's music and give meaning to the words, being faithful to how both are written but also lending a personal stamp to the character being portrayed. The gold standard is, and always will be, Marilyn Horne. Listen to her sing, and sustain, the aria, "Non temer d'un basso affetto" from Rossini's Maometto Il Secondo. I intentionally selected a clip without titles or translations so that you can receive the music in a purely experiential way rather than applying analysis about "what it means." You may experience many of the feelings I have already described in adjectives in this article. 
A further problem for Rossini nowadays is that there are very few good productions of his operas. Producers (stage directors who gather a design team and forge a concept) seldom speak much Italian and often cannot read music. They do not get the wry humor. sentiment or irony in the words and music. So they direct the singers to overact, mug, or do foolish things on the stage, usually in time with a frenetic crescendo emanating from the orchestra. Don't producers realize that, even if audience members find the characters funny, the characters themselves are often in situations that are entirely serious? We may laugh at how Isabella outwits everyone in Algiers to plot her escape back to Italy, but for her this situation is anything but humorous.
A Rossini Premiere
While I know many of Rossini's operas very well, occasionally one comes along that I have not heard a note of. Such is the case with his fifth work, Ciro in Babilonia, written just before his 20th birthday. It premiered in Ferrara on March 14, 1812 during carnival season.  Ciro will open the festival in Pesaro this summer but New Yorkers who will brave the heat can hear its American premiere in concert at the Caramoor Festival on Saturday with the same conductor (Will Crutchfield) and star (Ewa Podlés, below right) who will perform in Pesaro. This is a real coup and speaks well of the stature Crutchfield and his bel canto work have acquired at Caramoor in recent years. Podlés is a cult artist with many passionate admirers and some notable detractors. Before you recoil from that assertion, remember that the same thing was said about Maria Callas.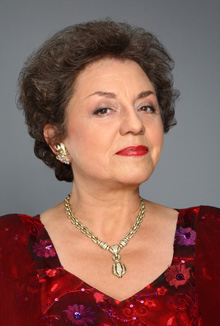 The full title is Ciro in Babilonia, o sia La Caduta di Baldassare (Cyrus in Babylon, or the Fall of Baldassare). It has a libretto that is probably not the best one Rossini ever adapted. The story comes from Daniel (Book 5, 1-30) in the Bible. Ciro (a man) is sung by a contralto. His wife, Amira, is a soprano, and Baldassare, King of the Assyrians, is a tenor. There are other sopranos, tenors and basses in the cast. The opera was one of his first "serious" works and is notable mostly for how he expanded his skills as a composer for voice and orchestra.
The city of Ferrara, one of the great duchies of the Renaissance, has two beautiful theaters. In the 19th century, and still today, its citizens are among the most cultured in all of Italy. Rossini came to know Count Francesco Aventi, a commander of the National Guard, during the 1809-1810 season when he played keyboard for performances in Ferrara. Aventi fancied himself as cultured enough to write a libretto and Rossini knew Aventi could help him advance his young career. Later, in a letter, Rossini noted that Aventi "has many talents, including poetry, but being a librettist is not one of them."
The opera had some success, and a few repeat performances, in Ferrara and was admired in Venice for its music, but critics there savaged the libretto. You may not know that librettists often got top billing in Italian opera houses until Verdi came along. Ciro in Babilonia was almost never presented after that and came to be known only for a few arias. These include Amira's "Vorrei vedere lo sposo," lots of good music for tenor and, especially, contralto.
When the music is this good, and new to me, I could not care less about the words. Because I will not get to Pesaro this year, I plan to be at what Italians call the anteprima (the premiere before the premiere) in Caramoor. I hope to see you there.