When it is as hot as it has been lately in many parts of the northern hemisphere, getting naked seems the thing to do. At least for everyday people. If they are opera singers who appear in certain European theaters and, more rarely, in North American ones, they might be asked to perform at any time of the year without clothes in productions in which nudity is requested by the stage director.
Before I lay bare the reasons for this, let me issue a warning: If your sensibilities are offended by the sight of nudity, do not click open any of the links in this article. And if you are under 18 years old, please have your parents read this article first and ask them whether they think it is appropriate for you to see it (that goes for you too, Opera Teen).
Opera is a cutting-edge thing, and also high art. We know that nudity has been part of art since ancient times and in most centuries since. The naked body has been exalted by the Greeks, artists of the Renaissance and many others since. The human form is beautiful and most religious people believe that we are creations of God. Some of the faithful have no problem with that beauty being revealed but many more assert that the naked body has little or no place in the public arena.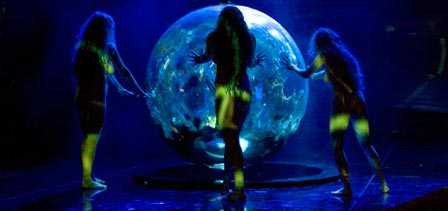 When European opera productions contain nudity, it is often of dancers or actors but also, on occasion, of opera stars too. Some are discreetly lit and posed while others leave little to the imagination. There have been naked Rhinemaidens in many Ring cycles. In the recent production of Don Giovanni at La Scala that I so richly enjoyed, director Robert Carsen included a naked woman (perhaps Donna Elvira's maid) to visually delight the Don. It worked quite well. Many operas set in ancient Greece or Rome could naturally embrace nudity in certain contexts, as would operas based on stories from the Bible. I have seen lots of writhing nudes in the bacchanal scene from Samson et Dalila. Many works by Massenet, such as Thaïs and Cleopatre, could have nudity by the title character if the singer were willing to do that.
As a general rule, I think nudity in opera is fine if it is an integral part of the story. Gratuitous nudity does not work well because it tends to be distracting and we focus on it rather than on the music and the story. If a woman playing Salome does the "Dance of the Seven Veils" and removes all of her coverings, that makes sense in the context of the opera. Singers should not be expected to do this, and I have seen some rather artful choreography that suggests that she has entirely disrobed. But some singers are willing, as Salome, to go all the way.
Karita Mattila showed her rear during her dance in Paris but appeared fully naked at the Met in 2004 (below). There is no peek-a-boo in Maria Ewing's "Dance of the Seven Veils." She was an artist who appeared unabashedly nude when it worked in the context of the story and the production.
I once saw a staging of Salome in Germany in which the soprano did not undress completely but, when the executioner came out of the cistern with the bloodied head of John the Baptist in his right hand, he was entirely naked. In this case, the executioner was a very large, muscular black man and it was distracting on many levels. Why would this character, who wields sharp equipment, do his work in the nude? Why would Salome be interacting with him without noticing what all of us can't help but see? I am sure you can think of many more questions of your own.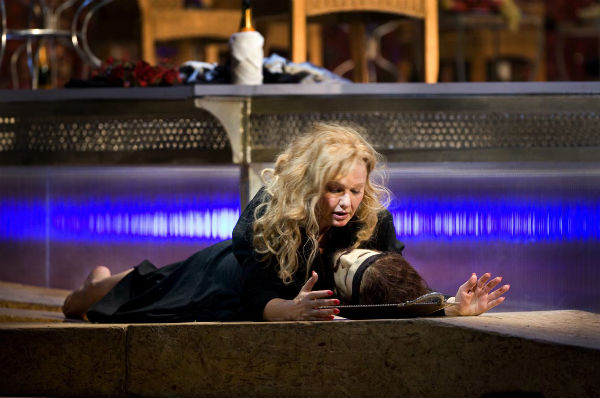 What this phenomenon of gratuitous nudity might be about is the way the naked body is perceived in different societies. Many German-speaking peoples and Scandinavians are quite comfortable in the altogether and are used to seeing naked imagery everywhere. The same is the case in France. I have seen many British actors, from Diana Rigg to Jude Law to even Dame Maggie Smith fully naked on the stage. And yet the countries mentioned above have given us Calvinism, Puritanism and certain Protestant denominations that consider the sight of bare flesh sinful. All of these strains, from the most liberated to the most repressed, are part of the American view of the naked body.
But are nudity and sensuality the same thing? I can think of many actors and opera singers who have projected incredible sexiness without taking off all of their clothes. The smoldering look of Robert Mitchum or Simone Signoret was enough to make pulses race simply because they conveyed an unmistakable sexual tension.
Charles Reid, the fine American tenor who has sung extensively in his own country and Europe, told me, "There are some singers in Europe who like to be exhibitionists and want to be able to bare all on the stage. I also think—without totally generalizing—that a German mindset or director seems to approach nudity as sexy whereas, historically at least, an American director would view tension as sexy. In Europe they might put you in an S-and-M outfit, have you walk around with a whip and this is considered sexy. As an American I look at that and say, 'that has no build-up at all and there is nothing sexy about it.'"
I should point out that it is not the exclusive province of Europeans to appear nude onstage but rather that there seems to be more demand for singers' flesh there than in North America.
Canadian baritone Daniel Okulitch appeared nude in The Fly, which was produced at the Los Angeles Opera and, I believe, in Europe. Nudity in the transformation scene from man to insect in this science fiction story might seem incongruous, but it is brief and in keeping with the story. 
Contrast this with what American tenor Zachary Stains did at the Spoleto festival in Italy in Ercole sul Termodonte, Vivaldi's version of the Hercules story. In the original myth, the young hero has slain a lion and wears its skin over his naked body. As directed in this production, the singer is asked to sing at length while naked, something even Salome does not have to do. What is remarkable in this performance is not so much the seeming casualness in Stains's nudity but that he sings so well in this state.
Another question this clip raises is what it is like for other performers to be onstage with a naked singer. Give credit to the other singer in Ercole whose bright eyes and frozen smile seem more about his admiration for Hercules than the "Oh-my-God-what-do-I-do?" dilemma. I called Susan Graham, artist nonpareil, to talk about the Robert Carsen production of Handel's Alcina at the Paris Opera in 1999. Renée Fleming sang the title role, a sorceress who enchants men and then turns them to stone. Natalie Dessay was Morgana and Susan Graham was Ruggiero, a trouser role. In this production, men in various states of undress were a large part of the stage picture. They represented the gradual transformation from human to stone. (Here is a report from French television.)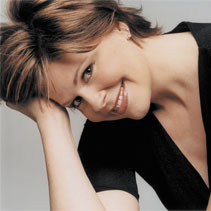 Graham told me that the cast found rehearsal and performance both fun and challenging. "One guy who was, shall we say, 'stageworthy,' had to walk toward Renée fully naked, with his backside to the audience and his front facing Renée, who was reclining on a bed, with her looking at him and she had to gesture and cast her spell." It probably was a challenge for Fleming to "stay in character" during rehearsals but her concentration and focus were in full force during performances.
I asked Graham how she managed to not be distracted by the "scenery" and she said that, during rehearsals, she did notice some of the fellows on the stage but, in performance, "I was more focused on staying in character and at the right place in the music." It struck me that, in the presence of three such attractive women as Fleming, Dessay and Graham, even the most disciplined of these men could not remain entirely resistant to their charms. "I did not look down to check," said Graham. "Some of them were probably gay, I am sure."
As Ruggiero, Graham was, she reminded me, "a boy too, but I was not naked." But, boy, when she sang "Sta nell'ircana" in Alcina, who cares what she was!
What do you think of nudity in opera? Leave your comments below:
Photos: 1) The Rhinemaidens in the Keith Warner production of the Ring Cycle at the Royal Opera House (Wikipedia Commons) 2) Karita Mattila in the title role of Strauss's 'Salome' (Marty Sohl/Metropolitan Opera) 3) Susan Graham