What Our Music Collections Say About Us
If you love music, and live long enough, you will acquire recordings in numerous formats that stand as evidence of your passion. Many collectors—perhaps you are among them—find themselves surrounded by vinyl recordings (in 16, 33, 45 and 78 RPMs—that's "revolutions per minute" for the uninitiated); audio tapes (reel-to-reel and cassette); CDs (compact discs, not "certificates of deposit"); video tapes to play in VCRs (video cassette recorders); and DVDs, a format that still exists—for now.
For the past few years, a growing number of people have chosen to download music to MP3 players or listen to it on their computers. They scoff at collectors who surround themselves with recordings that provide a sense of personal as well as musical history. I find that music preserved in older formats often sounds better than the compressed sound and tinniness that one hears on downloads. Therefore, I have lived in a typically snug New York apartment surrounded, literally, by all kinds of music not to mention thousands of books.
I am one of those people who makes extensive and carefully plotted resolutions (I call them "goals and projects") every late autumn so that they are in place and ready to go by New Year's Day. I revisit the list at least once a month and try to accomplish as many as possible. If I don't think I can reasonably fulfill a resolution, it does not make the list. 
This year I resolved to build enough shelves to house more than 1,000 LPs, 2,000 CDs and approximately 400 DVDS (and growing faster than other formats). My audio and video tapes have been packed in impenetrable plastic containers and put into storage to await a future resolution. I hired able people to construct shelves for LPs (painted black) and for CDs and DVDs (painted white). I did all of the organizing of these collections, alphabetizing them by composer and then by the name of the work. While opera and classical music predominate, I have a lot more rock, jazz, rhythm and blues, world music, film and Broadway soundtracks and, especially, gospel than you might expect.
In most cases, I have one or two recordings of the great works of the operatic and classical repertoire. In addition, there are many recordings of arias and songs by famous and rare singers. Among the names that figure most are Caballé, Fischer-Dieskau, Horne, Aksel Schøtz (a superb Danish tenor you may not know), Sutherland, Tebaldi and Te Kanawa. I was surprised to find much more Carreras than either Domingo or Pavarotti.
The biggest surprises came in discovering which operas I had the most recordings of. I assumed that a work by Verdi, Rossini or Wagner would come in first, but I was wrong. Perhaps because these beloved composers wrote so many works, I could not find a way to acquire too many of one of their operas. These composers have works that tie for fifth, with five recordings each: Don Carlo; La Traviata; the complete Ring Cycle; and Il Barbiere di Siviglia. I also have five recordings each of three Mozart operas: Così fan tutte, Le Nozze di Figaro and La Clemenza di Tito, plus five versions of Strauss's Elektra and five of Puccini's Tosca.
In fourth place, with six complete recordings, is Bellini's Norma. What is distinct is that I only have three sopranos in the title role: Joan Sutherland (with Adalgisas Montserrat Caballé, Fiorenza Cossotto and Marilyn Horne), Maria Callas (with Christa Ludwig and Giulietta Simionato) and Gina Cigna (opposite Ebe Stignani). I also have a highlights recording of Norma with Caballé and Shirley Verrett. Norma is a glorious opera that requires superb singers in the two female leads and I listen to these recordings often to revel in how the combinations of voices create something otherworldly. Compare performances by Sutherland/Horne and Callas/Simionato.
I was not surprised to find Umberto Giordano's Andrea Chénier in third place, with eight recordings. Were I asked to guess ahead of time which would have come in first, this is the opera I would have bet on. The story of the romantic but principled poet has some of the most sublime arias for tenor plus a splendid aria for Maddalena de Coigny called "La Mamma Morta" and what I think is the greatest love duet in all of opera.
What is particular about my Andrea Chéniers is that I don't think any one complete performance is the best, though I am partial to ones that contain Franco Corelli, Mario del Monaco and José Carreras. I have a poorly captured pirate recording of a live performance in Barcelona with Carreras and Caballé that is the best in musical terms but the recording quality is so bad that it is hard to love this record.
I should not have been surprised, though I was, that Mozart's Don Giovanni came in second. It is often called the greatest of all operas and it certainly is on my short list. I have nine versions, with the following artists in the title role: Thomas Allen, Simon Keenlyside, Ezio Pinza, Ruggero Raimondi, Samuel Ramey, Teddy Tahu Rhodes, Cesare Siepi, Bryn Terfel and Ingvar Wixell. The casts and conductors vary widely. I suppose my favorite is the Raimondi (conducted by Lorin Maazel), but Pinza, Siepi and Terfel make very strong impressions and Keenlyside and Allen show great dramatic insight. Ramey brings a remarkable sensual flair to a recording with an excellent cast led a bit ploddingly by Herbert von Karajan. I also have five DVD versions (with Allen, Keenlyside, Ramey, Terfel and the excellent Gerald Finley as the Don).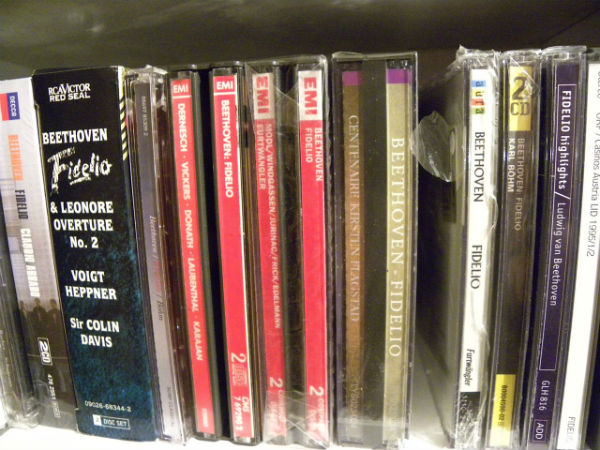 I never expected that the opera I would have the most recordings of—12—is Beethoven's Fidelio, but I am pleased. It is thrilling and life-affirming from beginning to end, with music that is dramatic, beautiful and inevitably inspirational. I suspect I kept acquiring them because I love the work so much and because it is not performed as often as it should be. As Leonore, the heroine who dresses as a young man to gain entry to the prison where he husband Florestan is kept, there are so many noble sopranos in my collection. They include Christine Brewer, Helga Dernesch, Kirsten Flagstad (twice!), Gwyneth Jones (her best recorded performance, I think), Waltraud Meier, Martha Mödl, Birgit Nilsson (twice!), Nina Stemme, Jane Thorner-Mengedoht and Deborah Voigt.
In addition, I have two wonderful DVDs, one with Gundula Janowitz and the other with Karita Mattila. It is hard to pick one of these versions as the best and I am pleased I do not have to. The most exciting Florestan is Jon Vickers with Dernesch, but Ben Heppner is excellent with Mattila and Voigt and Jonas Kaufmann is a fine match with Stemme.
Would I acquire another Norma, Andrea Chénier, Don Giovanni or Fidelio? I think the real question is whether there will be another recording of these operas. There are very few new complete opera recordings on disc, and most that do come out are drawn from live performances. There is, however, a proliferation of DVDs. I happen to like listening to recorded opera more than watching it. When I listen to an opera (on recording or on radio), I create a production in my head that is often more dramatic and faithful to the opera than most stagings I see nowadays. With video, one must sit before a screen unless you wish to treat it like a record and only listen to it. The experience is different because factors such as the production of the opera become part of how it is perceived when you look at it. 
To understand what I am referring to, take a couple of well-spent hours to listen to the wondrous Claudio Abbado lead Stemme and Kaufmann in a recent performance of Fidelio. When recordings like this come along, they are always worth acquiring, no matter how many versions of the opera you already own.
 
What is the opera you have the most recordings of? Are there any operas you believe merit a new recording? Are there any opera recordings that are so good that you don't think you need any other version?