Planet Opera: An Alpine Symphony at the Verbier Festival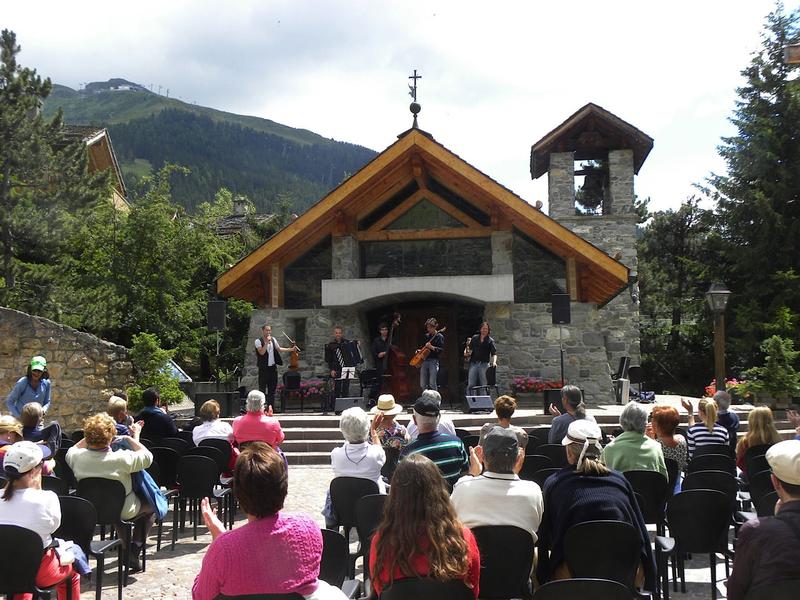 The Verbier Festival, held in a small French-Swiss town high in the Alps, will celebrate its 20th anniversary in the summer of 2013. It has become, in a relatively short period of time, one of the most important events on the annual calendar of not-to-miss musical events, right up there with the Salzburg Festival, the Edinburgh Festival in Scotland and the BBC Proms in London.
Verbier is different from the other major festivals in important ways. Apart from its relative youth, it is also much smaller in size and quite different in scope. Not only can the visitor hear outstanding performances by the world's foremost musicians, but you can spend the entire day learning about opera and classical music from amazing teachers. Only the Aspen Music Festival, which was in some way an inspiration for Verbier, can rival the educational opportunities at the Swiss festival.
Almost all of the educational activities are part of what is known as the Verbier Academy. In this, intensive coaching and instruction of young musicians is given by some of the greatest artists in the world. In the just-concluded festival (July 20-August 5), the teachers of opera and the vocal repertory included Ileana Cotrubas, Thomas Allen, Thomas Quasthoff and the pianists Malcolm Martineau and Alfred Brendel, one of my musical gods. Brendel also taught piano, as did the wondrous 89-year-old Menahem Pressler who, one evening, accompanied a lieder recital for the first time in his career, performing Schubert's Winterreise with Christoph Prégardien. Teachers of similar prowess work with young musicians on violin, viola, cello, chamber music and baroque music. All of these classes are free and open to the public.
Beyond this, there is the remarkable Verbier Festival Orchestra, made up of a hundred musicians, ages 18 to 28, selected from 1,119 applicants from forty countries. These musicians receive intensive coaching from the section leaders of the Metropolitan Opera Orchestra, a tradition dating back to the birth of the festival, when James Levine was quite active in the training of young musicians who would form his orchestra each summer. This year, the Verbier Festival Orchestra gave six concerts under Charles Dutoit and also performed with Jaap van Zweden, Neeme Järvi (with whom they gave the best performance of Dvorak's Ninth Symphony I have ever heard) and Manfred Honeck.
There is an additional ensemble, the Verbier Festival Chamber Orchestra, with musicians who are slightly older and are alumni of previous seasons. They help bring diversity to the programming, often doing more unusual repertory that appeals to audiences who want more than the big works by popular composers. Visiting performers include string quartets for chamber music and many solo artists of all ages.
I should mention, in the interest of full disclosure, that I went to Verbier as a speaker in a smaller endeavor known as the Discovery program. While the Academy is geared to the instruction of about two hundred of the world's top young musicians, the Discovery program is intended for the general public. Each night there is a speaker in English and another in French who lecture about the main concert or opera being given in the 1700-seat Salle des Combins at 7 pm. 
The rest of my time was my own and I attended up to four master classes and two concerts a day. Although I have been immersed in opera and classical music for my entire life, I experienced an almost inexpressible joy each day at the many new things I learned. In future articles I will share with you some of what Ileana Cotrubas, Thomas Allen and Thomas Quasthoff taught about singing. I am still digesting all of it.
Each year, the young singers at Verbier focus on learning an opera that typically is also performed by established artists one evening at the Combins. This year it was Mozart's Le Nozze di Figaro, which was performed at the start at the festival and then taught to the young singers by the master teachers for most of the following two weeks. There is nowhere else I know in the world where members of the public can spend a fortnight to discover in such detail how an opera is learned and performed. On the final day, the young singers perform the opera in which they have been intensively trained.
In addition, there was an excellent concert performance of Debussy's Pelléas et Mélisande coinciding with the 150th anniversary of the composer's birth. The all-star cast included Magdalena Kozená, Stéphane Degout, José van Dam and Willard White. On August 2 there was a program full of the music of Wagner, much of it sung by a glorious René Pape. Among the many other singers who appeared in Verbier this season were Kate Royal, Nathalie Stutzmann and Rolando Villazón.
The Verbier Festival was the brainchild of Stockholm-born Martin T:son Engstroem (born 1953). Early in his career he worked in artist management, with clients who included Birgit Nilsson, Leonie Rysanek and Karl Böhm. He had also been an executive at Deutsche Grammophon. One of the motivations for creating the festival, he told me, was "I felt the need to have the first say in artistic matters. As an agent you are in between artists and the places where they perform. I saw many projects fail due to a lack of proper administration." 
Unlike the geographically sprawling and accessible locations of most festivals, when Engstroem first visited Verbier he considered it "a dead end that was an apt model for my ideas. If you get a public there they are captive" because they have traveled so far and so high to arrive. Engstroem calls himself a mountain person, which he says is a man with "a need to move, a need to get higher." Drawing inspiration from the Aspen Festival in the Rocky Mountains of Colorado, Engstroem wanted to create a festival where artists can make connections, teach music to talented youngsters and play music they might not be asked to do elsewhere. In Verbier it means that performers as famous as Joshua Bell, Yuri Bashmet, Mischa Maisky and Martha Argerich can put aside solo work in favor of chamber music in small settings.
Through the years, the Festival has expanded its reach while keeping classical music and opera at its core. Engstroem said his desire is to "get an artist to perform a piece he has never done before or work with colleagues he has never played with before."  In past seasons, Bjork appeared in Schoenberg's Pierrot Lunaire and Ben Kingsley narrated Aaron Copland's Lincoln Portrait. There are visual arts, world music (this year performers included Anoushka Shankar and Angelique Kidjo) and actors such as Marthe Keller and Vanessa Redgrave, who did a program of political songs.
Engstroem told me, with quiet pride, that "we have up to 25 events a day, most of them educational from early morning to early evening, but also concerts and recitals from 11 a.m. to 11 p.m. Most of these are free, a few are ticketed. The balance between education and attending concerts inspires interest here. For rehearsal and Academy activities, all doors are open. This year, ten thousand people went to events at Verbier without buying tickets."
There are important plans to expand the educational activities at Verbier in the coming years. In 2013 there will be the Verbier Festival Music Camp, in which sixty instrumentalists between the ages of 15 and 17 will receive coaching and private lessons from older artists, all under the leadership of the excellent British conductor Daniel Harding. Future projects include education and performance opportunities for talented amateur musicians who work in other professions.
If you need a break from all of this, a nice walk in the mountains, carrying a hunk of cheese and some of the exquisite local apricots and raspberries, is wonderfully restorative. One day I followed the sounds of cowbells, whose pealing in the thin Alpine air brought to mind a Mahler symphony.  I chanced upon an event that was a sort of bovine joust in which type-A cows lock horns as they are seconded by others who lack leadership skills. This sport, popular in the French-speaking Alps, is called "Le Combat des Reines," or, "The Battle of the Queens." I can think of nothing more operatic than that!
Most of the performances from this year's Verbier Festival can be seen for free at www.medici.tv through approximately October 20.

Photo by Fred Plotkin.