Who Should Receive the Kennedy Center Honors?
In a few days, if customary schedules are upheld, we will learn the names of the recipients of the 2012 Kennedy Center Honors that recognize individuals who have made enduring and meaningful contributions to the cultural life of the nation. Typically this recognition goes to five individuals, although there have been certain pairings (Ossie Davis and Ruby Dee; the Nicholas Brothers; Alan Jay Lerner and Frederick Loewe) in which it would be inconceivable to recognize one artist without the other.
Here is a list of past honorees dating back to 1978, the first year the awards were given. In general, I think the standard is very high and almost every recipient was richly deserving of recognition. I see no reason to single out the few who I don't think quite merited the honor. You will surely come to your own conclusions. In a moment I will address specifically the honorees from opera and classical music, but first I wish to mention the names of artists who, I think, should have been honored and were not.
Actors: Ingrid Bergman (died 1982), Ethel Merman (1984), Orson Welles (1985), Colleen Dewhurst (1991), Audrey Hepburn (1993), Burt Lancaster (1994), Irene Worth (2002), Marlon Brando (2004) and Anne Bancroft (2005). Olivia deHavilland (1916-) and Joan Fontaine (1917-) are still alive, but I suspect they will not be honored.

Musicians: Vladimir Horowitz (died 1989) and Miles Davis (1991).
Composers: Samuel Barber (1981) and Harold Arlen (1986).
Librettists: Yip Harburg (1981) and Ira Gershwin (1983); Gospel singer Albertina Walker (2010); Dancer Rudolf Nureyev (1993).
Certainly there must have been reasons why these legendary artists were not honored. Maybe some very few (Horowitz? Brando?) made it known they did not want to receive the award. Even under the fairest conditions, which I am sure the Kennedy Center judges adhere to, there is private preference for favorites as well as the desire to choose a group that is balanced in terms of art form, gender, race and background. So, while it would be easy to name five of the actors above and leave it at that, there probably are no more than two slots for actors in any given year. 
There is also the sensitive actuarial issue. The judges want honorees who will sit radiantly in boxes at the Kennedy Center for the awards ceremony in early December. What if they cannot attend? Ingrid Bergman had cancer for eight years before she died, but continued to do superb work. Who knew when she would die? A judge might think that a person with a long-time illness might not be able to attend the ceremony. There were certain artists who were known to be ill, such as Alvin Ailey (honored 1988, died 1989), and I am glad they were recognized. There have also been artists who seem hale and hearty, whom judges might tip for future recognition, who died suddenly and perhaps prematurely.
Operatic and Classical Honorees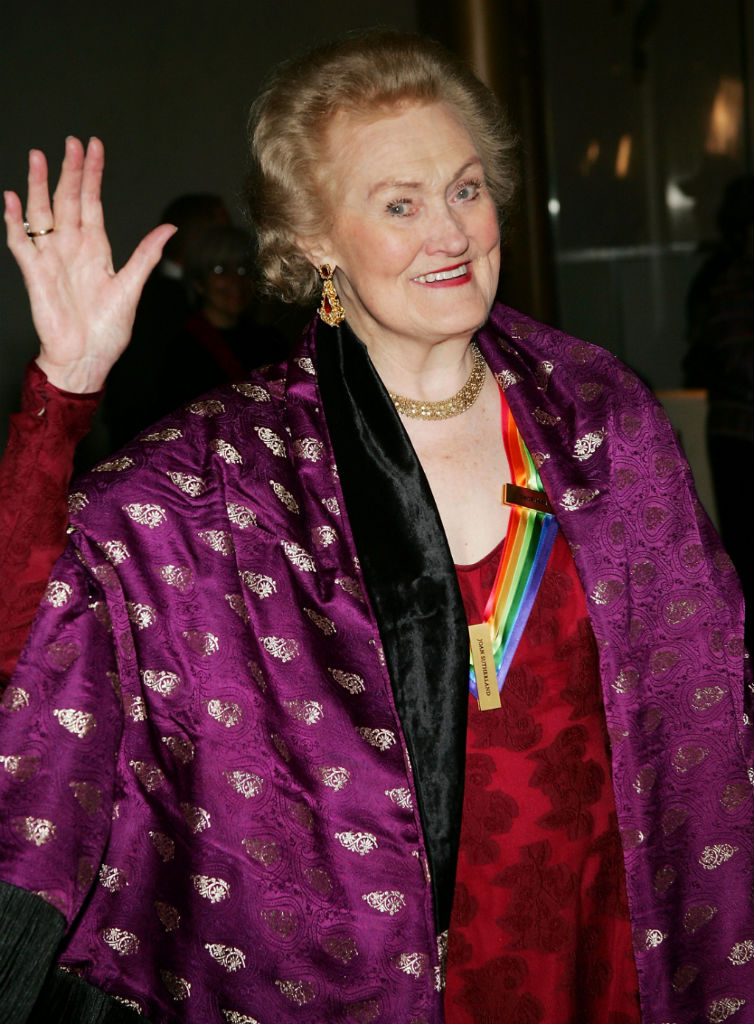 To me, the most conspicuous oversight among opera singers was Shirley Verrett (1931-2010). As I mentioned in a previous article, she had it all and I think the depth of her artistry has become more evident since her passing. Had Maria Callas not died in 1977, she would have been honored too.
The opera singers who were recognized were Marian Anderson (in 1978); Leontyne Price (1980); Beverly Sills (1985); Risë Stevens (1990); Marilyn Horne (1995); Jessye Norman (1997); Plácido Domingo (2000); Luciano Pavarotti (2001); Joan Sutherland (2004, right); Grace Bumbry (2009)

Classical musicians: Arthur Rubenstein (1978); Rudolf Serkin (1981); Eugene Ormandy (1982); Isaac Stern (1984); Yehudi Menuhin (1986); Nathan Milstein (1987); Alexander Schneider (1988); Robert Shaw (1991); Mstislav Rostropovich (1992); Georg Solti (1993); Victor Borge (1999); Van Cliburn (2001); James Levine (2002); Itzhak Perlman (2003); Zubin Mehta (2006); Leon Fleisher (2007); Yo-Yo Ma (2011)

Composers (some of whom were also performing musicians): Aaron Copland (1979); Leonard Bernstein (1980); Virgil Thomson (1983); Gian Carlo Menotti (1984); William Schuman (1989); Morton Gould (1994); André Previn (1998)

Looking at the list of opera recipients raises a delicate question. Jessye Norman certainly was a deserving honoree but I believe that awarding it to her at the age of 52, when she still was in an active career, was premature. Compare this with Plácido Domingo (age 59), Marilyn Horne (61), Leontyne Price (63), Beverly Sills (66), Luciano Pavarotti (66), Grace Bumbry (72), Risë Stevens (77) and Joan Sutherland (78). Marian Anderson received, and richly deserved, the Kennedy Center honor in its first year, when she was 81. Verrett might have been honored prior to Norman, who will soon be 67 and would be most suitable now.

The fact that Norman received the award before Domingo, Pavarotti and, especially, Sutherland, might be considered questionable. In raising these points, I do not mean in any way to detract from Norman's artistry and achievements. However, I think that, in assessing who should receive the honor, seniority should be a factor. It is not simply because an older artist is more likely to die without recognition but because younger artists are still actively engaged in work.

Who Merits Recognition?
In thinking across the art forms as to who deserves a Kennedy Center honor, and using the arbitrary dividing line that they should have been born before 1950, I have come up with four opera singers and many more names of creative people who have enriched our lives and often blazed new paths.
Regina Resnik (born 1922) had a long and varied singing career, first as a soprano and then as a mezzo, memorably playing a multitude of roles in drama and comedy for more than four decades. She was a stalwart at the Met and the great houses of Germany and Italy. She became a filmmaker, stage director, actress and is an excellent teacher.
Renata Scotto (1934) was the reigning diva at the Met in the Italian repertory for more than a decade and starred in almost all of the early telecasts and videos the company created. Her singing and acting were thrilling. She then became a superb director of opera productions and is an outstanding teacher.
Martina Arroyo (1937) excelled in the Verdi and Puccini repertoire and sang numerous opening nights at the Met. She personified a very American optimism and inspired millions to love opera for the first time through appearances on non-opera television programs. Her foundation supports a training program for young singers to learn the essential theatrical components of opera.
Samuel Ramey (1942), the virtuosic and show-stopping bass, revived and introduced so many important roles from Baroque through contemporary opera. He conquered the great theaters of Europe and made them acknowledge, finally, that an American opera singer could be everything and more than his colleagues from the old continent.
In other art forms, here is a list of persons who merit recognition:
Conductors: Lorin Maazel (1930), Michael Tilson Thomas (1944)
Composers: Elliott Carter (1908), Carlisle Floyd (1926), Philip Glass (1937), John Adams (1947).
Classical musicians: Ravi Shankar (1920), André Watts (1946)
Non-Classical musicians: Buddy Guy (1936); gospel singers Shirley Caesar (1938) and Mavis Staples (1939); Judy Collins (1939), Joan Baez (1941), Gladys Knight (1944), Emmy Lou Harris (1947). Mick Jagger (1943) and Keith Richards (1943) should be joint winners, as were Pete Townshend and Roger Daltrey of The Who in 2008.
Theater Actors: Carol Channing (1921), among the great stars of Broadway, appeared in much more than Hello, Dolly!, the iconic show she is inevitably linked with. Channing was the original Lorelei Lee, a great cabaret entertainer and comedienne, star of the first half-time show at the Super Bowl, and very high on Richard Nixon's "Enemies List," which she called her greatest achievement. She should be honored before Bernadette Peters (1948) and Patti Lupone (1949) are considered.
Actors: Sid Caesar (1922), Gene Hackman (1930), Shirley Maclaine (1934), Mary Tyler Moore (1936), Dustin Hoffman (1937), Jane Fonda (1937), Al Pacino (1940)
Directors: Woody Allen (1935), Francis Ford Coppola (1939), George Lucas (1944)
Garrison Keillor (1942) a man of letters who is also a great entertainer.
 
And The Kennedy Center Honors Go To...
My picks for this year would be Joan Baez, Sid Caesar, Carol Channing, Regina Resnik, and Ravi Shankar.

If any of these are unavailable, I would substitute as follows: Mavis Staples for Joan Baez; Woody Allen for Sid Caesar; Shirley Maclaine for Carol Channing; Renata Scotto for Regina Resnik; Lorin Maazel for Ravi Shankar.  My five substitutes would all be winners in 2013.

I also believe Martina Arroyo and Samuel Ramey—great opera singers and great Americans—should be recipients of Kennedy Center Honors in the near future.
Which opera singers do you think are deserving now of one of these prestigious awards for a lifetime of achievement?
Photos: 1) Joan Sutherland at the Kennedy Center Honors Gala, December 5, 2004 in Washington, DC. 2) Martina Arroyo