Remembering the Great Leonie Rysanek
Talk to opera lovers about the singers who thrilled them and inspired them and you will likely learn at least as much about the fan as you will about the artist. This idea of thrill and inspiration is not necessarily the same as declaring a favorite singer. I, like many opera lovers, have a favorite singer at the moment whom I will not name, but I am glad to go to opera houses all the time to hear artists who have something special to offer. Why stick to one singer?

There are, however, singers who touch audience members very deeply for any number of reasons. For me, one of those was the Austrian soprano Leonie Rysanek (1926-1998). We have great opera singers today, of course, but I can only think of two—Karita Mattila and Waltraud Meier—who capture even a part of the Rysanek magic. 

Society and, therefore, singers and audiences, functions in a cooler, more detached way than the past. Passion is just not in fashion. Most singers now grow up cultivating their voices and developing skills for a career, but without any palpable connection to their inner selves. The same applies to audiences. Add to this the fact that the complicated emotional and sexual components that make us human—and which are so richly explored in opera—are compartmentalized or largely avoided in contemporary life.

Rysanek, artistically and otherwise, had her heart on her sleeve. She seemed to not only act her roles but fully experience them, and audiences went with her. In most cases she was incandescent as she paired her emotions to music and the character. Occasionally, and memorably, the stars would not align and things would badly derail. There was a famous performance of Tosca (which I did not attend) that apparently went so awry that Rysanek stepped before the curtain and apologized to the audience. That incident only endeared her more to her public.

Rysanek made her opera debut as Agathe in Der Freischutz in Innsbruck in 1949. I can only imagine what it was like for that audience to see the beautiful and intense young soprano from Vienna who was so unlike the more stolid heroines of the prewar era. Two years later she was asked by Wieland Wagner, grandson of the composer, to sing Sieglinde in Die Walküre for the reopening of the Bayreuth Festival. The performance is the stuff of legend for its combination of musicality, sensuality and detailed acting. 

I don't know if it was at Bayreuth, or later, that Rysanek first emitted her famous "Sieglinde scream," an orgasmic wail at the moment that Siegmund manages to pull the famous sword out of the ash tree. This is not in Wagner's score, but it made such dramatic sense because it was organic to the moment. Here is a concert performance with Siegfried Jerusalem and Rysanek, age 63 and much older than it is imaginable for a soprano to sing Sieglinde. And yet she is mesmerizing. The scream comes at approximately 6'39".



Rysanek is most associated with German-language roles by Wagner and, especially, Strauss, but Italian-language operas were always an important part of her repertory. Her first three Metropolitan Opera roles were by Verdi. She made her debut on February 5, 1959 as Lady Macbeth when Maria Callas left the production after what are euphemistically called "creative differences." Rysanek brought down the house. Just twenty days later she sang her first-ever Aïda and critics noted that it was as if they had encountered this familiar character for the first time.

Three weeks later, Rysanek sang her first-ever Elisabetta in Don Carlo. She received a glowing review in Musical America: "Outstanding among the new members of the cast was Leonie Rysanek... It should be no secret by now to anyone that Miss Rysanek is one of the greatest singers and actresses at the Metropolitan today, and she made the unhappy young queen a profoundly touching character. Unforgettable was her ethereal pianissimo singing in the last act, but she could summon the whirlwind, too, where it was needed." Note that "no secret by now" was only five weeks after her Met debut.

German roles quickly followed. Robert Sabin in Musical America wrote in 1960 of Rysanek's first Met Elisabeth in Tannhauser: "The overwhelming performance was that of Leonie Rysanek as Elisabeth, one of the most searching and beautiful interpretations of this role I have ever encountered. Flagstad and Traubel used to sing it superbly; Varnay acted it with her accustomed intelligence and sense of Wagnerian style; Lotte Lehmann brought to it a radiance and human comprehension that were unforgettable. But Rysanek combined all of these qualities, and she had the advantage of actual youth and physical beauty...in the last act she was like a pure wax taper, purged of all dross and ready to melt into death almost imperceptibly."

One of the first times I saw Rysanek was in this opera. In the last act, after Elisabeth could not find Tannhauser among pilgrims returning from Rome, she turned her back and walked off the stage at a glacially slow pace. Rysanek could do more detailed and emotional acting with her back than most singers did from the front.

She added roles throughout her career, including a memorable Salome when she was 46. Her artistry continued to deepen through the decades and the occasional off-night was more than compensated by countless unforgettable performances. Peter G. Davis in New York magazine wrote of her in the Met's 1986 Lohengrin:
"Rysanek's Ortrud is a complex, devious, dangerous, and very human dramatic presence, someone who must be watched carefully every minute-especially during Act I, in which she scarcely sings at all but absorbs and broods over everything that happens. One can see Rysanek's face and body registering and weighing each stressful event, storing up her malevolence for that magnificent eruption of evil in the [first] scene of Act II. Yes, there are moments of unsteady singing along the way, and perhaps a few phrases sound underpowered. But a great artist is at work, make no mistake, and her performance is incandescent."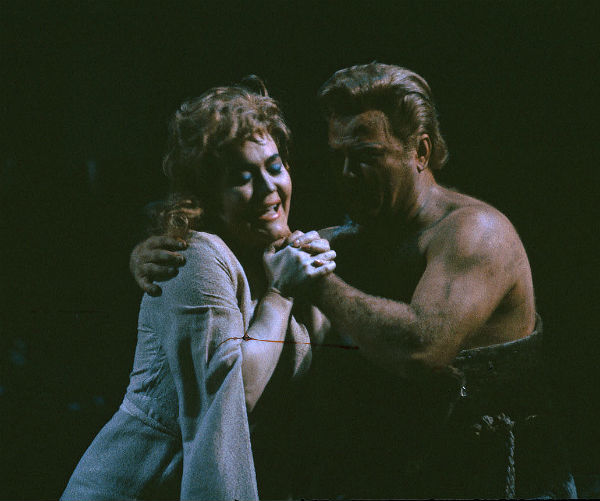 One of the most amazing nights I ever spent in an opera house was February 26, 1984 at the Met. This was a gala performance celebrating Rysanek's 25th anniversary season. The program was the second act of Parsifal, with Peter Hofmann in the title role and Rysanek as Kundry, and the first act of Die Walküre, with the same artists as Siegmund and Sieglinde (including the famous scream). James Levine, who adored Rysanek, conducted magnificently. The thunderous curtain calls went on and on, nobody wanting to leave and break the ecstatic feeling of the night. The audience of 4,000 screamed, as one, Le-o-NIE, Le-o-NIE. When they would not leave, Rysanek came to the edge of the stage and hugged and kissed hundreds of audience members who came to embrace her.
She had a stunning farewell at the Met as the Countess in Tchaikovsky's Pique Dame on January 2, 1996. Her acting was detailed but not overwrought as she played a woman who, in some ways, was locked in the past, but also held a secret that was central to the story. After her character dies of fright, she returned in a dream sequence that required her to punch her way up through a floor, crawl across the stage with her elbows and terrify Gherman, who thinks he knows her secret. Rysanek was 69.

While doing this production, Rysanek learned that she had bone cancer. It was her secret, one that almost no one knew. Her performance was everything that audiences loved her for and the ovations were rapturous. She made a brief emotional speech on the last night in which she said that her two artistic homes, and the two audiences she most loved, were in New York and Vienna. The intense emotion of that curtain call has not been matched since at the Met. It occurred to me that I have seldom heard a singer, whether in public or in private, speak of her love of an audience. Rysanek returned to Vienna to face difficult medical treatment.

Years ago, I was asked by a writer for Opera News "how far would you go to see an artist or performance" for an article about the devotion of opera lovers to certain artists. The question was meant to imply "to what lengths or at what sacrifice would you go through?" but I understood it in purely geographical terms. In fact, I had saved up money to travel from New York to Salzburg in August 1996 to see Leonie Rysanek as Klytemnestra in the final performance of her career. After that, she disappeared from the scene and, lovingly tended to by her husband E-Lu (Ernst-Ludwig) whom fans loved for his devotion to the soprano, lived out her remaining time. I can only hope that the thunderous ovations that she elicited echoed in her ears to the very end.
Photo: Leonie Rysanek as Sieglinde and John Vickers as Siegmund in a 1965 Met production of Die Walkyrie (Metropolitan Opera Guild)