The Art of the Master Class
Master classes are one of the most fascinating aspects of the process of taking talented but inexperienced young singers and trying to polish and mold them while allowing them to retain what makes them special. This transaction of knowledge, experience and secrets is a delicate one. The master artist may recognize limitations in the young singer that might be rectified with experience either as a musician or as a human being, but must share this in a way that enlightens rather than hurts the singer.
Creating an opera role or learning to perform songs in a recital entails several requirements. First and foremost, the young singer must have a sovereign command of the music as well as the meaning and sounds of the words. Typically, they work with a teacher or coach to do this learning. It helps to do as much research as possible about the background of the opera or songs so that more depth can be given to their presentation. In an opera, this means knowing the plot of the opera and what happens to all of the characters. You would be surprised, though perhaps not, how many young singers as well as working performers only know their own roles.
I have been attending master classes for decades and have also taught a few. In my case, the focus is on developing the dramatic aspects of a character, using language, music and the literary underpinnings of that role. These classes can be taught by stage directors, conductors, coaches and pianists, but the great majority are taught by veteran singers well along in their careers or perhaps already retired from the stage.
Teaching master classes has evolved through the decades. They used to be more formal, in part because a grand artist such as Elisabeth Schwarzkopf would bring a certain chilliness to the proceedings. Though it was a great opportunity to receive her tutelage, many singers I know who crossed her path remember being fearful rather than enlightened. I have seen audiences attend master classes led by a revered artist making a rare public appearance and the occasion becomes more about cheering her presence than about the actual instruction going on. She might insist "it's not about me; we are here to work," but privately revel in the adulation.
Many singers become full-time teachers, and very fine ones, without doing it in front of audiences. More than a few active singers have told me that soprano Diana Soviero is a superb teacher. Indiana University gets many of top singers to teach in its outstanding music school. Shirley Verrett and George Shirley, along with pianist Martin Katz, made the University of Michigan an important center of training for singers.
Other singers, such as Martina Arroyo, Marilyn Horne and Renata Scotto, became wonderful teachers when they stopped performing . An important part of their work are master classes with audience. Horne created her own foundation in 1994, on her sixtieth birthday, with the mission of keeping the tradition of the vocal recital alive and vibrant by helping young artists discover the pleasures and challenges of Lieder and art songs. Its activities happen all over the United States, including an annual residency at Carnegie Hall (the next comes January 15-19, 2013). Arroyo and Scotto focus on opera, particularly musical and dramatic interpretation.
As I mentioned in a recent article about the Verbier Festival, education is a crucial part of what transpires in that Swiss town. Top performers come to teach young artists in most musical disciplines. This July, eight opera singers at the start of their careers trained with soprano Ileana Cotrubas, baritone Thomas Allen and bass-baritones Claudio Desderi and Thomas Quasthoff. The latter focused mostly on songs while the others worked intensively on transmitting their knowledge of Mozart and da Ponte's Le Nozze di Figaro. The work was exhausting for all involved and I could tell that some of the singers felt challenged in taking in so much new information while, at the same time, striving to maintain high musical standards and a sense of self.
For the rest of this article I will discuss how Ileana Cotrubas (below, with Omo Bello) taught and will save the work of the gentlemen for a future occasion. Many opera lovers will tell you that here was the finest Violetta they ever heard and saw. Her performance, as you can see in this 1981 La Traviata at the Met with Plácido Domingo, called on intense dramatic and musical specificity, but always feels fresh, spontaneous and full of surprises.
As a teacher at Verbier, Cotrubas got remarkable results from her young singers, but clearly it was a great challenge for her and her students. I do not say this to criticize but rather to observe that her standards and her preparation are at a very high level and she labored to make everything right. This meant a lot of stopping and starting as she felt the urge to offer another piece of wisdom. We in the audience ate it up but some young singers worked very hard to absorb everything. But I know that, after the fact, the singers will discover how much they learned.
I realized that Cotrubas, born in Romania in the 1930s, came up in the opera world working with many of the best conductors and singers in an environment in which Europeans might be singing in Italian in a theater in a German-speaking nation but working with colleagues in French or English. In teaching, Cotrubas drew on all of these languages, often in the same sentence, using words that were most impactful in each. At one point she was talking about the coloring to give a phrase in an aria and said, "Però non traurig--più legato and then plus detachée." This actually made sense to me because the German word for sad and the French word for detached have more heft in their own languages.
Cotrubas was quick to point out several times, "Don't wait all the time for teachers and directors to give you ideas" but added, "I am giving you an idea. If you are not convinced don't use it." Cotrubas knew all the lines for all the roles and taught the scenes by encouraging the singers to know what happens to all of the characters and not simply their own. This could be challenging dramatically, but also gets a more vivid response.
I was very impressed at the work she did with Omo Bello, an intelligent and charismatic soprano from Nigeria who was playing the Countess. Cotrubas made a crucial, though enigmatic, point when she taught Bello to think about how she brings her character and voice to an audience: "You are listening to you here (pointing to Bello's ear) and have have to listen to you there (pointing in front of and above the singer). You are singing on the sky. To reach a high note you have to open some secret boxes in your mind or to find space in front of you where the note will go." Bello did what all good students do: she took the advice of her teacher but, rather than imitate what she was taught, she found a way to incorporate it and then make the result her own.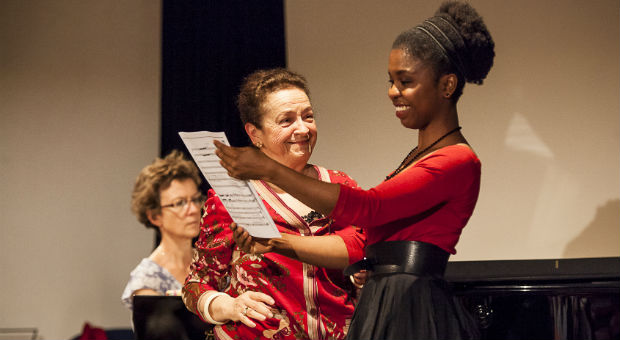 After working with Bello, she to spoke quietly to Jennifer Jakob, the German-American soprano singing Susanna. She said, "The whole plot stays on the shoulders of Susanna and that is a lot to bear, but you must always make space for beautiful sounds." Jakob, who is flexible and efficient, clearly had a mastery of her role but Cotrubas, at that moment, was reminding her that for the audience to love and root for Susanna, there must also beautiful singing to go along with a mastery of complicated text and quicksilver emotional changes shown in the acting. Cotrubas had found ways to communicate different things to each soprano and then had them sing the gorgeous duet, "Canzonetta sull'aria," by preparing each one to bring what was needed in this wistful yet hopeful moment for the Countess and Susanna.
To me, part of the magic of a good master class is when you discover secrets and insights about the artist teaching. In this case, if you have memories of Cotrubas live or have seen her on video, you can see how she, during her career, put into practice what she is now teaching to others. This happened when Cotrubas said to a student, "Sing as if it is not love of the music and words but as if you, the singer, are creating this music and these words at the moment you are singing them." Watch Cotrubas as Susanna and Kiri Te Kanawa as the Countess follow this very thinking in "Canzonetta sull'aria" to see how both artists do just that.