Review: Radiant and Aging, Einstein on the Beach Still an Event After 35 Years
Like an eccentrically orbiting comet, Einstein on the Beach is again the object of fascination in New York in its fourth visit since its 1976 premiere, still ethereal with its bubbling Philip Glass score, dreamy Robert Wilson stage pictures and casual brilliance of Lucinda Childs's choreography. But in this 2012 revival, it arrives in a shifting artistic climate. When last at Brooklyn Academy of Music 20 years ago, Einstein was an opera (for lack of a better world) from an alien planet. All of its creators had moved on, especially Glass, whose urban, densely packed minimalism has evolved into a manner resembling Ralph Vaughan Williams.
Now, the Bang on a Can composers are wringing even more minimalist mileage out of even less material than Glass ever did – Julia Wolfe, for one, is splitting atoms in her music – making Einstein a bit less exotic and less prone to inspire awe. What once seemed above criticism is no longer. The Sunday performance at the Brooklyn Academy, where the opera is performed through September 23, had plenty of patrons opting for the leave-and-come-back privileges offered during this four-hour-plus intermission-less piece. At times, the auditorium seemed to be having a low-grade fire drill.
Well, nobody said Einstein on the Beach was for everybody. Among its friends, though, Einstein isn't so notable for its innovation as the seamless collaboration of three artists in the early-summer of their creative lives, all building their work on the same bedrock of minimalist simplicity and a belief that a dynamic art need not have the usual peaks and valleys, but can pour forth as one elongated event. In a sense, Einstein examines the same drop of water under three different microscopes simultaneously.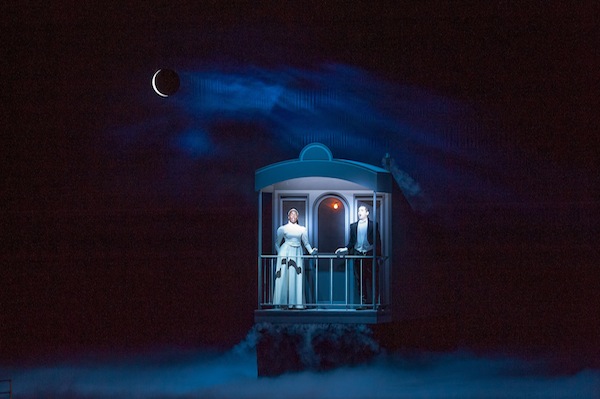 The piece still astonishes by doing away with boundaries that one still forgets are there: It's theater with no plot, characters, arias, stars, meaning or even thoughts. In its place are thought patterns. Portraying Einstein himself isn't a possibility; he's off on the side playing violin (this time by the noted soloist Jennifer Koh). The 14 episodes have visual cross references but no linear connection. Texts are often numbers recited or sung by the chorus in plain white shirts with black suspenders, sometimes at warp speed. A locomotive comes and goes. We see a lunar eclipse. Your left brain takes a holiday. To say that Einstein lulls you to sleep is not necessarily an insult. You go where it takes you. It is pure in-the-moment experience.
Or so I thought after my 1992 first exposure. Without the thrill of first discovery in 2012, the Sunday performance was often satisfying in a way that only Einstein on the Beach can be. But entire scenes failed to gather momentum, such as the first trial scene, in which Wilson's sight gags were merely quirky, and you began noticing visual variations on ideas that Wilson has better used elsewhere.
Though Glass's score could be aggressively annoying in the past, the composer's keen ear for sonority has made later Einstein performances more about color than head-banging velocity. His choral writing is as astounding as ever, sung this time around with an effective light touch. But radiance comes at the price of clarity. The glory of Glass is that he sets up a punchy pattern and then throws in a hiccup – rhythmic, harmonic or melodic – that changes the music's complexion. Too often on Sunday, the hiccup was buried. Some of the text hasn't aged well, with a lot of naïve, confounding nattering about, of all things, Mr. Bojangles. Sorry, but surrealism has its limits. But would I go to see it again? All four-plus hours? Oh yes.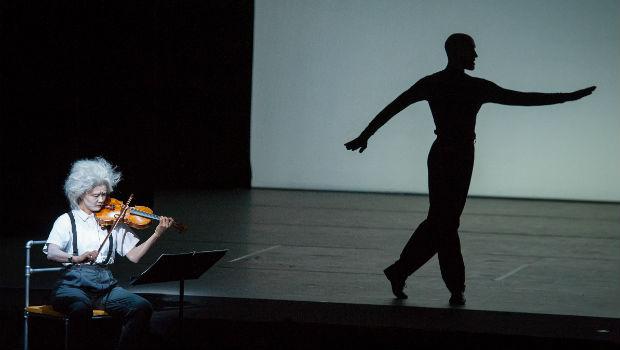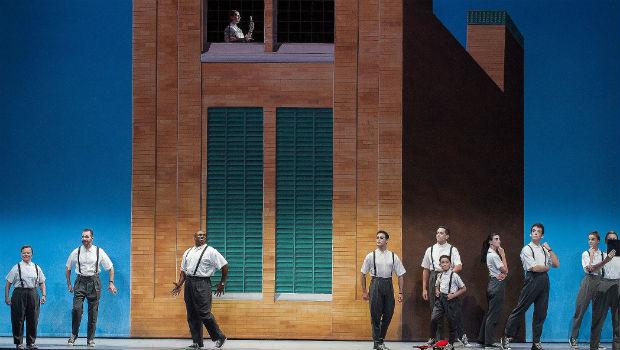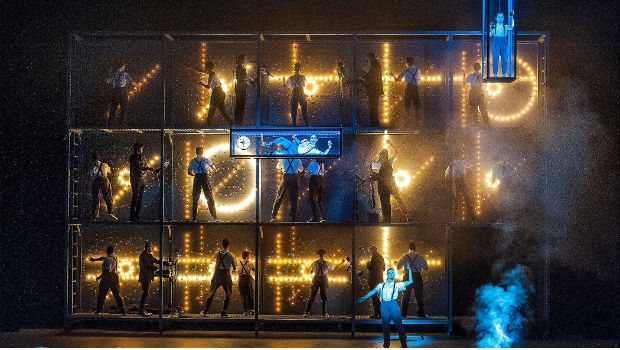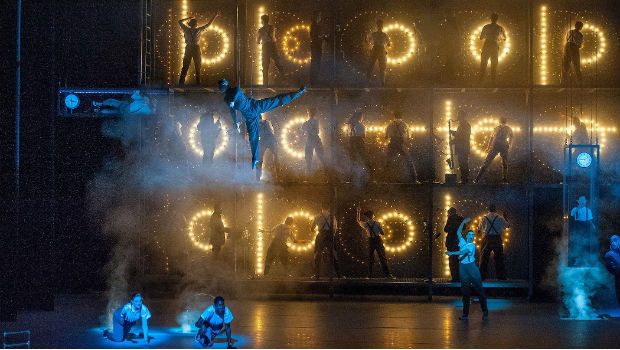 of