What Audiences Can Bring to an Opera Performance
With opera companies all across the Northern Hemisphere now starting their seasons, I have been reflecting on how they can do their best work and what lovers of the art form can do to help. My conclusions will be part of the mix in many of my dispatches this autumn.
Endeavoring to do one superb opera production in even the best conditions is a challenge, but doing repertory seasons in tough times requires so much more: a very careful balance of rigorous financial management, artistic intelligence and an esprit de corps inside an opera company that makes everyone—performers, stage crew and staff—want to do their best work regardless of the obstacles.
All of this work and sacrifice is done to please an audience. You who attend opera have a crucial role in the health of the art form that goes well beyond purchasing a ticket. While performers certainly get satisfaction and fulfillment from doing their work, they get extra motivation when they have an audience that is engaged. I have witnessed this countless times through the decades, but have been more attuned to it since I began writing for Operavore in March 2011. 
My fourth article for this blog (you are now reading the 162nd), and the first in the Planet Opera series, was about Barcelona, If there is a better opera audience in the world than the one in Barcelona, I have yet to find it. I addressed this to some degree in that piece but was amply reminded of what a good audience is all about when I attended performances at the Teatre del Liceu earlier this month.
It is no secret that, even in a rocky world economy, Spain has been among the nations most affected. I have visited the country twice this year, in part as a show of solidarity but also to see how the arts are affected in tough times. This fall you will read my dispatch from Valencia, which bravely keeps culture alive and relevant no matter how adverse are the conditions.
The particular reason I went to Barcelona this month was to attend opera-in-concert performances of Lohengrin and Der Fliegende Holländer by the Bayreuth Festival in a rare visit outside of Germany. Barcelona is one of the cities in the world that is a Wagnerian citadel (a topic I will return to in 2013) and audiences for Wagner are indeed different from others. They seldom wind up in a theater by accident, but have planned and prepared and often sacrificed to secure a ticket. They know the music and story of the opera they will hear and arrive ready to like it and cheer the singers on.
But Barcelona audiences are like this for most operas. They still see it as a special occasion, rather than routine, to go to an opera. They read the story ahead of time, even if they know it, so that the primary sensory activity during the performance is listening rather than reading projected titles. They listen to every note of the opera before applauding, rather than just when singing has stopped. They do not automatically jump to their feet to give a default standing ovation but cheer from their seats, standing for one of the return curtain calls only if they believe such recognition is merited. And they do not dash out of the theater the second the curtain comes down, as happens in New York and other American cities. Is it really so hard to stay five more minutes to thank the artists with applause rather than be the first to get to transportation home? The Barcelona audience stays and fully acknowledges the work of the performers, which motivates them to come back and always give their best.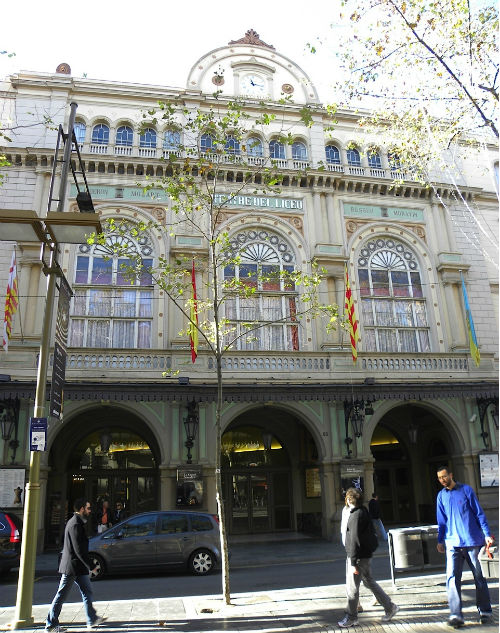 The Barcelona audience takes pride in being knowledgeable, not so much to be critical and feel superior to what occurs on the stage (as happens occasionally in Milan, Parma and Vienna), but because they feel that, if they have prepared, they will get more from the performance and give more to the performers. The house program (which, as in most European theaters, is purchased rather than free) is a small book full of scholarly essays and wonderful photographs that is meant to be kept and consulted all the time. I save European opera programs not as a memento but to learn about operas and composers I will encounter again. The print in the Barcelona program actually comes in a font, size and color that are legible, rather than the designerish but useless print in most American programs.
Audiences in Barcelona frequent the bookshop of the Liceu and others near the theater that carry publications, recordings and nostalgic keepsakes of performances past. The passionate relationship these people have with their opera house and wonderful native artists (Caballé, de los Angeles, Carreras and others) is unsurpassed. My favorite shop is the Casa Beethoven (La Rambla 97; ludwigvb@casabeethoven.com), where one can find all kinds of treasures and an erudite and enthusiastic staff.
While drafting this article, I ran into Steven Cole, the versatile and durable American tenor who has more than 70 roles in his repertory that he performs in major theaters in Europe and North America. I asked him if he has any particular memories of performing in Barcelona, to which he replied:
"In the 1999-2000 season, the Liceu asked me to inaugurate their late-night concert series in a part of the theater called the Nuevo Foyer del Liceu, which was created when the theater was rebuilt after the tragic fire in 1996. They wanted me to create a 'classical cabaret' that would be slightly staged. My pianist, Joseph Smith, and I concocted a program of songs and piano pieces dealing with animals. We called it 'Animals, Big and Small.' We started with Beethoven's The Flea and ended with my reciting the Poulenc/Brunhoff L'Histoire de Babar."

"My excellent director Yves Coudray decided the staging should not be interrupted by applause. The whole thing was an hour, with a tiny intermission. I controlled the applause. While the recital received a good response, the administration told me I had made a big, big mistake in not allowing the public to applaud whenever they wanted. I was told, 'you need to know your public and the culture.' This culture needs to show its appreciation."
One feels that opera is alive in Barcelona. During intermissions, most conversations I have been in or overheard are actually about that day's opera, about past performances and ones to come. This audience discusses opera the way Italians talk about food: what I am eating, what I have eaten, what I will eat. 
I regret that, in most opera houses I visit nowadays, there is little discussion about opera among audience members. They arrive at the theater unprepared, thinking that projected titles are all they need. They are often not familiar with the performers and, in some cases, the operas. They hear rather than listen, see rather than watch. They would rather attend La Traviata for the tenth time than Ernani for the first, even though both are brilliant works by Verdi.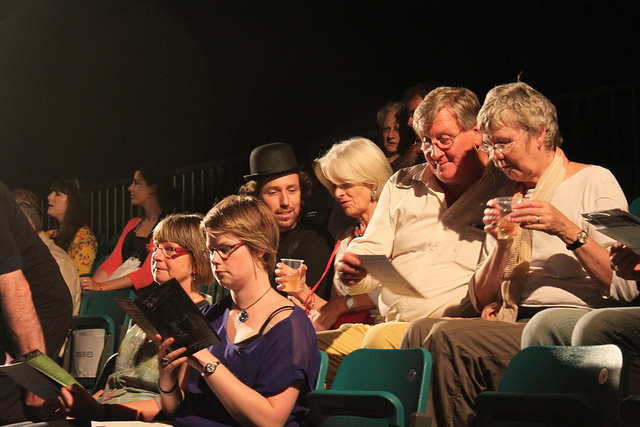 This lack of engagement extends to caring about their local opera company enough to support it through tough times by giving donations. Some companies respond by raising ticket prices radically, thinking that they will always find takers. They do not build a devoted audience that way, and alienate people for whom operagoing was once a pleasurable tradition rather than a once-a-year event. 
We have seen a downward spiral in the relationships between many opera companies and their audiences. Communications have deteriorated, so that some opera managers do as they please and then are irritated when audience members only write with complaints and stop buying tickets. Similarly, some audience members become hidebound and trapped by routine, which allows little room for discovery and growth.
We, as audiences, need to express faith and solidarity with our opera companies, encouraging them to be daring and creative and supporting them in their efforts. This means making a commitment by buying tickets ahead of time and also, when possible, making donations. We also need to express our concerns (for example: ticket prices that are confusing and at times extortionate often signify that a theater's fiscal management is poor) in ways that are constructive rather than vituperative. 
It is remarkable that in Barcelona, where the economy is a mess, the Teatre del Liceu continues to offer valid programming at manageable prices. This is due, in part, to the unspoken article of faith that a city is better when its cultural life is vibrant and that everyone—artists, political figures, businesses, audiences—plays an important role in making that happen.
Photos: 1) The Teatre del Liceu in Barcelona (Fred Plotkin) 2) An engaged opera audience (Flickr/chansonnette)