Giuseppe Verdi, Lost and Found
Giuseppe Verdi was Italy's greatest opera composer and a national hero for his efforts to forge the Republic of Italy from disparate duchies, Vatican lands, and parts of the peninsula that were occupied by Austria, France and Spain. There is some debate as to whether his birthday is actually October 9 or 10, 1813, though the latter is now the one usually preferred. Right now, in Parma, the capital city of the province where he was born, is the annual Verdi Festival, held for 28 days every October.
Next year the opera world will commemorate the bicentennials of the births of Verdi and Wagner (May 22, 1813), the twin pillars of 19th-century opera. The creations of these two men will feature prominently in all of the world's opera houses, meaning that any singers who can perform their challenging music will not be out of work in 2013. There will also be conferences, scholarly papers, galas and, I imagine, the unnecessary debate as to which man wrote better music and operas.
I will be doing a fair amount of writing and speaking about Verdi and Wagner next year and began preparing last winter. One of my fervent wishes for the coming bicentennial is that Mary Jane Phillips-Matz's remarkable Verdi: A Biography will again be available in print. Phillips-Matz, with her broad knowledge of Italian opera, made Verdi her life's work much as Robert Caro made Lyndon Johnson his. Her book, which could have been tightened a bit, is nonetheless full of facts and fascination and is rich in scholarship. It is always the first one I consult when I am researching Verdi. But there are many books, in all languages, to read and I usually look at the composer's correspondence for valuable insights.
It is well-known that Verdi faced much adversity and loss, especially as a young man. He had suffered the shock of multiple deaths in a relatively short period of time. His sister Giuseppa Francesca died in 1833, then his daughter Virginia (1838), his son Icilio (1839) and his first wife, Margherita (1840). His direct understanding of suffering and loss while still a young man informed the pathos and drama we feel in the deaths of many of his characters. According to one study, 20 Verdi characters die onstage, many by stabbings, others by poisonings, still others by gun. Aïda and Radames die by asphyxiation, Desdemona by suffocation and Violetta by tuberculosis. I always get chills when I hear Rigoletto describe his daughter Gilda as "tutta la mia famiglia."
The soprano Giuseppina Strepponi (1815-1897) was Verdi's second wife. She had been successful in the 1830s in roles by Bellini and Donizetti and was the first Abigaille in Nabucco (1842), the opera that affirmed Verdi as the greatest opera composer then at work. She retired from singing in 1846 and, two years later, began her personal relationship with Verdi. They lived together for more than a decade, in and near the town of Busseto, before marrying on August 29, 1859 in France.
The Bussetani admired Verdi but considered his relationship with Strepponi offensive. His first wife was from Busseto  and Verdi remained very devoted to his father-in-law, Antonio Barezzi (1787-1867), who paid for most of Verdi's education and expenses as a young man. In a letter in 1847, Verdi referred to him as "father, benefactor, friend" and often said that he owed "tutto, tutto, tutto" to Barezzi. It seems that Barezzi was accepting of Strepponi.
One of the objections lodged against Strepponi was based on gossip that she had produced children out of wedlock, presumably with the impresario Camillo Cirelli, before taking up with Verdi. In fact, Strepponi gave birth to at least three children, but only acknowledged the eldest, a son named Camillino (1838-1863), after his father. The second was a girl, born in Florence in early February 1839, baptized as Giuseppina Faustina, and left at an orphanage where she was renamed Sinforosa Cirelli. She died in 1919. The third was a girl, Adelina Rosa Theresia Maria Carolina, born in Bergamo in 1841. Her name was almost as long as her life span--apparently she only lived a few days.
The Question of Verdi's Daughter
A few months ago I came into possession of a book, La Trovatella di Ferrara ("The Foundling of Ferrara"), by Simone Fermani, a conductor who has specialized in Rossini, and his brother Giovanni, described as a journalist. It appears that the Fermanis self-published the book in March 2011. On the cover of their book, below the title, is the question, "Quale mistero lega una giovane donna a Giuseppe Verdi e a sua moglie Giuseppina Strepponi?" (What mystery links a young woman to Giuseppe Verdi and his wife Giuseppina Strepponi?).
In the book, the brothers claim that Verdi and Strepponi had a daughter on Oct. 7, 1851, who was put up for adoption in Ferrara under the name Luigina Fiandrini. The tale they tell has many twists and turns as they seek to offer proof of their assertion that Fiandrini was their great-grandmother and that Verdi and Strepponi were their great-great-grandparents. It is a story of babies bundled off in the night unnoticed, of documents falsified, of payments made to keep chatterers silent, and depicts an aspect of Italian life--the abandonment of unwanted children--that was hardly new but not much discussed in polite circles.
In the 16th century, in Florence, was the Hospital of the Innocenti, where swaddled newborns were placed on a sort of turntable under a wall that was rolled so that the nuns who collected the infants never saw the persons who deposited them. In 18th-century Naples, baby boys were often castrated and would become the voci bianchi (white voices) of children's choirs. Some of them grew up to be glamorous castrati who ruled opera and were objects of sexual desire to many women as well as some men. In the 19th century, especially in the artistic milieu, babies were born but seldom kept by their parents. It is very likely that Luigina Fiandrini was such a child.
Although I am fluent in Italian, La Trovatella di Ferrara is the most challenging book I have ever read in the language. It only has about 30 pages of writing, but in a strange tone that is like a combination of a university thesis and a bureaucratic document, much of it written in the language of a Verdi opera libretto. Worse still is that the authors produced one continuous text, with no paragraphs at all. There is unbroken print for pages on end. Some sentences are 12 lines long, with endless clauses and subclauses. At its best, it reads like a suspenseful mystery but often gets bogged down under the weight of too many facts and attempts at literary style. I think, though, that with a strong editor in Italian and a good translator, this book could make a very compelling addition to Verdi scholarship because the research is interesting and, above all, there are copies of birth certificates, forged documents, and photographs of the descendants of Luigina Fiandrini.
The Fermanis are not the first to discuss a daughter of Verdi and Strepponi. Phillips-Matz makes mention of her in the 1993 Verdi biography. Gaia Servadio, the respected Italian author and musicologist, went a bit further in her 1994 biography of Strepponi, based on much original research. The strength of La Trovatella di Ferrara is that its authors gathered photos and reminiscences that fill out the story with rich visual detail.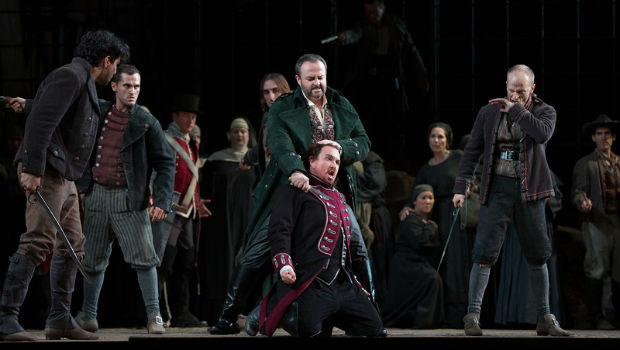 As I pushed through the text, a thought came to me that the Fermanis did not discuss, At the time that Luigina was born, Verdi was deep into the composition of Il Trovatore, his strange and compelling story about babies who are switched, abandoned, even burned in a fire. He first mentions the story in February 1851, which would have been just at the time Strepponi would have discovered she was pregnant. This was the first opera Verdi chose to write without having a commission or contract to do it. This means that it was the story, and not money, that induced him to compose it.
Before writing this article I went to a performance of the Met's vivid production of Il Trovatore, with a uniformly strong cast (especially the outstanding Gwyn Hughes-Jones as Manrico), splendidly conducted by Daniele Callegari. Although the plot can appear implausible, I was struck by the drama and tenderness of the description of mothers and children. I recalled that almost every other parental relationship in the Verdi canon involves fathers and daughters of one kind or another (including Rigoletto and La Traviata, both of which were created at the time Verdi was immersed in Il Trovatore).
Was it the story of Il Trovatore, here in the entire 2011 performance at the Met, that fascinated Verdi on the subject of babies such as the one he and Strepponi expected? Perhaps yes, perhaps no, but this is one of the mysteries of art: do events in life inevitably provide inspiration to creators of great works?
Photo: Gwyn Hughes-Jones as Manrico and Franco Vassalo as di Luna in Verdi's Il Trovatore (Photo: Marty Sohl/Metropolitan Opera)