Review: The Met's Tempest Blows Hot and Cold
Thomas Adès' operatic adaptation of Shakespeare's The Tempest arrived at the Metropolitan Opera on Tuesday, having already been anointed as a modern masterpiece. Will New York opera-goers fall into line? Not this one.
Though the Robert Lepage production gives the opera every possible chance with a fine cast conducted by the composer, The Tempest (premiered in 2004 at London's Royal Opera) has only fitful musical brilliance and many theatrical deficits - hamstrung by Meredith Oakes's libretto with characters who re-hash their anguish (have they run out of things to sing about?) while shoehorned into cheap, sing-song rhymes ("What a story! I'm so sorry!").
Yes, The Tempest is confounding. Considering that works such as Adès's Violin Concerto ("Concentric Paths") are assured of a lasting place in the concert hall, how could something this hobbled go so far?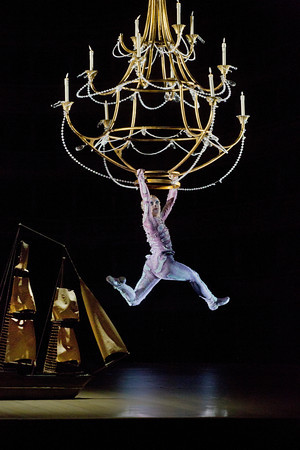 Original plot lines are maintained dutifully, though in an intriguing twist, Lepage's high-concept production makes the shipwrecked aristocrats well-upholstered 18th-century opera-goers at La Scala, who begin the evening on and near the stage and, when stranded in the swamps of Shakespeare's island, are lost amid backstage rigging. The seriously vengeful magician Prospero, has that patchwork look of a tattered, makeshift dictator, while otherworldly creatures on the island, such as the feral humanoid Caliban, emerge from the prompter's box. The sprite Ariel, looking unusually glitzy, tangles with the chandelier. You're reminded that the opera house, like Shakespeare's island, is a place where one's inner life can be radically transformed.
From the opening storm sequence (a lot of trumpets on the attack), the music shows the composer typically employing a far-reaching musical arsenal, with a diverse instrumentation as well as tonal and atonal elements in such high competition that the score seems to be at war with itself, usually being too discursive for any kind of victory. Though potentially operatic, the music acts more like an extension of the scenery, lunging into each moment with a surprisingly literal treatment of any given dramatic situation but with no overall narrative momentum, no larger plan of peaks and valleys and little depth of characterization. Recitatives are lugubrious: vocal lines are clumsily doubled by instruments in the pit with a splattering of extraneous notes. Though love duet music has some attractive warmth, much of the score observes the story from a cool distance.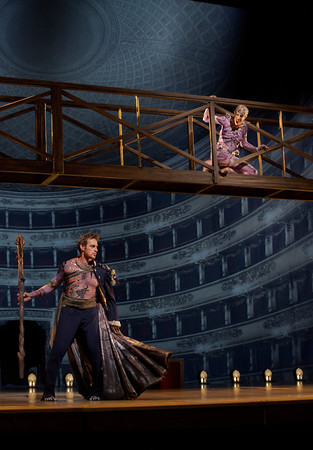 Exceptions: Caliban has a wonderful scene morphing from his delusions of royalty to awareness of his freakishness. The stratospheric soprano role of Ariel sounds like nothing else in opera, with vocal lines that feel buffeted by changeable island winds – and amazing sung by Audrey Luna. The conciliatory final act nearly quotes the elegiac Act III prelude to Wagner's Die Meistersinger. At last, we hear Prospero's humanity. But is Adès to be thanked?
The best vocal writing lies in choruses that capture a certain group psychology – suggesting what The Tempest could've been. Soloists, though, struggled to express themselves through ungrateful vocal lines. One patron was heard exclaiming at intermission, "That's Isabel Leonard?" (She sang Miranda.) Ditto for the normally wonderful countertenor Iestyn Davies (Trinculo). Toby Spence (Antonio) and William Burden (King of Naples) delivered flashes of their trademark tenor sound with remarkable diction.
The opera obviously belongs to charismatic Simon Keenlyside (Prospero) who momentarily convinces you there's more in the opera than there actually is. But then nearly every performance he gives at this stage of his artistic evolution is unforgettably complete, vocally and theatrically.
Photos: 1) A scene from Act 1 with acrobat Jaime Verazin as Ariel 2) Simon Keenlyside as Prospero and Audrey Luna as Ariel