A Mystical Madwoman as Unlikely Opera Heroine
Women and madness is a primal operatic theme. Women undone by trauma and giving extravagant voice to their dementia range from Monteverdi's Arianna to Donizetti's Lucia and Anna Bolena and on to Régine Saint Laurent, the overwrought title character in Rufus Wainwright's Prima Donna.
Women suffering from divine madness is an intriguing variation on the theme. Infinito nero ("Black infinity"), a 1998 "ecstasy in one act" by Salvatore Sciarrino, will have its US stage premiere on October 31 at the Bohemian National Hall in Manhattan as part of the S.E.M. Ensemble's "Beyond Cage: John Cage at 100 / Music at 2012" festival.
Born in Palermo in 1947, Sciarrino is a largely self-taught composer. If Cage, to quote Alex Ross, "annex[ed] the entire landscape of sound, from pure noise to pure silence," Sciarrino has often focused on liminal sound: tones and resonances at the limit of audibility, including instrumental harmonics and words that flutter in the void between sense and nonsense. (Sciarrino's website includes an extensive discography.)
Infinito nero is based on the writings of Maria Maddalena de' Pazzi, a saint of the Roman Catholic Church who lived from 1566 to 1607. Known as Caterina as a girl, she came from two storied Florentine families. No less a titan than Filippo Brunelleschi designed the austerely beautiful Pazzi Chapel in the Basilica of Santa Croce. Caterina's mother was a Buondelmonti, and Machiavelli dedicated his Discourses to one of her relatives. On a bleaker note, Dante consigned two of Caterina's Pazzi forebears to the ninth circle of hell in the Inferno, and a Pazzi was one of the assassins who stabbed Lorenzo de' Medici and murdered his brother Giuliano in 1478—during Mass at the Duomo, no less.
Dealt that genetic hand, Caterina was probably fated to be exceptional. She fell into rapture for the first time at age twelve and at sixteen became a Carmelite nun, taking the name Maria Maddalena. A year later, after falling gravely ill, she experienced ecstasies for 40 days—the sacred spell of time recalling Noah and the Ark, Moses on Mount Sinai, Jesus in the wilderness, and other instances of spiritual transformation. Her confessor ordered a team of novices to record the torrents of words that gushed forth from her; they also documented the temptations and ordeals that she suffered during five years of spiritual darkness. Maria Maddalena died at age forty-one, was beatified three years later, and was canonized in 1669.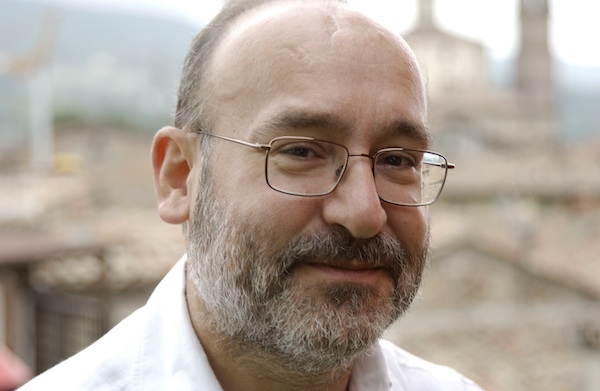 Infinito nero is not the first musical work inspired by Maria Maddalena. Earlier this year, Oxford Baroque gave the modern premiere of Giovanni Lorenzo Lulier's 1687 oratorio Santa Maria Maddalena de' Pazzi. As for Sciarrino, he is given to glosses on earlier works. His Lohengrin (1982, an "invisible action for soloist, instruments, and voices") is a distillation of Wagner's iridescent opera via the symbolist poet Jules Laforgue, performed by a single voice and ending in a psychiatric ward. Le voci sottovetro (1998, "Voices behind glass") is a reworking of madrigals by Carlo Gesualdo, the sixteenth-century nobleman who wrote strikingly chromatic music and also murdered at least two people.
Infinito nero, then, is to be considered in a wider cultural context. Sciarrino himself has stated that there is "something devilish" about Maria Maddalena, and women in thrall to divine inspiration have rarely inspired unalloyed trust. Some of the misgivings may be theological in origin: "Let women keep silence in the churches," Saint Paul wrote, "for it is not permitted them to speak, but to be subject, as also the law saith." Five hundred years before she was canonized, the teenage Joan of Arc, who claimed to receive directives from on high, was burned at the stake for heresy. Verdi's opera Giovanna d'Arco, after the play by Friedrich Schiller, spares her that grisly end; Tchaikovsky's The Maid of Orleans does not. In a pagan context, Cassandre in Berlioz's Les Troyens has the gift of foresight but is doomed by Apollo to perish unheeded, her punishment for resisting rape.
Because mystics in many traditions tell of communion with the divine in erotic terms, saints and sinners can be hard to tell apart, especially when they are women. Think of Gianlorenzo Bernini's sculpture Saint Teresa in Ecstasy; think, too, of Maria Maddalena's Biblical namesake, the first witness to Jesus's resurrection, often depicted as a harlot. John Adams' oratorio The Gospel According to the Other Mary (due in New York next year) and Mark Adamo's The Gospel of Mary Magdalene (slated for a June world premiere in San Francisco) offer revisionist perspectives on the long-maligned disciple. Opera's most unsettling mystical madwoman may be Renata in Prokofiev's The Fiery Angel, who starts off believing that she has been visited by a heavenly being, gets mixed up with Mephistopheles, triggers an orgy in a convent, and dies at the stake.
Whether "devilish" or not, Sciarrino's Saint Maria Maddalena de' Pazzi and her operatic sisters promise to keep us pondering the gifts and perils of divine madness.
Above right: Salvatore Sciarrino (Luca Carrà). Below: Watch a performance of Infinito Nero: