Recording Roundup: Joyce DiDonato and Nicholas Phan a Study in Contrasts
In the opening scene of Puccini's Tosca, Mario Cavaradossi muses on the enigmatic harmony wrought by the beauty of the blonde Magdalene he is painting and the allure of his dark-haired lover, Floria Tosca. A similarly mysterious consonance unites admirable recent recordings by the mezzo-soprano Joyce Di Donato and the tenor Nicholas Phan.
Every musical career has an arc, and right now DiDonato is at the apogee of vocal and artistic splendor. Last season at the Metropolitan Opera the Kansas-born mezzo gave a commanding and searingly intense performance as the witch Sycorax in the company's Baroque mash-up, The Enchanted Island. Next month she will take on the exacting title role in Donizetti's Maria Stuarda in the work's Met premiere, and the production will be shown worldwide as part of the "Live in HD" series on Jan. 19, 2013.
"Drama Queens," DiDonato's latest recording on Virgin, is a collection of arias by composers illustrious (Handel, Haydn) and obscure (Keiser, Orlandini) depicting royal women on the verge. In terms of sheer number of notes, "Disprezzata regina" from Monteverdi's L'incoronazione di Poppea is one of the program's least virtuosic scenes, but what a wealth of feeling and tonal colors DiDonato lavishes upon the lament of the empress Ottavia, whom Nero has cast aside in favor of his mistress Poppea. Numb with disbelief, enraged, despairing, resigned: DiDonato takes listeners on a harrowing journey, deploying her limpid, lit-from-within voice like a knife inflicting so many stabs of pain.
For all its poise and exquisite ornamentations, DiDonato's rendition of Cleopatra's "Piangerò la sorte mia" from Handel's Giulio Cesare in Egitto is a touch impersonal compared with performances by Beverly Sills and Cecilia Bartoli, though it falls like balm upon the ears just the same. The playing of Il Complesso Barocco under Alan Curtis in Cleopatra's aria and throughout the program combines grace and fire in ideal measure. Diva and band make a giddy, sun-dappled thing of Rossane's "Brilla nell'alma" from Handel's Alessandro and serve up eerie sounds in "Geloso sospetto" from Keiser's Octavia, another opera telling of Nero's oft-betrayed wife, who here sings in the guise of a ghost. Dmitry Sinkovsky will lead Il Complesso Barocco when DiDonato brings her "Drama Queens" program to Carnegie Hall on November 18.
DiDonato's dazzling way with music portraying women in the grip of extreme emotions differs sharply from Nicholas Phan's performances of more Spartan music by Benjamin Britten on "Still Falls the Rain" (Avie), a follow-up to "Winter Words," his acclaimed Britten recital from last year. An emerging singer, Phan sometimes, and perhaps inevitably, seems in thrall to his illustrious forebear Sir Peter Pears: here and there on the Avie disc, a strangled-choirboy tone or inhaled word brings to mind Dudley Moore's send-up of the great Sir Peter. Phan, though, has no need to mimic the tics of others because he has so many strengths of his own: a dapper, cultivated timbre, splendid enunciation, and keen intelligence and musicianship.
"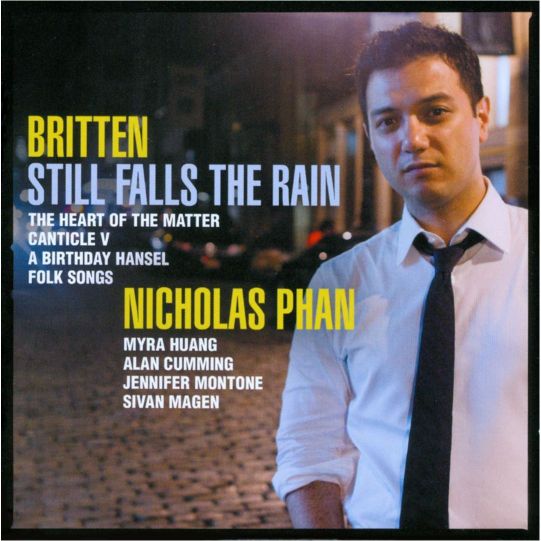 Still Falls the Rain" celebrates not only the love shared by Britten and Pears but also their friendships with the poet Edith Sitwell, the horn virtuoso Dennis Brain, and the harpist Ossian Ellis, among others. The album takes its name from its dark heart: Britten's Canticle III, his 1954 setting of a Sitwell poem that interweaves imagery of Jesus on the cross with impressions of 1940 London pounded by the Luftwaffe. (At The Poetry Archive you can read "Still Falls the Rain" and hear the author recite it.) Britten later set additional Sitwell texts; those songs, the Canticle, and spoken poems made up a program called The Heart of the Matter, which Pears performed in reduced form in 1983, the version recorded by Phan.
Eloquently accompanied by the horn player Jennifer Montone and the pianist Myra Huang, Phan gives a performance fully worthy of the austere dignity of Britten's music and Sitwell's verse. Heavenly grace seems to infuse his tone in the Canticle's closing phrases, sung in the redeemer's voice: "Still do I love, still shed my innocent light, my Blood for thee." A bonus for lovers of great acting: Alan Cumming performs The Heart of the Matter's spoken sections.
The harpist Sivan Magen is a magician. He accompanies Phan in folksong settings, Canticle V (based on a hermetic and disquieting T. S. Eliot poem), and Britten's last song cycle, A Birthday Hansel. Whether weaving a faux-naïve spell in "Dafydd Y Garreg Wen" (the song of an aged bard) or sending forth an ever-more-venomous cloud of sound in "She's Like the Swallow," Magen's playing I prodigious in color and imagination, the ideal accompaniment for Phan's sensitive singing.
New Yorkers can look forward to hearing Phan in Handel's Messiah at Carnegie Hall with Musica Sacra on December 20 and 23 and in music by Bach and Mendelssohn with the New York Philharmonic in March 2013. In the meantime, his new Britten recording and Joyce DiDonato's brilliant "Drama Queens" offer contrasting and compelling takes on the singer's art and the cares and joys of the human heart.
Joyce DiDonato: Drama Queens
Il Complesso Barocco; Alan Curtis, conductor
Virgin

Nicholas Phan: Still Falls the Rain
Myra Huang (Piano), Sivan Magen (Harp), Jennifer Montone (French Horn)
Avie