Review: Boos for the Met's Handsome New Ballo Weren't Deserved
From the first scene, the Metropolitan Opera's new production of Un Ballo in Maschera was to be a grand night for booing.
Though the Thursday opening was full of excellent singing from Marcelo Alvarez and Dmitri Hvorostovsky while Fabio Luisi reminded the world that he's a great conductor with the right repertoire, the production by David Alden (a veteran director only now seen at the Met) had vocal detractors who booed after the first scene. Early on, the production took the Verdi opera into updated, semi-surreal realms that had a stage full of characters heading out for an evening with the opera's fortune teller in the top-hat-and-cane fashion of a 1930s Broadway musical.
Was it that radical? No. Like many updated productions, this one was set in the 20th century between the wars. The stage was clean and uncluttered with lots of black white and gray. Visual symbols asserted themselves periodically. Probably, the production wouldn't have been booed if given by the New York City Opera. Also Verdi's gritty manner – particularly in Ballo, whose tale of a Swedish king's political assassination lacks the composer's usual break-out tunes – doesn't lend itself naturally to fancy abstraction. And this production wasn't a simple updating.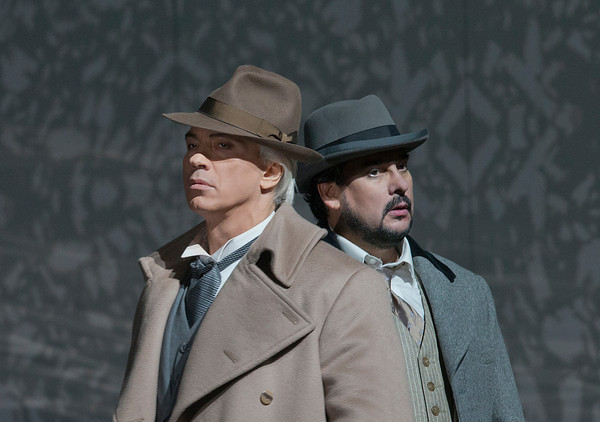 Though we hear Ballo as pure Verdi from start to finish, such works inevitably drew on stimuli that's not known to us today, resulting in a piece that no doubt felt far more heterogeneous in its own time than what we now hear. Directors such as Alden attempt to recapture that quality with a modern theatrical language familiar, from Expressionistic lighting to the Broadway flavor of lighter moments. But unlike Willy Decker's less aggressively updated La Traviata, Alden's concept is, for his detractors, less easily tuned out.
And I wouldn't want to. The visual vocabulary of Paul Steinberg's sets, unified by a series of diagonally geometric shapes, created one handsomely composed stage picture after another, and, in the masked ball scene, had some appropriate Zeffirellian grandeur.
Relationships among the characters were beautifully drawn, sometimes exploring the fine line between violence and affection. And there was wit: The fortune teller Ulrica talked about consulting Satan and then swigged from a flask in her purse. I did part company with Alden's ongoing use of Icarus imagery, seen initially in an ornate stage painting but becoming more prominent, suggesting that King Gustavo's assassination had that myth's sense of visionary hubris. In fact, Gustavo is just morally corrupt. But this was hardly grounds for dismissing the production.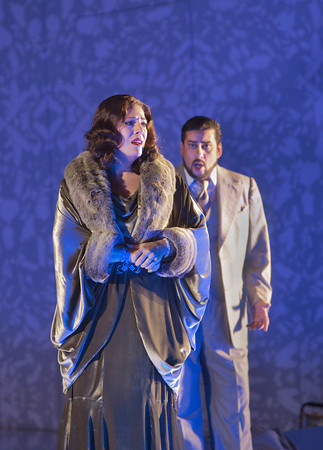 Musically, the performance showed how top artists become even better. That wonderful breath control that has allowed Hvorostovsky to take long phrases in a single breath is, more than ever, a vehicle of deepening characterization, his voice having grown beautifully into Verdi repertoire. Alvarez doesn't vanquish memories of Luciano Pavarotti, who brought a special darkness to Gustavo, but he's as fine as any Verdi tenor singing today.
As Amelia, Sondra Radvanovsky has less exterior vocal beauty than ever, though the voice can do the work, and the complete package (presence, theatricality) is formidable. I've never been a Dolora Zajick fan, but those who are will be happy with what they hear. As the king's page, Oscar, Kathleen Kim had the toughest assignment – wearing wings, as if to portray the king's inner Icarus – without sacrificing her vocal artistry. In the pit, Luisi's use of orchestral weight, his choices of balances and overall sense of theatrical momentum couldn't have been more authoritative.
Photos: 1) Dmitri Hvorostovsky as Count Anckarström and Marcelo Álvarez as Gustavo III 2) Sondra Radvanovsky as Amelia and Marcelo Álvarez as Gustavo III (Both photos by Ken Howard/Metropolitan Opera)