Berenice is suddenly everywhere, whether she goes by her Italian name, as the French Bérénice or the English Bernice. In the past week I have encountered her in London, at Carnegie Hall and, Tuesday night she will be at the Metropolitan Opera. And my mother, Bernice, has a major birthday this week that will make her as celebrated as many of her predecessors.
The name is old and noble, meaning "bearer of victory," and has been borne by ancient Egyptian queens and princesses as well as those in Judea. It also belonged to one of the wives of Mithridatus, King of Pontus (known to us in Mozart's 1770 opera Mitridate, Re di Ponto. She does not appear in this opera. Berenice was Latinized to Veronica, the name of the woman who is said to have wiped the face of Jesus with her veil.
The most famous Berenice was the Judean princess who was the daughter of King Herod Agrippa I (10 B.C.-44 A.D.). She had at least three marriages before meeting Titus Flavius Savinus Vespasianus, Rome's future emperor, when he led an invasion of Judea in 70 A.D. Although he was 11 years her junior, they quickly fell in love and she came to Rome with him when he became emperor in 79 A.D. However, the Romans did not accept her and insisted that Titus marry a Roman woman. To quell rebellion, Titus regretfully sent Berenice back to Judea. This story provided the source material for many plays, operas, novels, ballets and other treatments.
At the moment there is a superb production of Jean Racine's play Bérénice (1670) at London's Donmar Warehouse with Anne-Marie Duff in the title role and Stephen Campbell Moore as Titus. Racine wrote some of the foremost tragedies of the 17th century and his plays attracted the attention of opera composers and librettists. There was a play written the same year by Racine's rival, Pierre Corneille. It was called Tite et Bérénice, named for Titus Vespasian and Berenice. Although it was not as accomplished, it further fed the fascination with this ancient couple. This interest led to a spate of interpretations over the next century.
Antonio Caldara wrote the opera Tito e Berenice in 1714; Giuseppe Orlandini wrote Berenice in 1725 and operas with the same name came from Niccolò Piccini (1766), Raimondo Mei (1776) and Sebastiano Nasolini (1790), just as Mozart was turning his attention to a story in which Berenice appears briefly but crucially.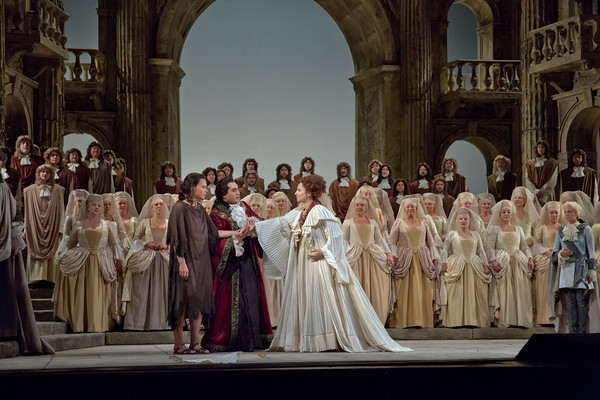 Berenice is seen but not heard in Mozart's La Clemenza di Tito, one of my very favorite operas. The text is by Caterino Mazzolà, who adapted it from a libretto by Pietro Metastasio that resulted in at least eighty operatic versions, including one by Gluck. The story in the Mozart takes place in 79 A.D., the year that Mount Vesuvius erupted and buried all of Pompeii in lava. In the opera, which takes place soon after the explosion, Rome is in political chaos. The plot is set into motion when Tito (Titus) decides he must send his beloved Berenice home to Judea and find a Roman bride. Vitellia, who wants to take Berenice's place, and perhaps Tito's too, instigates a plot in which Sesto (Tito's best friend but who also lusts after Vitellia), will set Rome on fire and bring down Titus.
Jean-Pierre Ponnelle's 1984 production (now playing at the Metropolitan Opera with an HD transmission planned for December 1) was nearly perfect and it still holds up well in most ways. It was a model of rationality and passion and belied the oft-held and still persistent notion that this is a minor work that Mozart did because he needed the money. The composer had written most of Die Zauberflöte before doing La Clemenza as a commission for the court theater in Prague. 
Although Die Zauberflöte was the last Mozart opera to be performed, I see La Clemenza di Tito as his last operatic statement. As staged by Ponnelle, it is a visual and musical cry for beauty and reason to triumph over greed and violence. When Nelson Mandela gained his freedom and established a truth and reconciliation commission to help forge a new South Africa, I thought of Mozart's opera and its title character who loses almost everything (power, authority and Berenice) but offers clemency rather than seeking to wreak vengeance. It is a model of courage and foresight that we seldom seem today.
The name has always had more currency in France, where it is associated with Racine's great play. Bérénice Marlohe is the new Bond Girl in Skyfall. Bérénice Bejo was the female star of the Academy Award-winning film The Artist.
As I described above, Berenice appears in numerous operas in which she owns or shares the title role. And she gets much of the best music. In most of these operas, she is the Berenice who is linked to Titus. However, the story of Handel's Berenice does not involve Titus but does have a plot rich in treachery and betrayal. The music, of course, is beautiful as two samples reveal. The opera was not a success in his time. The composer was ill when it premiered and it only received four performances. But remember that La Traviata and Madama Butterfly were failures at their premieres too.
Joyce DiDonato brought another Berenice to life in a sensational concert on November 18 at Carnegie Hall. She performed repertory from her dazzling new album, "Drama Queens," a collection of fiercely challenging and highly dramatic arias and scenes from 17th and 18th century Italian opera composers. One aria, "Da torbida procella," came from the Berenice of Giuseppe Maria Orlandini (1676-1760) and closed the first half of the program in blazing fashion. Another aria, "Col versar, barbaro, il sangue" was a crowd-thrilling encore. Unlike the Handel, the Orlandini opera is drawn from the story of Berenice and her doomed romance with Titus.
A short horror story, Berenice, by Edgar Allan Poe would make a great short opera. Read it here. So too would Bernice Bobs her Hair, a story by F. Scott Fitzgerald you can listen to in two parts.