The Best and Worst of Opera in 2012
The gods of music are munificent and lavish beauty upon listeners everywhere, not only in New York. But that's where WQXR and your intrepid reporter are based, so Operavore's picks for the best performances of 2012 pertain to Gotham only, with not a whit of disrespect for the brilliant musicians and institutions who ply their craft elsewhere.
We've also listed five of 2012's best vocal and opera recordings—and, yes, left a lump of coal for those who served up duds.
Share your picks for the year's outstanding performances in the comments box below. A toast, then, to cherished memories and a bright 2013!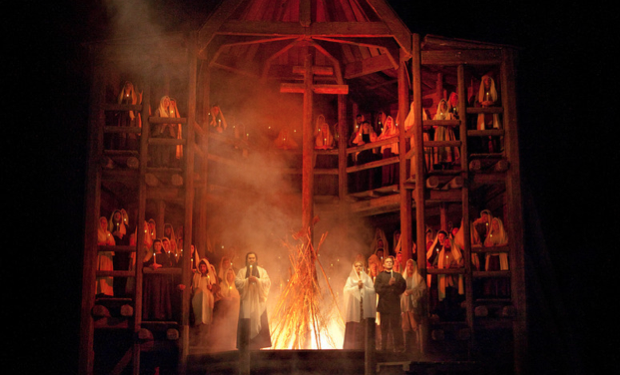 The Metropolitan Opera Chorus: Mussorgsky's Khovanshchina. This Met revival of Mussorgsky's historical drama was one of the company's strongest offerings in years. Kirill Petrenko led a taut, brooding reading of the score, and the cast (which included Anatoli Kotscherga, Ildar Abdrazakov, and Olga Borodina) was superb. Yet even in such exalted company, the Met's chorus under Donald Palumbo stole the show with their heart-stopping Act I prayer and otherworldly singing in the final tableau. For their efforts, they garnered something much rarer than a standing ovation: long seconds of spellbound silence before the audience dared to breathe and then broke into roars of approval (Feb. 28 review). 
Theo Bleckmann: "Out Cold" by Phil Kline (BAM). In the BAM world premiere of Kline's Schubert-meets-Sinatra song cycle, Bleckmann conjured Buster Keaton's melancholy and Fred Astaire's grace, transforming a black-box theater with a few café tables into a world as vast as a lover's hopes and as stifling as regret. Directed by Emma Griffin and backed by the splendid American Contemporary Music Ensemble, he sang with sweetness, clarity, and self-lacerating woe. His performance of Kline's Zippo Songs, a post-modern classic, was no less shattering. DVD, please, and soon.
Janet Cardiff and George Bures Miller, The Murder of Crows (Mostly Mozart Festival). While this immersive "sound play" may never enter a mainstream opera company's repertory, Murder partakes of the form's multimedia aspirations. It weaves together words and music, shards of song (human and animal) and other sounds on some 800 computer tracks relayed by dozens of speakers. Its visual elements include a dismembered gramophone horn, but its uncanny drama plays out mostly in the primal recesses of each listener's psyche and soma. The Park Avenue Armory in association with the Mostly Mozart Festival brought Murder to New York. (Watch a video of a 2008 German production.)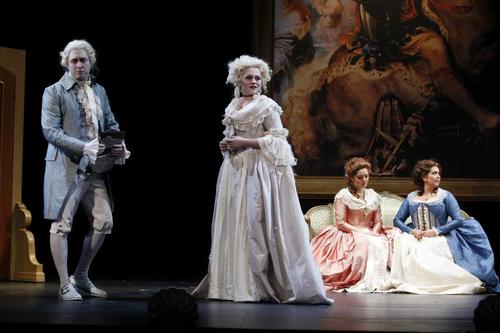 Manhattan School of Music Opera Theater: John Corigliano, The Ghosts of Versailles. The world awaits the long-rumored Met revival of Ghosts starring Angela Gheorghiu, who surely was born to sing and play Corigliano's Marie Antoinette. But without elaborate trappings and with enormous heart and imagination, Manhattan School of Music mounted a powerful staging of this 1991 "grand opera buffa" using an orchestra reduction by John David Earnest. Director Jay Lesenger worked magic with an ensemble of young artists who soared, scampered, and broke hearts.
New York City Opera: Mozart's Così fan tutte. Regie clichés marred Christopher Alden's nightmarish take on the last Da Ponte/Mozart comedy, including catatonic, rapid-fire delivery of recitatives and (yawn) characters dressing and undressing on stage. And it's anyone's guess why Don Alfonso slipped on a bear suit at one point. All of that said, the show was transfixing from first note to last, and the fearless cast under the baton of Christian Curnyn sang and acted with scorching intensity. Best of all, was the chance to see and hear Così in a human-sized house, the Gerald W. Lynch Theater at John Jay College.
LUMP OF COAL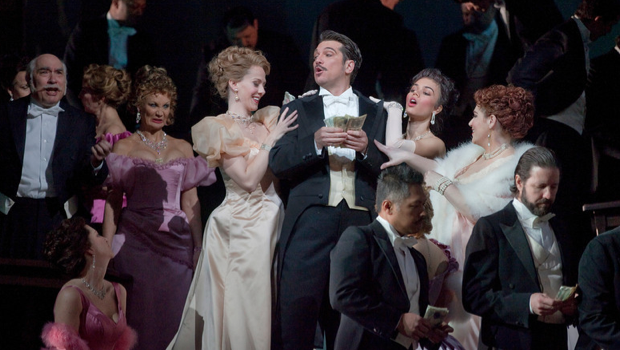 The Metropolitan Opera: Massenet's Manon
Someone at the Met is channeling Otto von Bismarck. It's the only way to explain the indignities that the company inflicts upon French music and la belle langue. The latest assault was last spring's shabby new production of Massenet's Manon, sung and played for the most part with all the finesse of a tenth-rate provincial Cavalleria rusticana.
The Best Recordings of 2012
Christian Gerhaher 'Romantische Arien' (Sony). Baritone Gerhaher opts for some prodigiously slow tempos in this program of arias by Schubert, Schumann, Wagner, and others. But you may need to go back to the historic Wolfram von Eschenbach in the 12th century to hear a more rapt and poetic performance than the one he gives of "O du mein holder Abendstern" from Tannhäuser. Like that old-time religion, Gerhaher's patrician and heartfelt singing will take us all to heaven.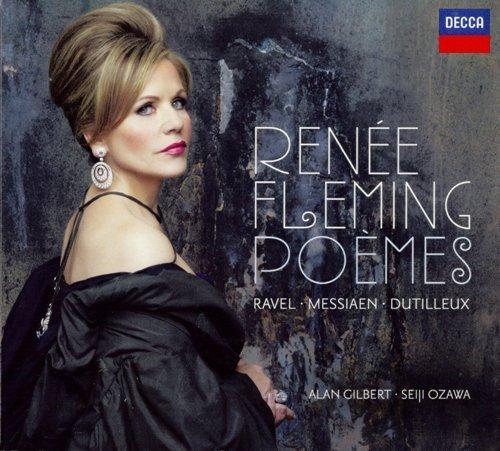 Renée Fleming: 'Poèmes' (Decca). Fleming could do nothing but re-record "Depuis le jour" and "O mio babbino caro" and still be a very well-to-do lady with adoring fans. Luckily for us, her intelligence and honor inspire her to take a road less traveled by. She shines in Henri Dutilleux's Le temps et l'horloge, a work written for her, and lavishes ardor and tonal allure on Olivier Messiaen's ecstatic Poèmes pour Mi.
Haydn: Die Schöpfung (Linn). This audiophile release of Haydn's oratorio ("The Creation") by period-instruments stalwarts Boston Baroque gets an Operavore nod for the supple, radiant, and unfailingly musical singing of soprano Amanda Forsythe. Her 2013 opera engagements include Handel's Teseo with the Bay Area's Philharmonia Baroque Orchestra and Almira at the Boston Early Music Festival.
Joyce DiDonato, 'Drama Queens' (Virgin). Read the Operavore review. How blessed we are to be living in the age of DiDonato.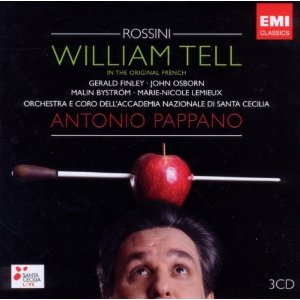 Rossini, Guillaume Tell (EMI). Though Sir Antonio Pappano's recording of Rossini's final opera was made during concert performances, it has the whiff of the theater about it. Leading a strong cast, Gerald Finley sings the title role with musicianly grace, and Pappano and the Accademia Nazionale di Santa Cecilia musicians lovingly mine the seemingly endless beauties of Rossini's score, making the several sizable cuts all the more regrettable. P.S. Don't anyone tell Verdi or Wagner, Berlioz or Bizet, but Guillaume Tell may be the greatest opera of the 19th century. Liberté, redescends des cieux !
LUMP OF COAL
Vocal recitals (Major labels)
With notable exceptions, most major-label vocal recitals have no reason to exist. Who needs (or buys) the nth version of the same old arias performed by singers apparently signed on the basis of looks and not ability? Worse still, opera companies end up casting these ciphers because they have recording contracts. Please, give us instead more recordings of new music and of newly reconsidered music (sets based on the Verdi and Donizetti critical editions, for example).
Credits: Manon & Mussorgsky photos: Ken Howard/Metropolitan Opera; Corigliano photo: Carol Rosegg