Planet Opera: There is No Place Like Rome
ROME -- This glorious city, capital of the nation that gave birth to opera, has long been considered second-tier musically when compared to Milan, Venice, Naples and other Italian towns. All of a sudden, though, that has changed and the city now brims with musical energy and creativity. This is most evident in the fact that Rome's two most important music organizations are headed by world-class conductors.
At the Teatro dell'Opera, Riccardo Muti is the honorary conductor for life. Antonio Pappano, music director of the Royal Opera House in London, holds the same title at Rome's Accademia Nazionale di Santa Cecilia, the city's chief musical organization since its founding by Pope Sixtus V in 1565.
This month I heard both conductors at work in Rome. Muti conducted Simon Boccanegra for the first time in his career and it was the best Verdi performance I have ever heard him give. The overture began from total silence, as if from nothing, almost a whisper of sound that slowly gathered energy and volume. Three hours later, following a thunderous fall by George Petean in title role that brought to mind the death of Boris Godunov, the orchestral ending of the opera faded to a similar whisper and then silence. While Muti chose tempos that might be thought of as too slow by certain admirers of this opera, he nonetheless achieved amazing effects throughout the opera, especially in the Council Chamber scene when the orchestra emitted what sounded like bolts of thunder.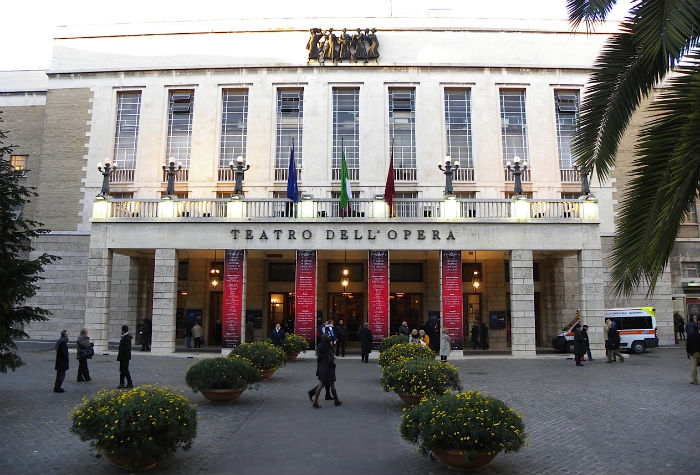 The Teatro dell'Opera (right), not far from the Termini railway station, opened as the Teatro Costanzi on Nov. 27, 1880 with Rossini's Semiramide, soon after Rome had become the national capital. Before that, opera was staged in different theaters, particularly the Teatro Argentina (where Il Barbiere di Siviglia had its disastrous premiere in 1816 and where Verdi visited for the first time with I Due Foscari in 1844) and the Teatro Apollo (where Il Trovatore debuted in 1853 and Un Ballo in Maschera in 1859).
Six operas by Mascagni, including Cavalleria Rusticana, L'Amico Fritz and Iris, had their premieres at the Teatro Costanzi. Certainly the most famous first night was Jan. 14, 1900, when Tosca had a sensational debut. Since 1945, the theater has been called the Teatro dell'Opera. In addition to Muti, who has been known to lecture politicians from the orchestra pit, the theater has gained more solid footing with general director Catello De Martino and artistic director Alessio Vlad. Excellent conductors, including James Conlon, have become regulars and with them has come more adventurous programming. For Wagner's bicentennial there will be Rienzi, his early opera set in Rome (May 10-18, 2013).
Most visitors to Rome associate it not with the Teatro dell'Opera but the summer festival at the Baths of Caracalla (which is presented by the Teatro Dell'Opera). My first-ever opera performance in Italy was Aïda, seen there in 1973. These performances began in 1937 with Lucia di Lammermoor and Tosca and continued almost every year until 1993. With 20,000 seats, it was a sort of opera of the people, but the environmental impact on this part of ancient Rome was devastating. The festival was revived nearby in 2001, away from the most historic zone.
The musical heart of Rome beats most strongly and rhythmically at the Auditorium-Parco della Musica, designed by Renzo Piano and opened in 2002. Though slightly away from the center it has, in the decade since it opened, become the driving force for all kinds of cultural programming in Rome and, it could be argued, much of Italy. Its impact cannot be overstated. All kinds of music is presented there and the message is that great music is great music and does not need to be segmented. The Accademia di Santa Cecilia is central to this place's identity and has allowed Pappano to embrace its spirit by doing eclectic programming.
The Parco della Musica has an excellent museum of musical instruments many educational facilities, exhibition spaces, dining choices and a phenomenal bookstore, Notebook all'Auditorium, that has the most comprehensive selection of cultural books I have seen in Italy. There is a selection of CDs and DVDs that brings a tear to the eye of an American now forced to purchase online with fingers crossed rather than talk to a knowledgable salesperson. I bought so many books there recently that they gave me a bottle of wine in appreciation.
These positive developments at the Teatro dell'Opera and Parco della Musica are all the more remarkable because music and opera in Rome did not compare with Naples or the great cities of northern Italy until quite recently. The existence of the Vatican and its control of Rome until the city became the capital of the Italian Republic in the 1860s made it a magnet for composers who specialized in religious music but the Church, with its heavy censorship policies, was quite the deterrent for opera people. Many operas meant to be performed in Rome were bowdlerized or simply suppressed. 
One notorious example was Verdi's Giovanna d'Arco, about Joan of Arc. When it premiered in Milan on February 15, 1845, it was set in France and more or less told the story of the brave young woman in 1430 who heard voices and led the battle against the English, was then considered suspect in France and was burned at the stake. She later became a Catholic saint. Because of her seeming heretical to some, the Church did not approve of the story told in Verdi's opera. 
The Vatican censor had the opera rewritten as Orietta di Lesbo and it premiered at Rome's Teatro Argentina on May 3, 1845 and was then performed in many other theaters. In it, Joan becomes Orietta and she lives on the island of Lesbos. She leads battles against the invading Turks, who are Muslim. Her father thinks her insane and has her imprisoned. When she is released, she leads another battle and is killed. This opera is unjustifiably neglected and, I believe, part of the reason was that it came to be known to most people in its time in the silly Greece vs. Turkey version.
A Destination City
Rome has always been a destination for creative types from northern Europe and elsewhere because of its beauty, incomparable artistic and historical heritage, and easy sensuality. Tchaikovsky composed his second symphony and other works there. Hans Werner Henze, who recently died, lived just out of town for most of his long life. Thanks to the prestigious Prix de Rome, French architects, painters, sculptors and musicians have lived and studied there for more than two centuries. Composers who benefited from this include Halévy, Berlioz, Ambroise Thomas, Gounod, Bizet, Massenet, Debussy, Charpentier, Nadia Boulanger and, intriguingly, Samuel Barber in 1935. The American Academy in Rome has performed a similar function since 1893.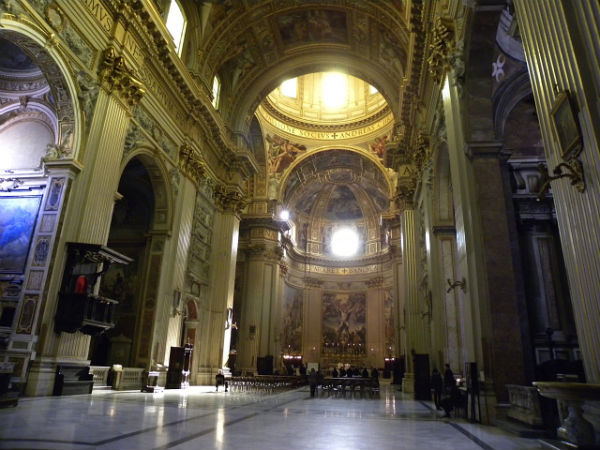 An operatic flaneur in Rome is richly rewarded. Before the advent of the automobile, this surely was the most beautiful city in the world. Even if other cities, such as Paris, have incorporated cars better than Rome has, it still is breathtaking to turn a corner and see yet another sublime church, temple, palace, fountain or piazza that all seem like opera scenery. Rome is, after all, the setting of so many operas, including L'Incoronazione di Poppea, La Clemenza di Tito, Rienzi, Nerone and, most famous of all, Tosca, which not only had its premiere in the city but is set in the city.
You can walk, within 15 minutes, from the church of Sant'Andrea della Valle on Corso Vittorio Emanuele II, where Mario Cavaradossi does his painting, Tosca prays and Scarpia schemes, to the Palazzo Farnese, where Scarpia seduces Tosca and meets his end, to the Castel Sant'Angelo across the Tiber, where Mario and Tosca both will die. To see these gorgeous landmarks so close to one another is to understand how the entire story of Tosca can transpire in less than 24 hours.
Churches throughout the city offer musical performances, much of it liturgical, though  there is a surprising amount of opera as well. Despite the terrible political and economic turmoil Italy is now experiencing, one still can encounter processions and spontaneous performances featuring opera and other music. On one very clear, cold morning at the Spanish Steps I saw a nattily dressed police band play melodies from Norma, Nabucco, Aïda and other beloved works.
To get over the chill, I repaired to the nearby Antico Caffè Greco, which has been in business on the Via Condotti since 1760. Wagner, Goethe, Stendhal, Verdi, Byron, Shelley Tchaikovsky, and even Casanova were regulars here. One can nurse an espresso or a cup of cioccolata calda and commune with these cultural ghosts. There is no place like Rome.
Photos: 1) Teatro dell'Opera, Rome 2) Church of Sant'Andrea della Valle in Rome, Italy (Fred Plotkin/WQXR)