Review: Joyce DiDonato Crowns Dark Maria Stuarda at Metropolitan Opera
Opera can reduce you to rash interpretations of signs and omens. The first things seen at the Metropolitan Opera's New Years Eve opening of Maria Stuarda was a painted screen resembling the cover of a heavy metal rock album. Then, in the first scene at the court of Queen Elizabeth I, a juggler who was literally playing with fire dropped a burning torch.
This didn't bode well for a fragile, less-than-classic bel canto opera. Yet the production was as right as can be. Performances, headed by mezzo-soprano Joyce DiDonato in the title role, were alive with the philosophy we've known but rarely heard live in recent years: Bel canto opera fails if the score is treated like vocal fireworks, but triumphs when a springboard for serious musico-theatrical artistry.
The most telling moments were DiDonato's beautifully phrased vocal cadenzas that took you deeper into the character's already well-established emotional state. The fact that the rest of the cast had many of the same virtues is a compliment to stage direction of David McVicar and conductor Maurizio Benini (who was everything he was not in the season-opening Elixir of Love). Against many odds, the opera actually meant something. Bel canto is truly back at the Met.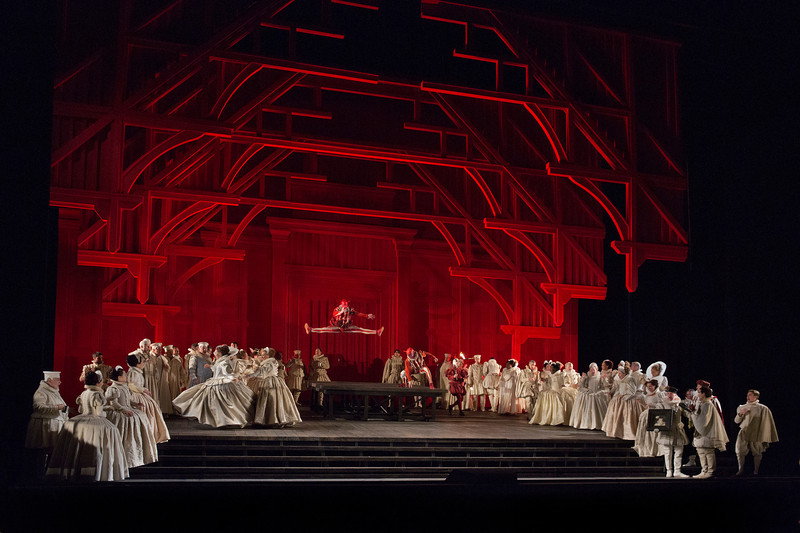 Presented for the first time by the Met, the 1835 opera takes cues from Schiller's play in a series of highly charged confrontations between Queen Elizabeth and the imprisoned Mary Stuart. Characterization touches include a more simple, strophic form for Elizabeth's arias while Mary's vocal lines build more sequentially and less predictably. More than some Donizetti operas, this one seems to operate on now-obscure traditions that allow light, seemingly happy music a place in this brutal story.
The John Macfarlane sets and costumes overrode much of that by being unusually atmospheric with symbolic underpinning that was there if you wanted it. The Act I confrontation takes place in a burned forest. The gallows was so dark, faces were intentionally kept the shadows. Unlike some directors, McVicar didn't impose any needless movement. This is a stand-and-sing opera – no apologies.
In her Met debut, Elza van den Heever was a suitably imposing Queen Elizabeth. Though her voice is a bit too large (but only a bit) to negotiate the more intricate passagework, hers was a complete characterization that included a man-ish gait suggesting the queen was her own unique gender, and dismissing her reflection in the mirror after being dressed. After his mildly unsatisfying appearance in Elixir, tenor Matthew Polenzani (below, right) came into his own as a bel canto tenor as Leicester, giving his vocal lines the theatrical grandeur that the genre craves but maintaining a keen attention to the words (his hallmark as a concert singer). Matthew Rose may not have bel canto in his bones, but more than pulled off the role of Talbot.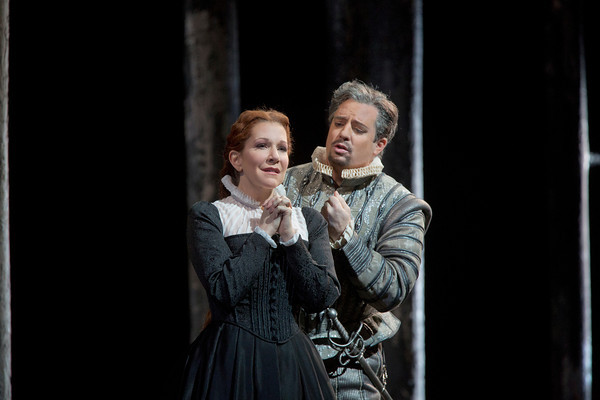 Though both Beverly Sills and Joan Sutherland championed the role of Mary, DiDonato followed more in the vocal footsteps of Janet Baker, who adjusted the vocal lines to suit her mezzo-soprano range. Having sung Elizabeth and Mary more recently in Houston, DiDonato's characterization was fully realized with none of the superficial showiness that has been previously observed in her vocal acting. In the early scenes, she lightened her voice (even more than in Houston, to judge from her radio broadcast), darkening it just as remarkably at the end of her 20-year-imprisonment. 
I could go on, though I'd rather encourage admirers of this operatic genre to discover her performance (and everything around it) themselves.
Photos: 1) A scene from Maria Stuarda 2) Joyce DiDonato as the title character and Matthew Polenzani as Leicester (Ken Howard/Metropolitan Opera)