Prototype Festival Tests Notion that Modern Opera is Dead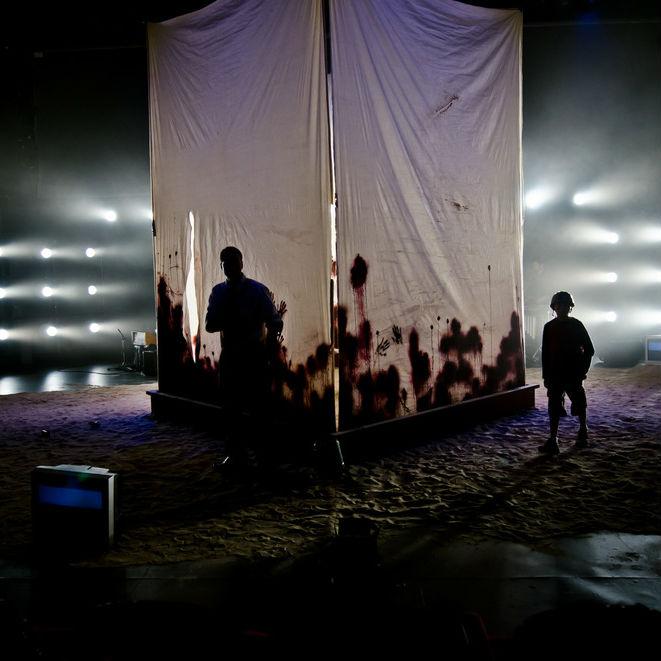 Carolyn Abbate and Roger Parker's book A History of Opera, reviewed here in November, is something of a dirge for the form, an avowedly pessimistic look at the expansion of the repertory backwards in time and the purported "dwindling of new works." Most major opera houses do take a conservationist approach to programming, erring on the side of time-honored favorites, but there are also organizations committed to fostering innovative work by living musicians.
One is Prototype: Opera/Theatre/Now, a new festival that opens Wednesday night and runs through January 18. It is the brainchild of Kristin Marting, the founder and artistic director of the downtown arts space Here; the impresario Beth Morrison, recently lauded as "a modern-day Diaghilev;" and Kim Whitener, Here's producing director. In contrast to New York City Opera's Vox, which presents music by American composers in a workshop setting, Prototype has a broader mission, offering ready-to-tour productions of chamber operas by younger composers from the United States and overseas. The shows are compact by design, often drawing on the latest digital wizardry, so that even institutions with relatively modest spaces and resources can book world-class stagings of fresh, inventive works.
Though this writer finds reports of opera's death greatly exaggerated, several of the Prototype operas seem to bear traces of what the critic Harold Bloom called "belatedness": the feeling of coming late in an artistic tradition—the sense that, as Abbate and Parker wrote of opera, "the trees in its vast forest are … very old and very grand. Their beauty, and the shadows they cast, are immense." For Bloom, belatedness implied an oppressive "anxiety of influence," but engagement with earlier works can also take place in a spirit of irreverence or defiance.
Prototype's inaugural work-in-progress is The Aging Magician by Paola Prestini (right), who wrote the acclaimed Oceanic Verses. It commingles Coney Island, Venice, the underworld, and a dying carnival barker's love for a boy, setting off echoes (just for starters) of Thomas Mann's Death in Venice; the sorcerer Richard Wagner's own demise in the watery city; and opera's ur-myth, the saga of Orpheus and Eurydice. Harnessing many media—including video, projections, live and recorded music, and the seraphic voices of the Brooklyn Youth Chorus—The Aging Magician is grandly, even venerably, operatic. Yet the fact that it portrays male characters brought to life in song by a woman composer gives it even today (alas) a subversive and against-the-grain edge.
Bluebeard by Holland's 33 ⅓ collective takes up the legend of Judith and her murderous husband familiar from operas by Paul Dukas and Béla Bartók but with an explicit feminist agenda: to represent "women's pursuit of truth and their desire to understand the workings of men, hopefully to their advantage." With a visual setting that blurs "inside" and "outside" and recorded performers (there are no live musicians), Bluebeard promises to disquiet audiences on many different levels.
Opera has long been associated with political and social elites and, to quote Abbate and Parker, "triumphalist" agendas. Even so, it has depicted war's horrors with surprisingly few illusions: think of Berlioz's Les Troyens, Verdi's Don Carlos, and Poulenc's Dialogues des Carmélites, to name only works in the current Metropolitan Opera season. Prototype offers the New York premiere of David T. Little's Soldier Songs, another opera that probes the many kinds of ruin wrought by combat. Drawing on interviews with veterans of five different conflicts, Soldier Songs affords a post-modern twist on age-old themes, examining the disinformation and fabricated "realities" that circulate in today's media-saturated world.
Violence in the form of a blood feud also permeates Sumeida's Song by Mohammed Fairouz, an opera already available on a fine Bridge recording that receives its world premiere staging at Prototype. Centering on a mother's ambivalent love for a son long believed dead and charged with taking revenge on her behalf, Sumeida's Song recalls, of all things, Verdi's Il trovatore. Its male protagonist Alwan, who seeks to carry out the holy work of peace, brings to mind two recent classics, Philip Glass's Gandhi-inspired Satyagraha and Olivier Messiaen's Saint François d'Assise. Timur and the Dime Museum, the final Prototype offering, stars the Los Angeles-based Kazakh tenor Timur Bekbosunov (right) in a program that promises to send up the divo cult in "dark glam" and "post-punk bohemian" style.
Other organizations that support new opera include American Opera Projects, American Lyric Theater, On Site Opera, and Experiments in Opera, which offers an enticing program of ten short operas on February 9 at Brooklyn's Issue Project Room. Like Prototype, these bold and admirable groups send the very welcome message that there's life in the old opera yet.
Bekbosunov Photo credit: Sandra Powers