Exclusive Preview: New Wagner Museum Opens in Germany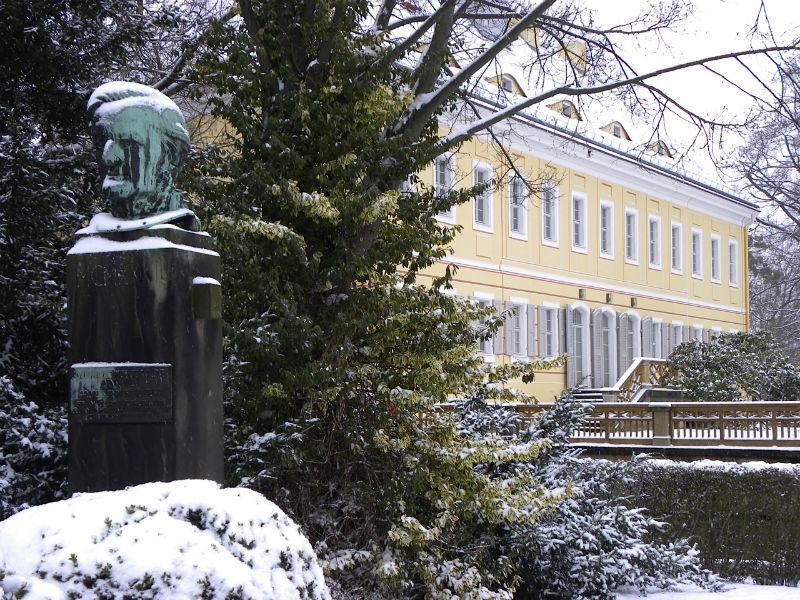 DRESDEN —
This German city, which describes itself as the place "Where Wagner became WAGNER," will share with Leipzig, Munich, Bayreuth, Zürich, Lucerne and some Italian cities a key role in the celebration of the bicentennial of the birth of the composer on May 22.
Wagner spent important formative years here, developing his ideas and composing some of his early works. His presence is commemorated in a new museum opening January 12 in Pirna, a small town just outside the city limits of Dresden. The building, a former hunting lodge, is a brief walk from the Lohengrinhaus, a farm house where Wagner and his wife Minna lived from May through August of 1846. It is here that he did the first draft of the score of Lohengrin. This building is open to the public as part of the 7 euro (about $9) admission to the museum.
Today, when I went for a sneak preview, the swans who normally swim nearby were wintering somewhere else as a downy snow covered the area. Inside the museum, workers were putting the finishing touches on the six rooms. While even a large palace could not contain the multitudes that were Wagner, this small exhibition effectively synthesizes his origins, his life in Dresden, some of his important protagonists and influences, and has some nifty new technology in which scenes from Der fliegende Holländer, Lohengrin and Das Rheingold are presented using holograms and mirrors. 
One feature of the museum is that one of 24 pieces of Wagner's music will be played as each visitor crosses the threshold. This invites a question, to which the answers have not yet been revealed: Which pieces of music will be chosen? Among the obvious choices are the arrival of the guests from the second act of Tannhäuser and the entrance of the gods into Valhalla that concludes Das Rheingold.
A second question, of course, is which piece of Wagner's music would you want played as you enter the museum? Post your choices below. Mine would be the incredibly evocative descent of Wotan and Loge to the Nibelheim in Das Rheingold. This is not because of the depiction of their journey to a deep and faraway place but because the music creates such a thrilling sense of anticipation:
Fred Plotkin will report more fully about Wagner in Dresden in a future article for Operavore.