The Operatic Cheesemonger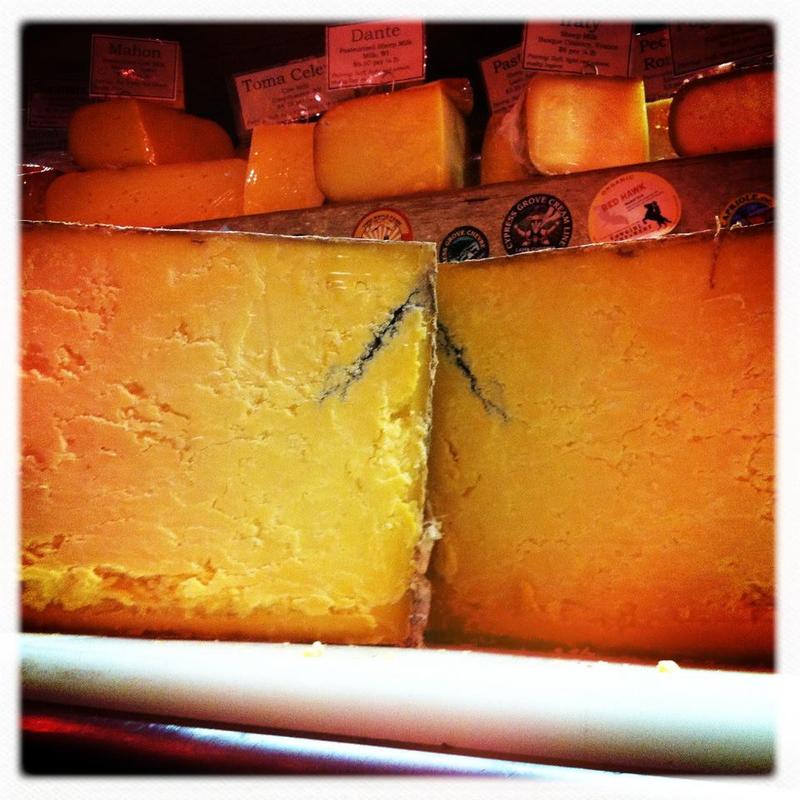 There are those days—those weeks—when the news of the world becomes too much to take in. Every time you turn on the radio, pick up a newspaper or look at the Twitter feed, it seems that there is another unfolding news event that both draws you in and makes you recoil. Americans have had their fill this week with events happening within our borders. In fact, a lot has happened in the rest of the world too that would merit our compassion and concern.
If things were not so sad, it would be a comically cruel irony that last Tuesday, April 16, was National Stress Awareness Day. I imagine that fact eluded you, what with terrorism in Boston; conflagrations in Texas; poison-laced letters sent to legislators by an Elvis impersonator in Mississippi; central Arkansas being polluted by a massive oil spill (why is this story hardly being covered?); and 46 senators too cowardly to support background checks on people who wish to purchase firearms. I think we are all are experiencing stress awareness right now!
We deal with crisis and tragedy in our own ways. Musicians have always played an essential role in providing a balsam for our wounds. I admired yet again this week how many musicians have sought to be "first responders" when things got bad. Watching the solidarity of citizens in Boston, in the town of West, Texas, not to mention the fortitude of everyday people in war zones around the world, is deeply inspiring.
And yet, there is the natural human response of wanting to retrench, to be a bit self-indulgent, to seek solace and gratification in some kind of food or drink or medication. Or music. I recall that, during the long trauma after 9/11, WQXR played music continually, leaving the delivery of news updates to other media. Or an old Fred Astaire film that asks of us not much more than sitting back and  seeing that elegant man and a beautiful partner move gracefully to the music of Irving Berlin or George Gershwin. Who could ask for anything more?
Many people buy a big bar of chocolate, a tub of ice cream, or a bag of something salty and crunchy to distractedly devour. Others pull out the yoga mats and chant a mantra. My so-called guilty pleasure, though I experience much pleasure and little guilt when I consume it, is a gorgeous piece of cheese, a bit of dried fruit and nuts, and fresh, fragrant bread. Maybe a glass of wine, but that is not essential.
Cheese has been described as milk's leap into immortality, a means of preserving milk from a cow or sheep (or goat, though not for me) and making it distinctive. It is a beverage that miraculously becomes a food, one that your cardiologist might discourage, but which in times like this gives pleasure but also, miraculously, makes one quiet and meditative if you focus entirely on what it does in your mouth.
I can hear you, as you salivate, asking, "What does this have to do with opera?" A couple of things, at least, and maybe more.
In Il Barbiere di Siviglia, after Figaro sings "Largo al Factotum," his famous entrance aria, he observes to the Count Almaviva that he is a fortunate man by saying, "Ah, cospetto! siete ben fortunato; sui maccheroni, il cacio v'è cascato." This translates quite literally as "Oh, from the sight of things, you are quite fortunate; the cheese has fallen on the maccheroni." More colloquially, Figaro is saying the Count is lucky to meet him... "just what the doctor ordered."
When Italians say that the cheese has landed on the maccheroni, it means that everything is as it should be. What I do when things get tough, in addition to savoring a succulent piece of Taleggio, Gorgonzola or Parmigiano-Reggiano, is listen to Rossini. We all have composers or musicians who lift our moods because the sheer sound of what they do reaches so deeply. Famous pieces by Mahler, Barber, Tchaikovsky and others make me sadder, though they might offer you peace. 
Something about Rossini, even in his tragic operas, seems to coincide with my heartbeat and breathing. It is that intimate and immediate for me. His wonderful crescendos in overtures or arias take me over and put everything right. The cheese really lands on the maccheroni for me when a fine mezzo sings "Nacqui all'affanno...non più mesta," in which Angelina, Rossini's Cinderella, tells us she was born in misery but is no longer sad. Watch Joyce DiDonato in a 2008 Barcelona production that I recently saw at Los Angeles Opera. One whimsical feature of this show are the friendliest mice you will ever see. In effect, they let Angelina have all the cheese.
On the day before all misery began this week, there was a charming article in the New York Times about Patrick Watson, a 38 year-old tenor from Massachusetts who owns, with his singing wife, a fine cheese shop in Brooklyn called Stinky Bklyn. He was looking forward to singing "The Star Spangled Banner" at a Brooklyn Nets basketball game on April 16 (National Stress Awareness Day).
I had read this article and made a note to myself, as a cheese-eating opera lover, to drop in for a visit. I thought that Watson could play Federico in Cilea's L'Arlesiana. This character is a shepherd, meaning that he would have to make sheep's milk cheese.
Until I pay a visit to Mr. and Mrs. Watson, I decided to separate my own curds and whey by trying to think of operas real and imagined in which cheese could play a role. I envisioned a big Zeffirellian spectacular, Cheeses of Nazareth, in which a holy man not only divides loaves and fishes and turns water into wine, but turns milk into cheese using cows and sheep from a manger. With Zeffirelli directing, there would be veritable herds of livestock on the stage and audience members would each get a piece of cheese as they exit the opera house.
I would like to see Rossini's William Tell not only shoot an apple off his son's head, but have his arrow go right into a hole in a wheel of Swiss cheese. Comte is a wonderful cow's milk cheese from the French alps. I wonder if Rossini had that in mind when he composed Le Comte Ory?
I thought of Manchego, the troubador's little-known third brother in Il Trovatore. And of an Italian-language version of Janacek's great opera, Cacio Kabanova. Or the Dutch version of that Russian masterpiece, Boris Goudanov. It occurred to me that Der Fliegende Holländer needs a lot of cheese if he has to remain at sea for seven years at a time. So I would supply him with large wheels of Edam.
If I felt like indulging in an endlessly cheesy opera experience, I would do a triple creme program. First, there would be Velveeta as La Traviata. Then, Tchaicowsky's Dairy Queen of Spades. And finally, Die Munstersinger von Nürnberg.
After all of this, I would melt all the remaining cheese in a pot and be "Sola, Fonduta, Abbandonata."
And that, my friends, is a Feta Compli. I wish everyone, everywhere, peace and pleasure and may we all find ways to share our cheese.
Photo: Murray's Cheese shop (flickr/roboppy)