On the Music: Eight Singers, One Song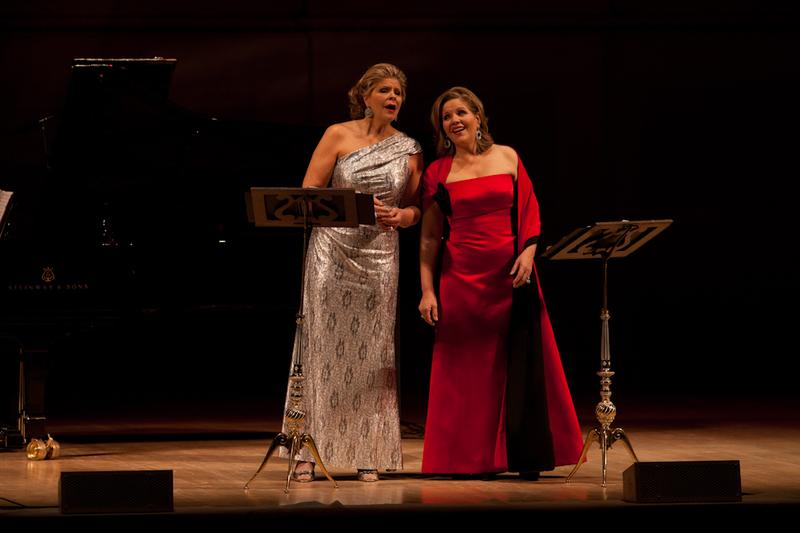 True lovers of the unamplified singing voice (and that means you, dear reader) have long known that there are boundless pleasures to be had at vocal recitals, at least when the artist doing the singing knows what he or she is doing. While certain few singers, such as Elly Ameling, were known primarily for recitals, many more singers excel in full opera productions. There are special artists who understand how to make magic in both contexts.
In our time, Renée Fleming, Susan Graham and Thomas Hampson are certainly among these. While I am very pleased that they sing opera, each of them has the requisite gifts that make them great recitalists who could have exclusively preferred the concert stage. Their gifts include beautiful voices, of course, but also a keen love and awareness of language, literature and the magical alchemy that happens when poetry and music combine and then are delivered in a fashion that is both deeply personal and spontaneous.
These three American artists have made the German-language songs known as Lieder central to their programming, but it is hardly the only recital music they sing. Lieder (always with a capital L, just as Kunst, the German word for art, has an emphatic capital K) is extraordinary and Hampson, in particular, has created a superb recorded legacy of this music. Singers as well as audience members can spend a lifetime deepening their relationship with these songs, which cover a whole range of human emotions and experience, from birth to death and everything in between. 
The best of these songs is a complete miniature, a portrait that includes colors and moods that call on skills that are not required in opera, where a singer plays a role, wears a costume, is surrounded by scenery and sings with an orchestra, conductor and sometimes other colleagues and a chorus. Instead, they stand on a stage, near a piano being played by a gifted musician, and they call on their gifts to present song after song, each with its unique combination of words and music.
Some of the greatest Lieder are by Franz Schubert, who wrote more than 600 songs in his short life. Other magnificent Lieder are by Robert Schumann, Hugo Wolf and Gustav Mahler, all of whom were basically not opera composers, although Mahler was one of the best opera conductors. Richard Strauss, who did almost everything brilliantly, was one of the finest opera composers but his Lieder are also sublime. In the 20th century, Arnold Schoenberg and Alban Berg composed opera and songs, though their output do not rival Strauss's in terms of quantity.
This repertory was and is, in effect, the national tradition of German-speaking nations. The most famous exponents were probably soprano Elisabeth Schwarzkopf and baritone Dietrich Fischer-Dieskau. In the two decades after World War II, they performed and recorded much of the most important Lieder repertory. 
Both had in common that their preferred piano partner was Gerald Moore (1899-1987), who was born in England and grew up in Ontario, Canada. He was the most famous collaborator with the top recitalists, and one of the few who established a name for himself. In those years, the person who played the piano was referred to as an "accompanist" and the attitude toward most of them was that they had an almost servile function. Very few famous solo pianists spent much time in that position because they were stars in their own right and did not want to "back up" a singer.  As such, the typical accompanist was quiet and subservient, at least in the eyes and ears of audiences, and often thought to not be good enough to be a soloist.
In almost every way, this is now a thing of the past. The person who plays the piano is now regarded as a musical collaborator, an equal partner in the performance and one who is as important as the singer in the success of a concert. Thankfully, most singers recognize this and see to it that the pianist receives at least one solo bow and considerable acknowledgment from the audience. I was shocked recently when I attended a recital in which the singer hogged all of the attention and treated the pianist as an accompanist in the old style.
Variations on Schubert's 'To Music'
Speaking of old style, watch the following performance of Schwarzkopf and Moore of Schubert's "An die Musik" from 1961. It was done as a BBC broadcast and is quite formal not only in their attire and the decor, but in the reverent way that they perform this ode to music.
Here is the original poem by Franz von Schober, plus an English-language translation.
For purposes of comparison, now watch Moore and Fischer-Dieskau perform the same song in what might even be the same room. Moore's interpretation is different here because of the approach the baritone takes—faster than Schwarzkopf and sung in a style that is reverent but also ardent.
As I recall, the first vocal recital I attended was by the soprano Victoria de los Angeles, who would do Lieder, French "art songs" often called chansons, as well as opera arias. Inevitably, she would sing songs in Spanish and Catalan, often accompanying herself on guitar. These last songs were included to offer a sense of national tradition. If Schwarzkopf and Fischer-Dieskau were exponents of German-language national tradition, then de los Angeles brought some of the sensual allure of Iberia. Yet she too had Lieder as part of her repertory. Here she is performing "An die Musik" with, it appears, Gerald Moore. What struck you as distinct in her rendering, apart from the fact that she was not singing in her native language?
A notable bit of history is that Gerald Moore gave his last performance in 1967 at London's Royal Festival Hall. The singers were Schwarzkopf, de los Angeles and Fischer-Dieskau. At the end of the concert, Moore appeared alone and played "An die Musik" on the piano, without a singer to accompany him.
There is a lot to recommend in this performance of the song by Dame Janet Baker, the beloved mezzo-soprano from Yorkshire. Her plummy voice, deeper than most sopranos, gives a warmth to the feelings in the song. And yet her posture is stock still, there are few gestures and the breath control is sovereign. I would guess that this performance, done with the curtain down at the Royal Opera House, is from around 1975, based on Baker's appearance and that of her musical collaborator, the great pianist Murray Perahia.
An even richer tone comes from Grace Bumbry on a studio recording. We think of her primarily as an opera singer, but the American mezzo was a student of Lotte Lehmann. The marvelous German soprano, who gave her New York farewell recital in 1951 at Town Hall, began to sing "An die Musik" as her last encore. She was too overcome with emotion to finish. Listen to a performance of the song from her last record, made in 1948, with the pianist Paul Ulanowsky. While unquestionably a soprano, she brings a richness that bespeaks gratitude that is part of the message of this song, something the famous Schwarzkopf did not provide.
The Dutch soprano Elly Ameling devoted herself almost exclusively to the recital stage. Her eagerly anticipated annual tours to the world's major musical capitals were like a return visit of a close friend who always came bearing wonderful gifts. Her personal style was warmer than Schwarzkopf's and one did not feel that she was singing from some high peak. Rather, her love of music and words was palpable and one always felt that she was singing the song to you. It is possible to recognize this even in an audio recording of "An die Musik." which, I am guessing, came from about 1980.
I presented examples from all of these splendid singers to give you a sense of how the same song can be different when interpreted by each artist. It is a combination of voice, of intimacy with the language, but also the temperaments of the singer and their collaborative pianist. I would have liked to present performances by Fleming, Graham and Hampson, but could not locate links. So I will conclude with a rendition by Bryn Terfel, who is in every way as compelling as the three Americans. He brings wonderful connection to text, spontaneity, warmth, just enough reverence and his marvelous voice to the song, drawing the best from other artists, but making "An die Musik" completely his own. 
In an upcoming article Fred Plotkin will explore how contemporary singers create recital programs that are relevant to today while also honoring the traditions of the past. Also: WQXR will re-broadcast Renee Fleming and Susan Graham's recent Carnegie Hall duo recital on May 3rd on 105.9 FM and WQXR.org