History's Most Notorious Lover Emerges in Theater and Song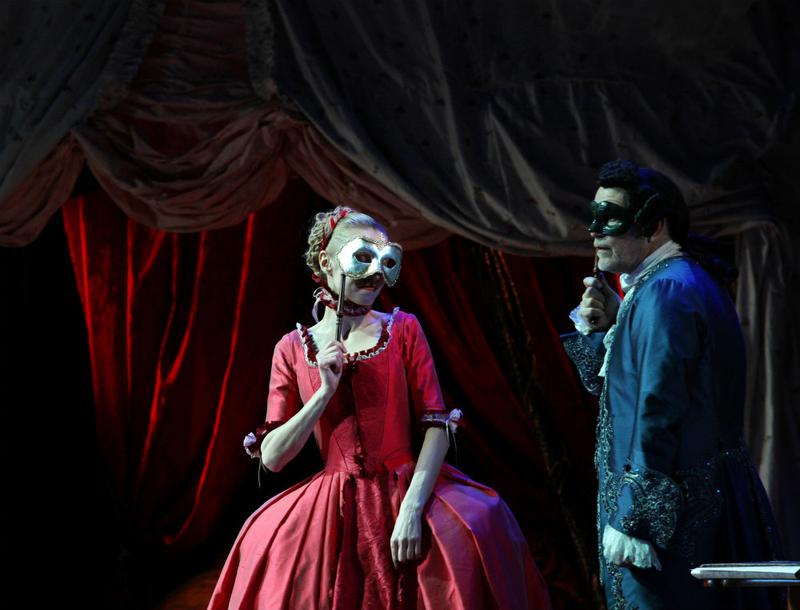 Many Operavores probably know that Giacomo Casanova, the Italian adventurer and author, attended the 1787 Prague world premiere of Mozart's Don Giovanni, and that he claimed to have made last-minute changes to the libretto in the absence of his fellow Venetian Lorenzo da Ponte.
Casanova (1725–1798) at the time was working as a librarian at Schloss Duchcov, about 50 miles from Prague, for a Count Waldstein, a relative of Beethoven's patron. A recent investigative article tends to substantiate Casanova's story, but as Italians say, Se non è vero, è ben trovato; "Even if it's not true, it's well invented."
The Giacomo Variations, a "chamber opera play" written and directed by Michael Sturminger that stars John Malkovich as the legendary lover, will have its US premiere May 30–June 2 at New York City Center as part of the first Cherry Orchard Festival, an event designed to foster global cultural understanding. Martin Haselböck is music director for The Giacomo Variations, which includes selections from the three Mozart-Da Ponte operas performed by singers and actors. The festival also features the local premiere of Enemies: A Love Story performed by Israel's Gesher Theatre and a recital by the pianist Olga Kern.
Casanova's whirlwind of a life could supply fodder for many seasons' worth of operas and plays, and his French-language memoirs run to 20 thick volumes. The son of actors, he studied law, took holy orders, played violin at Venice's Teatro San Samuele, and worked as a soldier, spy, professional gambler and government official—for starters. He was exiled and jailed several times (once making a swashbuckling escape from Venice's fearsome Piombi prison) and wrote plays, translations, treatises, and Icosaméron, a science-fiction novel.
He criss-crossed Europe, dueled and schemed, and hobnobbed with the likes of Voltaire, Catherine the Great, George III and Benjamin Franklin. He also dabbled in Rosicrucianism, Freemasonry, Kabbalah and alchemy—meaning that (you read it here first) someday we are bound to be reading a Dan Brown blockbuster inspired by Casanova. Those wishing to learn more can read this superb biographical sketch and explore the French National Library's extensive online Casanova exhibit.
And, yes, along the way Casanova bedded many a lady and a few fellows, too. In his memoirs (which are incomplete and, he emphasizes, selective) he admits to some 125 conquests: a small fraction of Don Giovanni's Spanish tally of mille e tre but no mean sum by the standards of most mortals. Unlike his Mozartian counterpart, Casanova claims never to have used force nor to have preyed upon "young beginners," and he professes a lively though unorthodox faith. When he broke out of the Piombi, he left his captors a note quoting Psalm 118: "I shall not die, but live, and declare the works of the Lord."
The Giacomo Variations depicts Casanova as he faces death and in this respect universalizes him. But ponder the title: Sturminger's play also foregrounds the rake's elusive, chameleon-like identities. Masking and disguises are crucial plot and thematic elements in Le nozze di Figaro, Don Giovanni, and Così fan tutte, one important reason why Sturminger brought Casanova, Mozart and Da Ponte together. "They were brothers in spirit," he wrote by e-mail. He cited their shared love for women and "the art of seduction" and their common gift for embodying "the many different roles one person can play in life as well as in the theatre." Casanova, then, can be seen as a precursor to today's theories of "performativity": the idea that words and actions do not emerge from a fixed inner identity but instead create identities from without.
A touch more grist for the geeky mill: Philosopher and historian Peter Sloterdijk argues that the unconscious, arguably the defining characteristic of the modern, secular human being, emerged not with Nietzsche and Freud but in Casanova's lifetime, with the surge of interest in hypnotism and related practices (for example, Despina's antics with the "mesmeric stone" in Così). And within the unconscious lurks libido, the anarchic force that strains communal bonds in the Mozart-Da Ponte operas and that drove the erotic exploits (and prolific writings) of Casanova and his younger contemporary, the Marquis de Sade. For Sturminger, the urgency of desire also unites the "hyper-individuals" Casanova, Mozart, and Da Ponte. "They were in a personal way 'avant-garding' the great revolution to come without being naïve enough to trust or even hope in political solutions," Sturminger wrote.
Casanova was a celebrity in his own time, and the strikingly modern aspects of his persona continue to fascinate artists. Donald Sutherland, Marcello Mastroianni and Heath Ledger have portrayed him in film; he inspired Dominick Argento's 1984 opera Casanova's Homecoming; and he stars in a witty and oddly buoyant song about sexual dysfunction and art's consolations, the Pet Shop Boys' "Casanova in Hell," which was first performed in concert by Rufus Wainwright. As we look forward to Sturminger and Malkovich's take on the irrepressible daredevil, libertine, and polymath, we can be sure that there will be many more Giacomo variations to come.
Photos: 1) Casanova in a painting by Anton Raphael Mengs 2) The Giacomo Variations' in a 2010 production at Ronacher Vienna (© Nathalie Bauer)