Planet Opera: Philadelphia for Operavores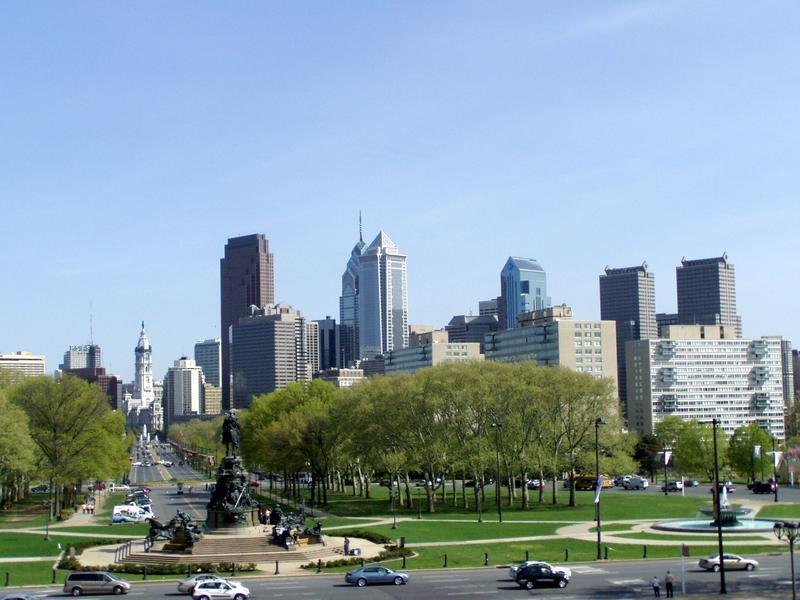 If you stroll down Philadelphia's Broad Street, one of the city's grand thoroughfares, you will notice that one prime section, not far from City Hall, is known as the Walk of Fame. It honors illustrious Philadelphians in the arts with their names in stars on the pavement. This is a positive indication of the values of this historic cradle of the American Republic.
The names, which include those born in the city as well as those who made important contributions there, are too many to list here, but one is immediately struck by how many notable African-Americans are there as well as important Italian-Americans. Here are some names: Frankie Avalon; Pearl Bailey; Chubby Checker; Dick Clark; Dizzy Gillespie; Gary Graffman; Mario Lanza, the tenor to whom a museum is dedicated on Montrose Street; Riccardo Muti; Eugene Ormandy; Teddy Pendergrass; Molly Picon (who loved opera); Rudolf Serkin; Leopold Stokowski; Wolfgang Sawallisch; and André Watts. I did not find Patti Labelle and the wonderful mezzo-soprano Florence Quivar on the Walk of Fame, but I would hope they are somewhere. Some day soon a star will surely be placed for bass-baritone Eric Owens, a Philadelphia native.
I think if I were to ask Philadelphians to name their greatest opera singer, Lanza would come in second to the legendary contralto Marian Anderson (1897-1993). While the history books record her famous 1939 performance at Washington's Lincoln Memorial after she was banned from singing in Constitution Hall because of her race, she had one of the greatest voices and singing ability of the 20th Century. Late in her opera career, she was the first African-American artist to sing at the Met (Ulrica in Un Ballo in Maschera in 1955) and was the first opera singer to receive a Kennedy Center honor.
For many reasons, Philadelphia has some of the richest operatic DNA in America. The Metropolitan Opera was an important presence there since its beginnings. The Met's first New York performance was Faust on October 22, 1883. That same production was the Met's calling card in Philadelphia on January 14, 1884, in a weeklong engagement that included Lucia di Lammermoor, Il Trovatore, Don Giovanni, La Gioconda, Martha and Carmen. The Met returned to Philadelphia in April 1884 with seven more operas.
Weeklong engagements of the Met at Philadelphia's Academy of Music continued for years. One performance caught my eye: On March 11, 1896, 2800 lucky people heard a Golden Age cast of Nellie Melba, Lillian Nordica, Jean de Reszke, Edouard de Reszke and Victor Maurel in Meyerbeer's Les Huguenots.
Starting on November 26, 1907, the Met traveled to Philadelphia most Tuesdays to perform its productions with top casts. In effect, Philly became the Met South and opera lovers there could experience what New Yorkers knew. This tradition remained until March 21, 1961, ending gloriously with Turandot starring Birgit Nilsson, Leontyne Price and Franco Corelli.

After the Met stopped its Tuesday visits, many Philadelphians traveled to New York as subscribers to Saturday matinees. This endured until recently; fewer now come since the Met inaugurated HD broadcasts in 2006. They also have a lot to stay home for.
In the past century, the Met was hardly the only troupe performing in town. There was the Philadelphia La Scala Opera Company, featuring many Italians. It gave, on average, a dozen operas each year and was active from 1925 to 1955, when it merged with the Philadelphia Civic Grand Opera Company. This was the latest iteration of "Grand Opera" companies begun in 1916. Then there was the Philadelphia Lyric Opera, which performed from 1958 to 1974 before merging with the Grand to form the Opera Company of Philadelphia, renamed Opera Philadelphia in 2013.
I contacted Albert Innaurato, playwright, opera cognoscente and native Philadelphian, for his recollections about his home town. He told me it was "an opera paradise in the 1950s and 1960s." In addition to major local companies and the Met's visits, "there were also tons of middling and little opera around Philly." As a boy, Innaurato played roles in numerous operas. He was Trouble, the son of Pinkerton and Madama Butterfly. "I also played the fat son Norma should have killed, sang the shepherd boy in Tosca (lots of vibrato and tons of sobs) and the little boy in act two of Bohéme (usually missed my cue)."
Innaurato recalled, "There were two 'big' Philly companies, the Grand, whose stars were Kurt Baum and Richard Tucker, and the more high-profile Lyric, run by a pal of my father's, Aureliano Fabiani. He was the American agent for a lot of Italian singers, so we had indecent amounts of Corelli. There was the night Di Stefano walked out of a Ballo because there was an EMI ad in the program calling Corelli the 'world's greatest tenor,' when the truth was, of course, it was Pippo Di Stefano. A thousand people heard he was leaving and followed him to the parking garage, begging him to reconsider, while the ushers ran around swiping all the programs they could find. There were sublime performances too: Regine Crespin and Jon Vickers in Die Walküre where the audience didn't leave the auditorium for the entire first intermission but kept stamping and applauding."
As was customary in that era, what money was available was spent on getting the best singers. Innaurato recalled, "The sets tended to wave in the wind when these enormous singers took big breaths, and sometimes it appeared the local orchestras were the garbage man union moonlighting. Times and costs have changed. The valiant more recent Opera Philadelphia is all there is now."
Opera Philadelphia has been led since 2006 by executive director David B. Devan. He has sought to give the company a distinct profile that includes important premieres and collaborations with other important musical institutions. One of the better opera performances I have attended lately was February's co-production with Minnesota Opera of Kevin Puts' and Mark Campbell's Silent Night, winner of the 2012 Pulitzer Prize for music. They will present a new production of Powder Her Face by Thomas Adés at the Curtis Institute of Music (June 7-16).
The 2013-1014 season will have six appealing operas, including Golijov's Ainadamar and Ricky Ian Gordon's A Coffin in Egypt, starring Frederica von Stade.
Central Philadelphia is a district of enviable musical riches. The Academy of Music, known as the "Grand Old Lady of Broad Street," is the oldest theater built for opera in America where the art form is still presented. It opened on January 26, 1857 and, on February 25 of the same year, was where the American premiere of Il Trovatore took place.  The building is beautiful and historic with a grand interior that lends a sense of occasion to opera performances.
The Academy of Music is the home of the Opera Philadelphia and the Pennsylvania Ballet. Despite its name, the Academy is not an educational institution. It was the home of the excellent Philadelphia Orchestra from 1900 to 2001, when they moved down Broad Street to the Kimmel Center, a new performing arts center that also hosts touring Broadway musicals, classical recitals, jazz performances and more. Each spring the Kimmel hosts the innovative Philadelphia International Festival of the Arts.
Curtis on Locust Street was established in 1924 and is one of the world's leading music conservatories. Among its most prominent graduates was composer Samuel Barber, born in nearby West Chester in 1910 (died 1981 in New York). Probably best known for his Adagio for Strings, the go-to piece for moments of national mourning and reflection, he also composed song cycles such as Knoxville: Summer of 1915 and The Hermit Songs. Barber's opera Vanessa had a libretto by Curtis graduate Gian Carlo Menotti, composer of more than twenty operas, with whom Barber shared a home for four decades. The Met premiered Vanessa on January 15, 1958 with Dimitri Mitropoulos leading a stellar cast headed by Eleanor Steber. It came to Philadelphia on February 11.
Barber's Antony and Cleopatra was the opera commissioned for the opening of the new Metropolitan Opera House on September 16, 1966, starring Leontyne Price and Justino Diaz. A lumbering production with scenery that overwhelmed the stage undid the opera's reputation, which improved when it received a new staging at the Lyric Opera in Chicago in 1991 starring Catherine Malfitano.
Founded in 1933, the Academy of Vocal Arts on Spruce Street is one of the most prestigious training institutes for young opera singers and claims to be the only one that is entirely tuition-free. Among the many outstanding artists it has produced are Joyce DiDonato, Angela Meade, Michael Fabiano and James Morris. Local opera lovers can attend productions with tomorrow's stars. This past season there were Il Barbiere di Siviglia, Eugene Onegin, Don Chisciotte and Un Ballo in Maschera.
Philadelphia, here I come!
Photos 1) R. Donnell 2) Fred Plotkin/WQXR